Words and Photos By Seth Lightcap
What does it take to win the most important ski contest in the history of the world? Superman strength might help, but a mean drunken daffy and seriously fast fruit boot skills are what take home the hardware at the PMS!
Sunny skies and bottomless whiskey bottles delivered exactly such debaucherous short-ski talents at the 3rd Annual Pain McShlonkey Classic this past weekend. Squaw Valley went off as hundreds of contestants, hecklers and Saucer Boy fans gathered to honor the life and legend of Shane McConkey at the annual celebration.
The radness kicked off Friday night at the over-the-top Shane McConkey Foundation Gala Ball. The silent auction at the Gala raised over $64,000. Foundation director Sherry McConkey was floored by the support and thrilled the foundation could continue to dream big with donation plans that support local environmental education, Make-A-Wish and other R.A.D moves (Random Awesome Deeds).
"My dream is to build a grow dome at Truckee Elementary called the 'Saucer' that will teach children environmental and science education while they grow the food they'll eat in the cafeteria," said Sherry. "Make-A-Wish is true to Shane's heart so we hope to make three kids wishes come true plus support the Truckee Pumptrack Project, Human Society and Tahoe Wildlife Society."
But lest you think the PMS was all purple rainbows and cuddly puppy moments, the true battle royale commenced bright and early Saturday morning with the Chinese Downhill.
A chiseled collection of the best skiers in the world donned short-skis for a winner takes all race down KT-22. Man-eating moguls and sloppy skiers stood in racer's paths to win the coveted Golden Saucer.
Squaw Valley local Amie Engerbretson took the Golden Saucer for the ladies. Outta towner Ryland Mauck-Duff blew away all the dudes and grabbed it for the men.
Chinese Downhill (Men)
1. Ryland Mauck-Duff
2. Ben Paciotti
3. Nicolas Anderson
Chinese Downhill (Women)
1. Amie Engerbretson
2. Shawna Anzures
3. Jackie Paaso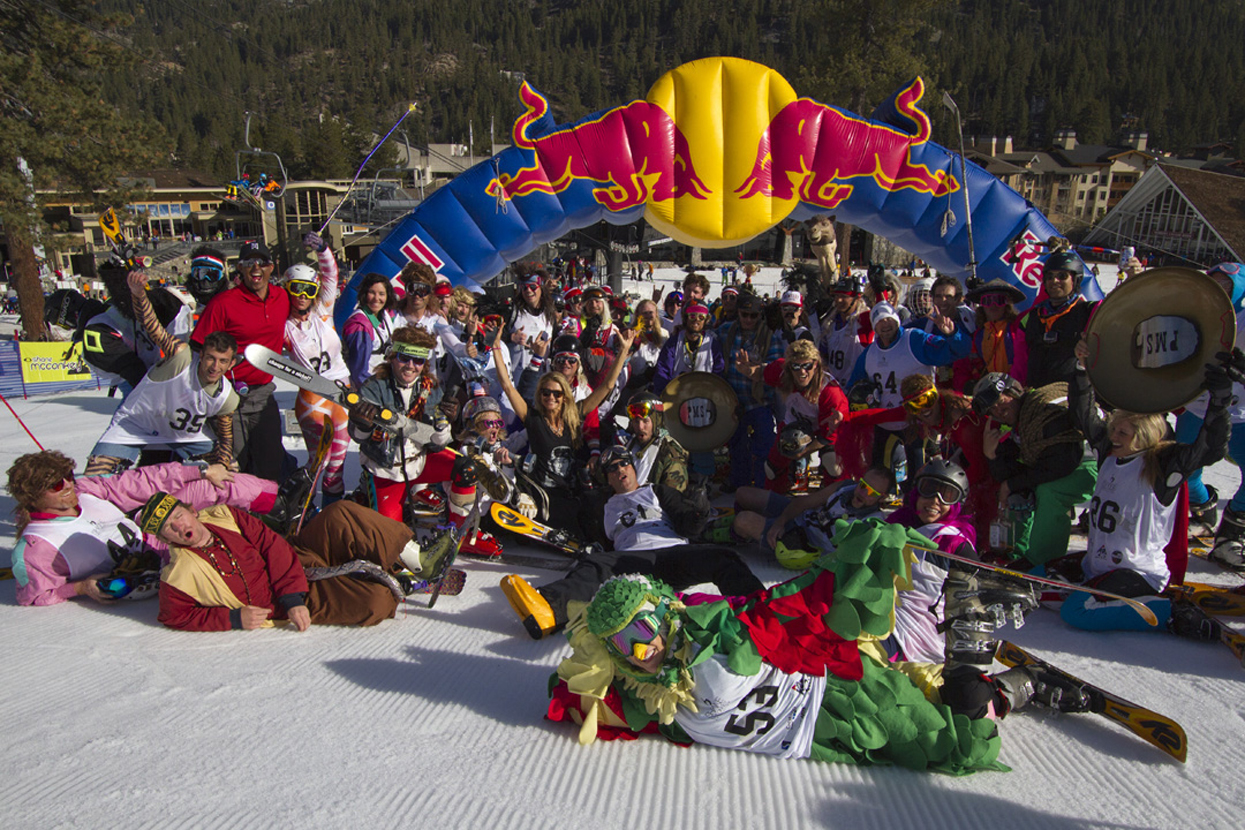 Can you feel the love for the crazy fun of skiing right here? No doubt Saucer Boy was smiling.