In an instant, Kevin Pearce's world came crashing down. While training in Park City, Utah on December 31st, 2009, Pearce attempted a cab double cork that went horribly awry, leaving the twenty-one-year-old Olympic hopeful with a life-threatening traumatic brain injury.
Fast forward a mere three-and-a-half years later and Pearce is back in the spotlight for his role in the award-winning documentary, "The Crash Reel: The Fall and Rise of Snowboarder Kevin Pearce." The emotionally charged HBO documentary chronicles the heart-wrenching obstacles and inspiring successes Pearce faced throughout his miraculous recovery. The documentary is the newest film from Oscar-nominated director Lucy Walker. We had the chance to sit down with Walker for her insights into the film, which airs for the first time on HBO on July 15th at 9 PM ET & PT and 8 PM CT.
What was your overall inspiration for this film?
In a word: Kevin.
When did you first learn about Kevin's accident and how did it affect you?
I saw it on the news when I was up in Park City for the Sundance Film Festival three years ago. The whole town was seemingly covered in "I Ride For Kevin" stickers and my thoughts were really with Kevin at the time, even though I had yet to meet him.
I first met Kevin and his brother Adam Pearce when Kevin was still really out of it, as you would say, pretty far gone. I immediately thought, wow, what an incredible young man, with such an incredible story. I instantly thought someone should make a movie about this. And then I thought, wait, I should be the one to make the movie—all in one go. Fortunately, Kevin had the same exact thought. He was trying to find me and I was trying to find him, and when we met it just worked out perfectly.
What was the biggest obstacle you faced directing the "The Crash Reel"?
It's an incredible responsibility when you are telling the story of real lives, real people, and there is a lot you want to get right and give justice to. I'll tell you, the most difficult thing was actually when I heard the news about Sarah [Burke]. That really, really broke all of our hearts. We had been working so hard on this movie, and we were so happy that Kevin was progressing as well as he was, and to get that news really devastated us, as it did the whole community. That was hardest part—enduring that heartache.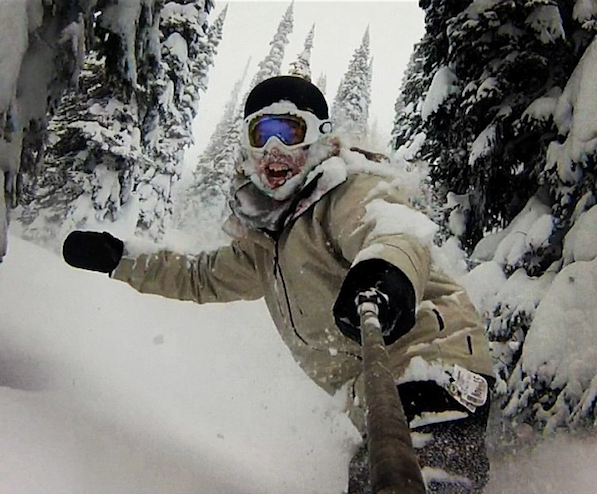 What was it like to film with Kevin and his family?
Shooting with Kevin and his friends and family was such a pleasure. My only problem is that I'm never going to have such a nice time again. After going to visit Kevin in Carlsbad or the Pearce's in Vermont, I just wanted to move in and never leave. They are just such nice people and that will really shine through in the movie, along with the amazing love they exude. We were so excited to have all the pieces of footage that already been filmed, which gave us keen insight into Kevin's life prior to the accident.
Kevin's brother, Adam Pearce, deserves a lot of credit because he was the one by Kevin's side for the first year after the accident. He shot a lot of the early stuff, so he deserves a good deal of credit. Also, Kevin's friend, Jack Mitrani, is a great videographer, and shot a lot of really fun, really interesting stuff with Kevin. He's really quiet good—he gets my vote for a future filmmaker. I think he's brilliant.
"The Crash Reel" is a multi-sourced documentary, can you tell us about that?
We got footage from 232 different sources—we were dealing with so many different people and getting footage from all the contests: X Games, Dew Tour, Olympics, shots from Japan, footage from every different filmmaker Kevin's worked with, every family member, Burton shoots, Oakley ads—literally, we got footage from 232 different sources. We're a little mom and pop type team, so it just turned into an enormous amount of work because we wanted to include everything. We set out to find everything. We wanted every little piece of Kevin's story to be told.
Even as we worked towards the end, all of a sudden we would get another hard drive in the mail that said, "Here's an interview with Kevin right before the crash." We were like "Oh my gosh, this is really important, we have to fit this in." So editing the film together was a really difficult job. We made it our mission to fit everything in it.
Someone once said to me, "Oh it must have been so nice to get all that footage," And yes, it's nice, but it's not like someone just gave us a big bag of footage—it took real detective work to track down everyone and all of the different footage. Once we had the bulk of it, it was fun to put all of it together. We're thankful for all the great footage that came in—it really helps to tell Kevin's remarkable story.
What will we see in the film?
I really feel that when you see the movie, it's really like you're there as it's happening. When you see Kevin's physical transformation, when you see Kevin growing up in front of your eyes, and what happens to him through his injury and through his recovery—it's more powerful than any fiction movie. There's no actor—no matter how much they can change for a role—that transforms as much as Kevin does. When you're watching the film, it's really like you're watching life happen in a really amazing way. You can see that progression through time in a way that you can't in normal life.
At the beginning of the film, there is a lot of fun snowboarding footage and by the end there is some really heavy family drama. But I really like it all together. I think it works. It's different from your regular snowboarding movie where you normally just see the tricks and there's no emotion or narrative to it. This is a real movie and it takes you on a real journey. It's a story that people will really remember.
Tell us about the #LoveyourBrain Campaign.
We're doing a campaign called loved #LoveYourBrain inspired by something Kevin says in the movie. It's designed to help people with brain injuries and prevent brain injury by encouraging kids to wear helmets and protect their heads. There is a snowboarder in the movie that got a second brain injury and he's in pretty bad shape. He's paralyzed and can't walk, get the right words for things, and his concussion and subsequent brain injury wouldn't have been as bad if people around would have known how to take care of him when he had the accident.
As it was, he was put to sleep and no one really checked on him so when the brain started swelling it got really bad. This may have been prevented had his friends and family had knowledge about brain injuries. This is the same with Kevin, even though he had had ten concussions prior to this accident, he didn't know what a brain injury was. So it just feels good to get the word out and give people knowledge on what to do if you do get concussed. #loveyourbrain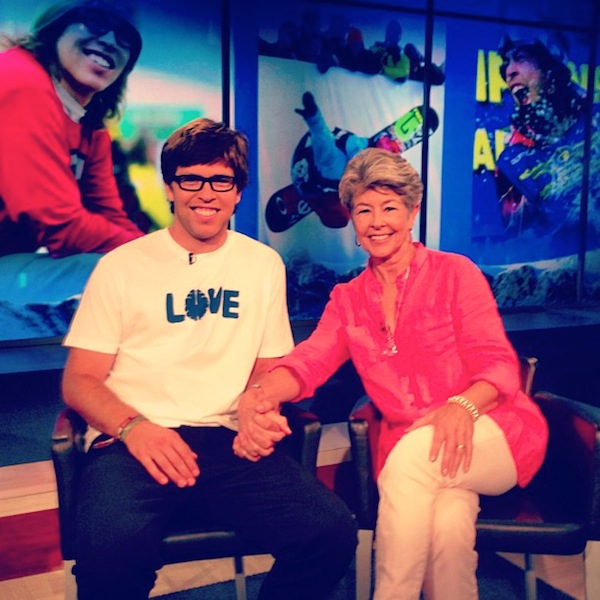 Tune into HBO July 15th to check out "The Crash Reel." The film will also be aired on the channel throughout the summer and will be released to theaters this winter.
Photos courtesy of "The Crash Reel" and Kevin Pearce's Instagram

HBO'S THE CRASH REEL
HBO Documentary Films
PREMIERE DATE | July 15, 2013
DIRECTOR | Lucy Walker
WRITERS | Pedro Kos, Lucy Walker
EXECUTIVE PRODUCERS | Dan Cogan, Geralyn Dreyfous, Sheila Nevins
PRODUCERS | Julian Cautherly, Lucy Walker
CINEMATOGRAPHER | Nick Higgins
RUNNING TIME | 100 minutes

SYNOPSIS | This eye-popping, yet intimate, story of U.S. champion snowboarder Kevin Pearce uses years of vérité footage to expose the excitement and appeal—as well as the high stakes—of participating in extreme-action sports. Training to compete against longtime rival Shaun White at the 2010 Winter Olympics, Kevin suffered severe traumatic brain injury from a 2009 accident in Park City, Utah. His tight-knit Vermont family flew to his side, and together they began an intensive process of trying to rehabilitate him and help him rebuild his permanently damaged life.

Kevin's determination and the tireless support of family and friends kept him focused on recovery. But when he insisted he wanted to return to the sport he loved, his family objected. As an elite athlete, Kevin was a professional risk taker, but as a brain-injury survivor, his skills were now impaired, and even a small blow to the head could kill him.
Academy Award–nominated director Lucy Walker's latest film (Waste Land won the World Cinema Documentary Audience Award at the 2010 Sundance Film Festival) sheds light on the alarming trend of athletes pushing the boundaries of their sports past the limit. How much risk is too much? Her thoughtful and probing treatment of her subject enables us to share one family's remarkable journey.
Interview by Heather Hendricks