The consummate DIYer talks about his new deal with Flow.
By: Jesse Huffman
Mike Basich has a new sponsor and a new mobile home/assault vehicle.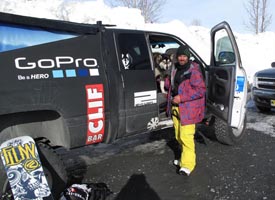 Mike Basich has always been prime exemplar of a rider going his or her own way. From his 100-plus foot heli drop and introduction of self-portrait action photography to building his own off-the-grid house and shred complex, Basich defines DIY snowboarding.
And so it was a bit of a suprise when Basich recently switched things up by signing with Flow. But, according to Basich, Flow's reputation for innovation makes him feel right at home. A bigger company means he has a bigger platform to execute all those ideas that drive him to progress. Flow, like Basich, has always done things their own way. Flow first introduced themselves to the US over a decade ago with one of the first rear-entry binding systems. The company has fought a long and ultimately successful battle to brand themselves in the fickle, trendy and sometimes prickly business of American snowboarding.
We caught up with Basich for a quick Q&A on the switch up, his hopes for growth in the snowboard industry and further indulging his photographic creativity.
ESPN.com: What inspired the new move to Flow boots, bindings, boards?
Mike Basich: It was a choice I made with the idea of finding new ground for me to grow within the industry on levels I haven't yet. I have been working with small companies and I feel this will bring new challenges and excitement to me and the company. And I hope within the industry [too]. As far as pin pointing what that will be, that is for the future to say. But, I hope to get back to unique project photos, not so much just going out there and doing whatever happens. More like the rainbow rail a while back, these things always take resources so some of that will be back in the game. And product wise I have a lot of stuff I haven't done yet, due to not having the room.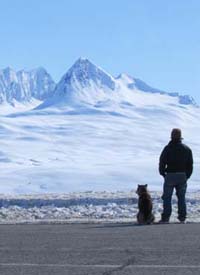 After running such a DIY program with your own snowboards, what are you hoping to get out of Flow's products? I hope to make that jump with what I live for -- the DIY lifestyle -- on a level that I feel is making an impact on the industry, not just press. There is a big difference between getting press on something and it actually having an enough of an impact on the industry to make a difference. I feel Flow has the room and the power to make something take shape in the industry. They have been doing their own thing since they started.
Do you have any aspirations to make environmental changes in their product lineup? I am always up to make something better than it is if there is room to expand. But in all that I do, I am after making a product that will last. Production is what is killing us off bit by bit, not so much the product itself.
You had a good time at the King of the Hill, what was your take on that event and how is it different than other shred events? The comp was a blast from the past. That was the contest that made me discover Alaska in 1994. The coolest part of it all was the around-40 dudes there. Weather and snow couldn't have been better. I was actually gritting my teeth, because everyone had such a great time that I think they will be coming back. [It's] good and bad, you could say. I like AK the way it is and don't really care to see it grow into something that has to do with more people. I've spent 10 years there finding sled routes to get to peaks and now they are full highways for sleds. But, AK is big enough that I feel I can get away when needed. I'll be back for sure for the King of the Hill to carry on this part of snowboarding. But, I just might drive to the North Pole next.

The last time I can remember even having a team manager was when I rode for Kemper in 1992. It feels good to have that again.
Last year you released your own film, what is your plan for movies and photos this year? Are you going to be in the Flow movie? I jumped on board with Flow pretty late this winter, so I didn't film with any film crew. I am still filming myself, more than ever this year using the new HD GoPro. [I'm] getting pretty rad stuff. I am for sure not going to spend my whole summer in front of the computer editing like I did last summer for Open Space. I'll be sending my footage to Flow as well as GoPro and a couple other projects [Respect Your Elders] I have been apart of this winter. But, I'm really stoked to work with Flow. It's been a while since I have been apart of a team that did a film project. The last time I can remember even having a team manager was when I rode for Kemper in 1992. It feels good to have that again. I hope it will help me progress as a rider more and deliver new creative stuff to share with the industry.
How do you think being part of a larger, more established company will affect your own approach to snowboarding? I do hope things change. I'd like to not worry as much about the little stuff. I'd like to be more focused on the creative stuff versus trying to figure out how to make everything come together. Doing stuff on your own, with a small company, takes up a lot of time. I would like to spend more time on the snow, get back to riding every day. I feel like working with a bigger group of people will help me in this way. So, maybe you'll see me dropping some bigger stuff or getting more creative.