Last week new TGR athlete Nick McNutt participated in an Ask Me Anything on Newschoolers. We have compiled the best questions and answers for your enjoyment. Nick placed third in TGR's Co-Lab competition and impressed us so much with his massive switch pow landings we asked him to join us this to film for Almost Ablaze. His segment this year is visually incredible and we are stoked for the world to see the film. Almost Ablaze premieres Saturday September 13 in Jackson Hole followed by a world tour. You can check out the original thread here and buy tour tickets here. Words by Nick McNutt.
How does it feel to have the most impressive set of testicles on the planet?
Well I've never compared, but I would certainly think I wouldn't have the balls to throw switch 9 chads, or dub 10s for that matter. Just using that as an example, but a lot of the shit I do is pretty mellow compared to stuff that's been done. Pipe skiers have the biggest balls in my humble opinion.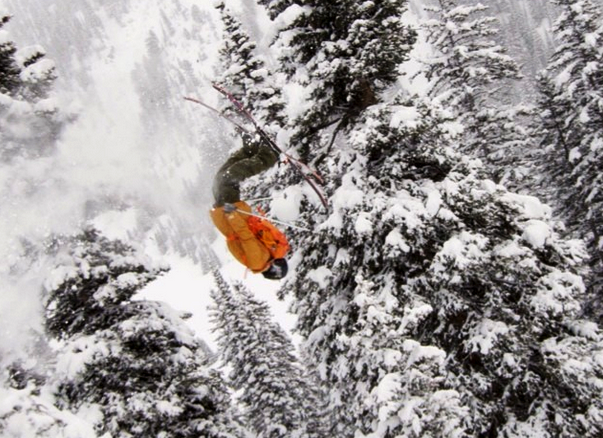 Nick throwing down the backcountry.
How does it feel to be recognized by TGR?
It's been quite a blast shooting with those guys all winter! I'm honored to get the opportunity to ski with such a legendary crew. Everyone involved has been great with meshing me into the routine, and I couldn't be more stoked.
How did those new Chets treat you? Also I've been a huge fan since seeing your POV edits back in 2011!
Thanks for the kind words! I can honestly say that the re-designed Bentchetler is hands-down my favorite ski I have ever used. The new 185 length is perfect for almost everything, I literally used it for park, touring, backcountry jumps, resort shred, you name it. I used the 192 length for heli-access lines. I love the new side cut profile (less exaggerated) as well as less camber. The biggest thing that I was stoked on was the HRZNtech, which is a beveled "boat-hull" shape with no metal edges on the tip and tail that make butters, reverting, and slashing effortless and very catch-free, yet the essentially normal underfoot section lets you charge with confidence. It's the only ski I use.
Big tail grab from Nick McNutt.
Are you putting out any more POV edits anytime soon?
Yes. Keep your eyes peeled in September for a new POV season-edit, with better quality as I used a Sony Action Cam, which was a huge upgrade from my old camera.
What were some of the biggest differences filming with TGR versus others? More pressure? Larger travel budget?
Good question. I'd say the most notable difference certainly was the budget aspect. Going from a literal no-budget, work-in-the-summer-is-your-budget setup to a professional production with large corporate sponsorship was the biggest thing. Pressure wasn't a huge difference, as I simply ski at my own level and push myself as I feel I want to, but it was awesome having such talented guys to ski with all season for sure. I spent a lot of time with Dylan Hood, Tim Durtschi and Dane Tudor and they certainly skied at a level, which made me try some stuff I maybe wouldn't have last year.
I missed out on skiing with some of my good friends as much for sure, but made new ones in the process and I certainly can't complain.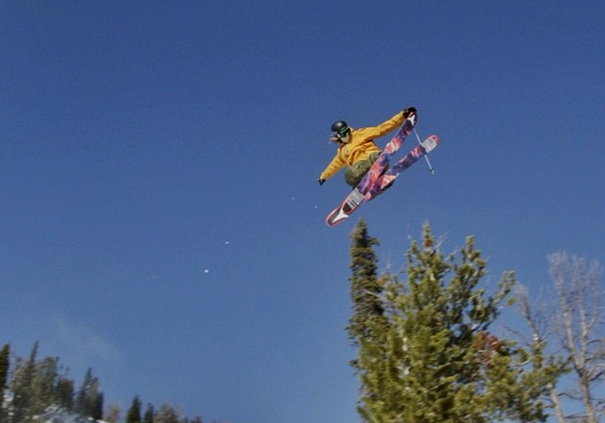 Nick floating out one of his signature switch landings.
What was the best snow of the year?
The best snow I had was in the backcountry near Jackson Hole. It was snowing 6"-12" a day for close to 2 weeks and it was freezing cold the whole time, I think it was the deepest, lightest snow I've actually ever skied before. Avy danger was pretty high so we were just playing around in the trees but it was awesome.
What was your biggest OHHH SHIIITT!!!! moment of the year?
My biggest "Oh, shit!" Moment was probably in Revelstoke. I was skiing a nice looking, decent size line that had two airs I planned on hitting. The first one I hit a little too far downhill and so I sort of had to cross-court quickly at full speed to get to the takeoff of my second air which was a blind roller with a pretty small cliff below. I had planned on airing off the roller, over the rock and onto an apron. Since I was low and lost a little speed cutting so hard, I aired the blind roll and was aiming to land straight on the rock face. I ended up getting my foot down enough to kind of skip off the last possible foot of snow and over the rocks into a less-than-ideal landing. The shot still worked out since I skied away and it looks pretty sketchy, but it's not what I had in mind.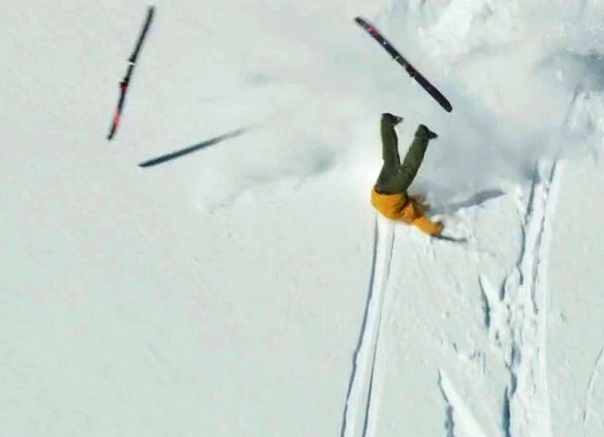 It Ain't easy being steezy, YARD SALE!!
What is it like being godly at landing switch in pow?
That's quite the lofty compliment! Honestly it was just a trial-and-error/repetition thing and slowly over the years I've gotten more consistent. I've broken my nose, bitten most of my upper lip off, black eyes, all from kneeing myself in the face.
Wear soft volleyball-style kneepads, they are like a pillow for your face. And maybe a mouth guard if you're sending.