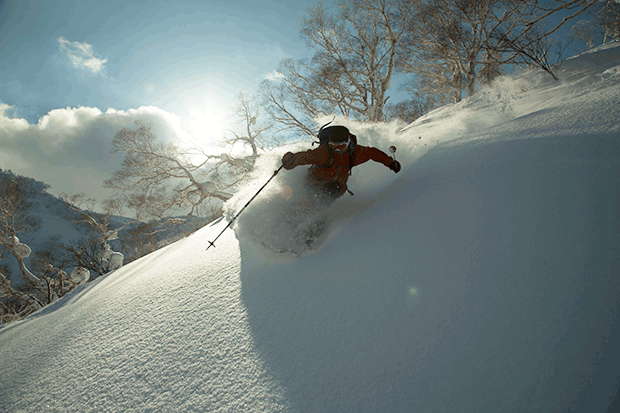 Bluebird day and endless pow! Dutch Simpson Photo
For many skiers & snowboarders, Japan is the ultimate skiing destination. The island nation boasts light, dry, blower powder found in abundance throughout the hardwood forests thanks to the moisture that slams into it from the Sea of Japan. It's on on my own personal ski bucket list, but the presumed expensive cost has made me fear it'll never happen. TGR recently sent Tim Durtschi, Johnny Collinson, Colter Hinchcliffe to film for our unnamed ski film. I talked to Head Cinematographer Dutch Simpson about what you should know before you head over to Japan in order to make the trip a success.
#1) The Food Is Amazing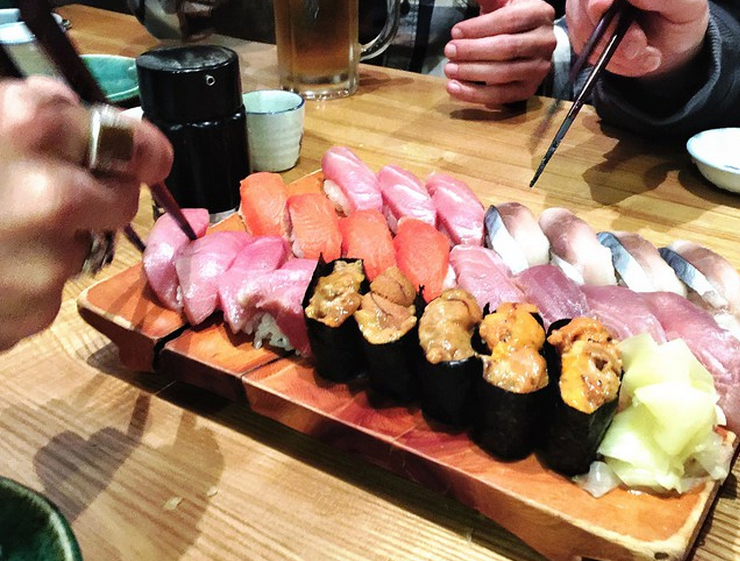 They boys dig in on some sushi. Matty Moo Photo
Miso ramen is the bomb–plan on eating lots of it. The sashimi is also insane, much different than sushi at home. Cold sake is better than hot sake.
#2) Bring the Comforts of Home
I recommend bringing your favorite energy bars, snacks, rolling papers, snus, etc. as the vast majority of the food will be pushing you out of your comfort zone, or at least far away from what you're familiar to digesting.
#3) Get an International Drivers License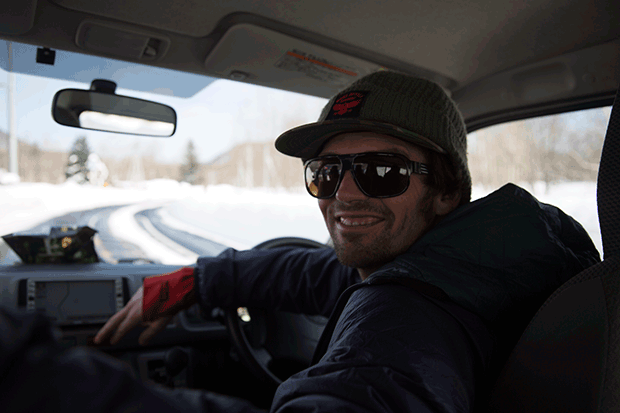 Colter Hinchcliffe enjoying van life. Dutch Simpson Photo
The best and fastest way to chase storms is by car, and in order to drive, you will need to get an International drivers license before you arrive. AAA provides them for $15.
#4) The Night Skiing is the Shit
Bring clear goggle lenses for night skiing. Night powder skiing in Japan is an absolute must, if you can't tell by the 80 other videos that have shown it.
#5) Have Cash on Hand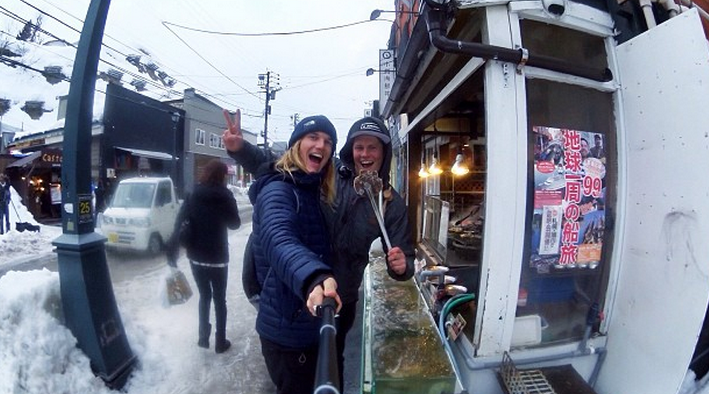 You need cash if you want street food. Dutch Simpson Photo
Plan on finding and using the ATM. Most restaurants and bars only take cash.
#6) Mind Your Electronics
Pack ground plug adapters (convert 2 prong to 3 prong items), a power strip, a Sony Action Cam, and a bluetooth speaker (nice for a soundtrack while storm chasing in the van).
#7) Be Prepared for Crazy Weather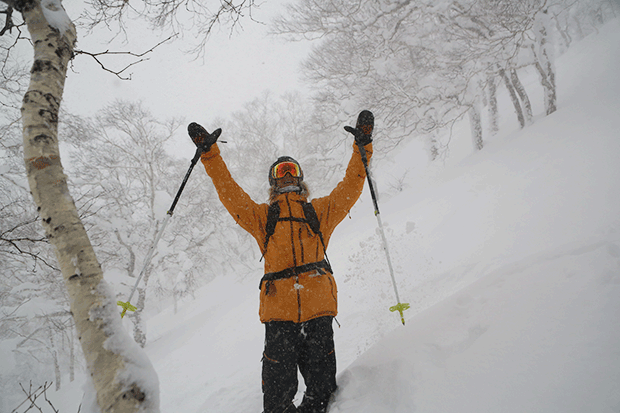 Johnny Collinson enjoying classic Japan weather. Dutch Simpson Photo
The weather in Japan is tricky and completely unpredictable. Fast temp changes, lots of wind, and of course lots of snow. If you're out past 3PM the temps drop weirdly fast. Good layering is essential.
#8) Prepare For A Long Flight
It is a long flight, so pack a good carry on for long day or two of travel. Don't forget toiletries, water bottle, snacks, book, chargers, etc.
#9) Go Out of Bounds
There is a lot of great terrain that can be accessed from the road. Bring a touring setup and avy gear, and know how to use them.
#10) Know the Language (at least the basics)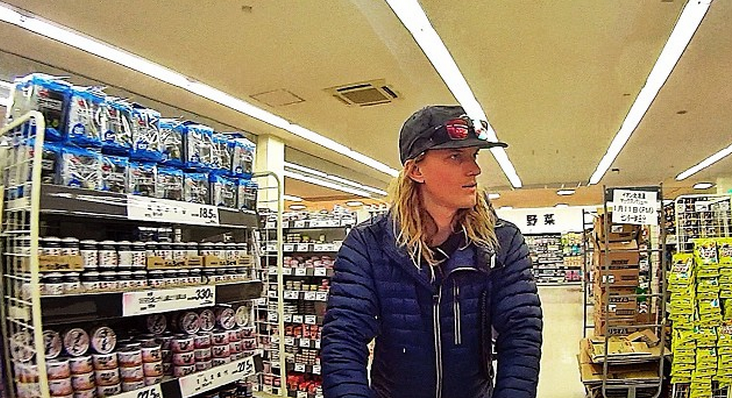 Navigating a grocery store in Japan can be hard. Dutch Simpson Photo
It is important to the learn basic phrases. "Hello," "Thank you," and "Beer?" have been the most helpful for us.
#11) Know Your Saké Customs
The traditional saké toast is "Kanpai!" This Japanese term literally translates as "empty or dry cup" though its basic meaning is "Let us drain our cups in friendship." It is equivalent to "cheers." There is a Japanese custom, called oshaku, that you are not supposed to fill your own cup of Saké. Someone else must pour it for you. This is considered to be a way for people to bond and make friends.
#12) The Toilets are Strange
The toilets are pretty crazy. There are a couple different kinds. One is a squat toilet. As the name implies you have to squat directly over what looks like a recessed urinal in the ground. Good thing you have muscles from skiing. The other that we have run into are super high tech and have about 7 features, all in Japanese. Be sure to know what buttons you are pressing before getting in real trouble.