When at the bars, slopes, and chairlifts of any mountain, you pick up and see a lot. Everything from slang, gear tips, and stories from the passing vacationer. I have arguably learned more from the singles line than some college classes. Sometimes, what you do see are some things that really do grind your gears. So I am taking this opportunity to educate and air some grievances. Here are 6 Things Skiers Should Never Do:
#1: Brag About Your Ski Ability
Getting the shot for the boys. Jerry of the Day Photo.
If you brag to your co-workers about the time you skied a double black diamond…don't. Nothing says "Jerry of the day" like boasting about the time you skied the only triple black at Smuggler's Notch or complaining about how easier trails are rated out West. Keep that ego in check, because being humble might be one the hardest, but most appreciated skills on the mountain.
#2: Rip on Snowboarders
Get over it. It is not the '90s, snowboarding is a thing, some of them might actually (gasp!) rip harder than you. Most snowboarders don't sit in landing zones or in the middle of the trail, and it's not their fault the trail you're skiing is icy. If you are that bent out of shape about it, get a season pass to Alta or Mad River Glen, or pretend they are monoboarders. Surf the Earth, you crunchy shits!
#3: Ski Corbet's Couloir/Hardest Trail Right Off The Plane
Don't be the guy who has no business dropping into Corbet's or hiking to the Palisades at Squaw Valley right after your flight's touched down. We get it, you are really rad, but there is nothing cool about the yard sale you will leave on the mountain. Ski patrol is good at their job, but don't make them do anything unnecessary. Don't be Bryce from Chicago (see above video to get reference).
#4: Shit on The East Coast
We get it–some mountains are taller than others, but when a video of Vermont or the Whites pops up on your Facebook feed, don't use it as an opportunity to state how good you are at skiing (see rule #1), and how you could barely get enough speed to make one turn down any of those foothills back East. No one is forcing you to ski it, and shit, we don't want you there anyways! But we bet you were cool in Colorado.
#5: Name Drop The Pro Skiers You Know
I once saw Ashton Kutcher outside a Sunglass Hut in New York City, but you don't see me bragging about it. If you are tight with a pro, congrats–hook us up with some stickers or whatever! But, going back to rule number one, using a conversation as a jumping off point to a vaguely related story about how some Red Bull athlete is in your iPhone rolodex just makes you look like a total douche begging to prop up your own status.
#6: Putting Together An Elaborate Sticker Job that Almost Makes You Look Like A Pro Skier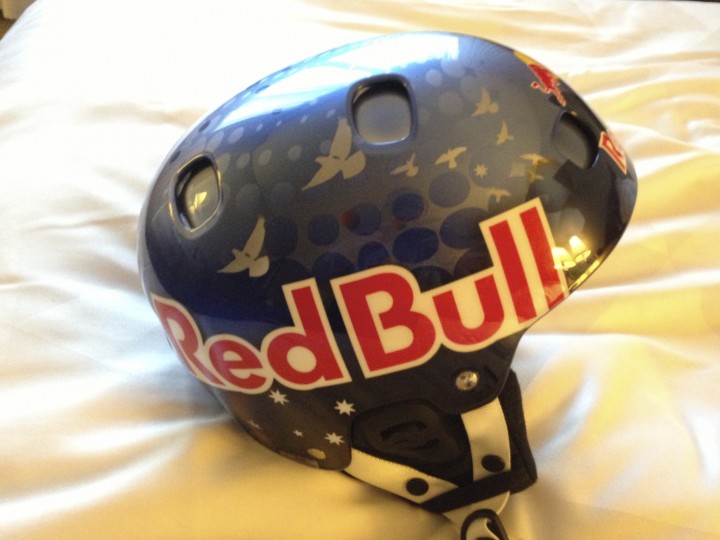 IF YOU SEE A HELMET THAT LOOKS LIKE THIS, DO NOT EVER THINK OF WEARING IT IN PUBLIC. RETURN IT TO THE POLICE IMMEDIATELY, AS SOMEONE WHO IS ACTUALLY SPONSORED IS PROBABLY LOOKING FOR IT. THANK YOU. Russ Henshaw photo.
You know the look–ski company logo layered neatly with that of another eyewear company and an outerwear brand, juxtaposed, perhaps, with the logo of a merino wool baselayer company. We see you–you're trying to fool all the gapers into thinking that someone from all those companies pays you to be out here. But we caught you red handed, damn it! Those shitty pole plants aren't fooling anyone... you're still a right amateur, just like the rest of us. Deal with it.
And absolutely, no matter how tempting it might be or how clandestinely you secured them, put any stickers from any energy drinks or your car, person, or equipment. Red Bull knows who it sponsors and it sure as hell isn't you.
We do, however, highly suggest you purchase a half dozen large Teton Gravity Research die-cut stickers and place them in the most prominent locations on both your winter and summer equipment. We hear all the pros are doing it.