Last Thursday and Friday marked one of our favorite times of the year – the Seattle and Portland TGR premieres. Following a massive sold out show in Bend, Oregon the night before, our expectations for Seattle perhaps were at an all-time high, and wow did the Emerald City deliver!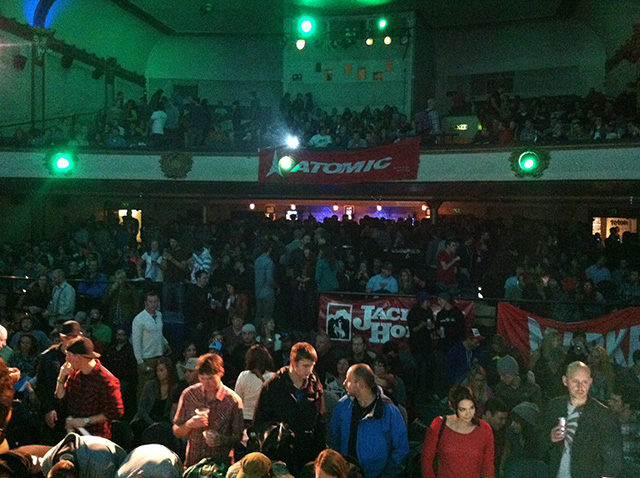 We kicked things off with the early family-friendly show, which had an abundance of groms smiling ear to ear and eager to get posters signed by Dylan Hood, Sage Cattabriga-Alosa, and Todd Ligare. Thankfully, we were prepared with grom-specific prizes, and one lucky young lady walked away with a pair of Mini-Gotamas from Volkl. Needless to say, she approached and left the stage completely awe-struck. After a legendary Rock-Paper-Scissors contest went down for a season pass from Stevens Pass, we were ready to share Way of Life with the early show crowd and gear up for the epic rowdiness that defines the late show.
The late show…well…let's just say it surpassed all expectations. The level of energy in the sold-out Neptune Theatre was at an all-time high, with DJ Kipprawk greeting fans with thumping jams as they entered the venue. The mountain of swag to giveaway did nothing to calm people down, with giveaways including a pair of Volkl Shiros, North Face outerwear, Atomic Automatics, a Sony Action Cam, and a custom TGR Shotzski, which Todd Ligare tried to steal prior to the show. The crowd was so loud, we decided to officially measure it: 91 Decibels, and that was before we hit play (pretty sure it only ramped up from there).
On Friday morning, we rolled south to Portland, where we launched Way Of Life at a brand new venue for us: the beautiful Wonder Ballroom. Long story short, we once again were greeted with a huge number of stoked groms at the early show. It made it that much sweeter that local athletes Sammy Carlson, Sage Cattabriga-Alosa, and Dylan Hood attended, along with Utah native Todd Ligare. Unconfirmed reports suggest more than a thousand high fives were slapped throughout the evening.
Some lucky fans walked away with season passes to both Stevens Pass and Mt. Bachelor, along with Sony Action Cams, skis from the Mountain Shop and from Atomic, as well as another Shotzski, (rumor has it the winner asked 'where's the second ski?' Ummm…)
The late show rocked well into the night, featuring a special set from Seattle band Beat Connection. All in all, we had another packed house in Portland, where by the way, the decibel meter reached 92. Sorry Seattle, but the bar has been raised for upcoming tour stops in Denver, Boulder and elsewhere! Don't forget, if you attended either show be sure to redeem your TGR ticket to receive your Stevens and Bachelor lift tickets here: http://bit.ly/1e4XUEY.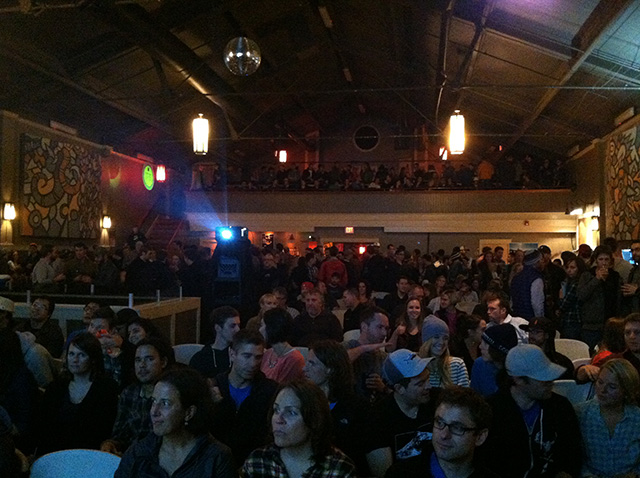 Thanks again to Atomic, The North Face, Sony, The Ski Journal, Marker Volkl and Jackson Hole Mountain Resort, as well as our local sponsors: evo, Stevens Pass, Mt. Bachelor, Mountain Shop, USOutdoor, and the PDX chapter of the Snowrider Foundation.
Until next time….Keep the stoke alive Northwest!
For more info on the TGR Film Tour, check out www.tetongravity.com/tour.