Words by Theo Birkner, photos by Caleb Del Begio & others (including Aspen/Snowmass, who took the above photo)
Whether you're hunting wicked-fun terrain, world-class snow on and off the groomed runs, a core ski culture, or some of America's finest cougars, there's a little town called Aspen that will exceed your expectations.
Ours were simply blown out of the water. We thought we had a pretty good idea of what we were in for before we got here, and much of it arose from the adventures of Harry and Lloyd on their hunt for Mary Swanson (yes, I know it was filmed in Breckenridge). Quite frankly, we were happily mistaken – Aspen kicks ass.
Firstly, it's quite apparent that Canada needs to step up its collective grooming skills, because none of us hosers has ever skied corduroy like what Ajax and Snowmass have to offer. After our 100-yard walk to the hill from Chateau Dumont(conveniently located right next to theSky Hotel's infamous bar and hot tub), we were greeted with coffee at the bottom and pancakes at the peak of Aspen Mountain at Bonnie's.
Then it was backflips from Willis Brown and Whit Boucher for brunch down Walsh's...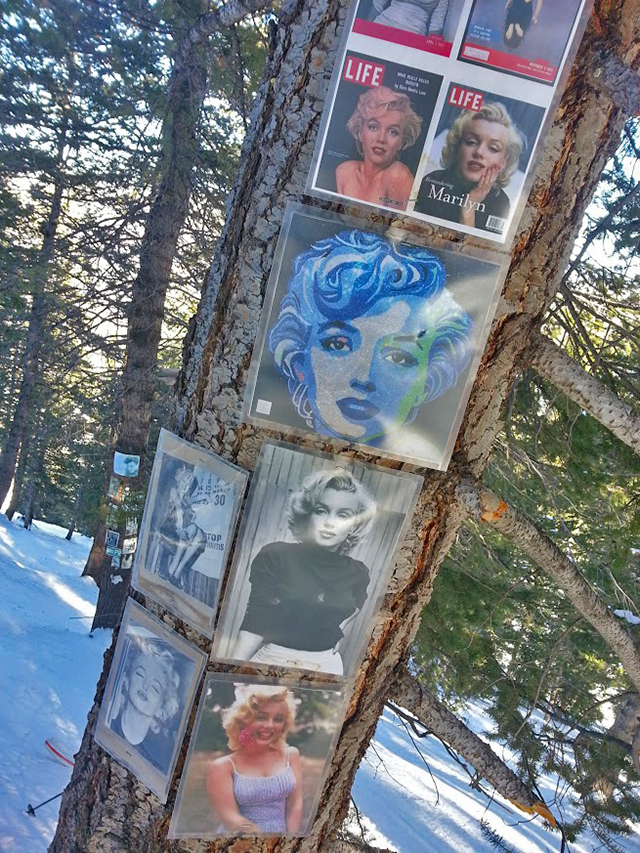 ...shrinely (not a word – that's ok) homage to Elvis, Marilyn and more...
...champagne Flip-Cup on the Sundeck (because that's how we do) and generally rad times for all until the day was done.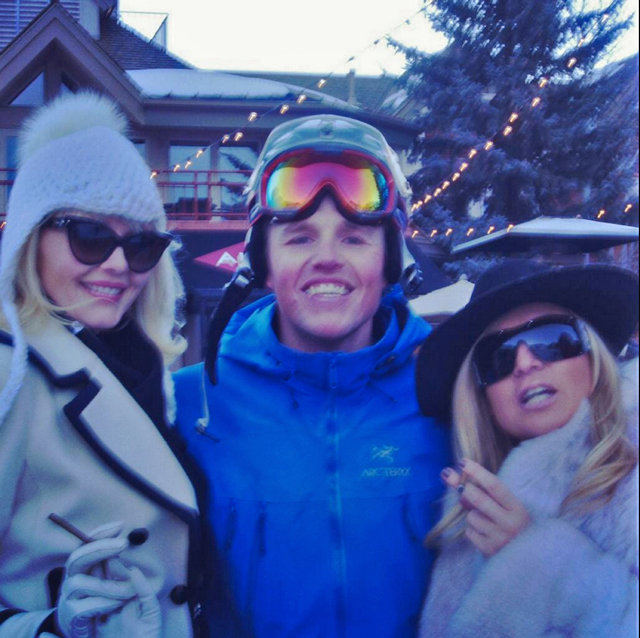 We got the evening started with the fur-clad, gallery-owning, birthday-celebrating lady clientele of the Ajax Tavern (and yes, TGR forums, we did get in some fur nuzzlin'), and took it right through dinner at Mezzaluma, drinks at the St. Regis, and a stop at Hotel Jerome's J Bar - the former office of deceased Gonzo journalist and former candidate for Pitkin County Mayor, Hunter S. Thompson - for good measure. When in Rome… or Aspen…
Chris Tatsuno shreds his way down Snowmass on a pair of ancient Olins. #winning
Day two was equally full, but even more so entertaining due to the antics of Pats and Tats, two of Aspen's favourite sons, and our intrepid cohorts. Never have we seen denim and 185cm Olin ceramics skied as well as by Chris Tatsuno, and Pat Sewell's Jammy Pack kept us grooving all day long.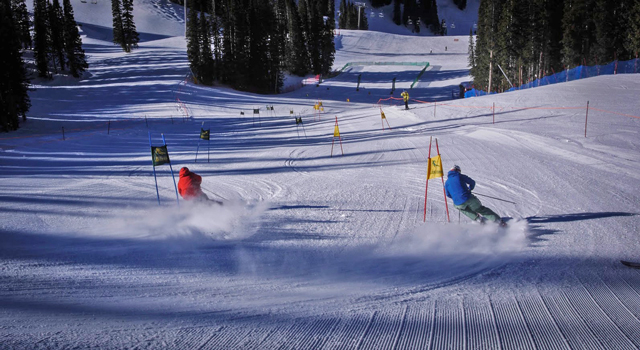 NASTAR break! Braaaaaap....
@TetonGravity Hey guys, have you skied Highlands Bowl yet? Don't leave Aspen w/out hiking in! #mustdo

— Cleo Gewirz (@CleoGewirz) January 23, 2014
By the end of said long and happy day, all four peaks had been skied (officially the Power of Four challenge), even the finely buffed and brilliantly chalky Highland Bowl, which Alexander shredded in fine form as witnessed above. For those attemping the Power of Four, it's advised to start at Snowmass - where the lifts open at 8:30 - and then continue on to Buttermilk, then Highlands, then Aspen.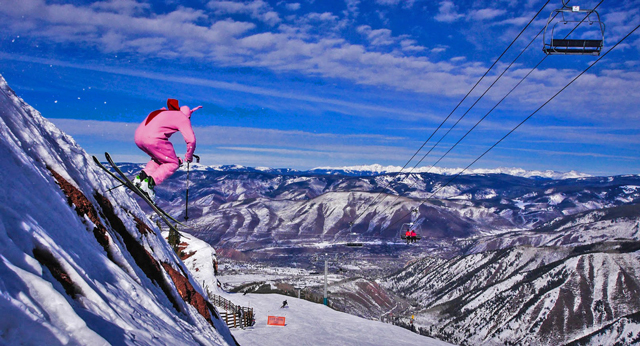 Of course, no #Crowdtrip stop will be complete without having seen the wrath of a cracked-out looking man in a pink bunny suit shredding, so the Big Mountain Bunny led the charge from the summit of Aspen Highlands down to the final leg at Aspen Mountain.
Big thanks to our Power of Four challenge crew - to whom we owe big thanks for their boundless energy, jeans, ancient Olin shredsticks, and Jammy Packs.
The X Games Superpipe elimination round and a ridiculous amout of ribs and pulled pork at the Hickory House finished off the evening, because try as we might, beyond a short stop at the Little Nell to search for Paris Hilton, we couldn't fight off the food coma.
Aspen, you've been good to us. Time marches on, however, and we're off to Utah in the morning. Fortunately for all, Snowbird and Alta also have a way of turning up the awesome when they're called upon to do so.
We'll see how things unfold.
Big thanks to Meredith & Jeff at Aspen/Snowmass for their help and hospitality, along with eveyrone else we got to share laughs and turns with along the way...