At TGR, we dream big. We dream huge. And then we try to make those dreams come true, because…well, someone needs to. So when we planned our tour for the year, it shouldn't be a surprise that big ideas were flying left and right. Maybe it was the warm weather and cold beer, but we were California Dreaming. We kicked around a few ideas:
We need a killer show in the San Diego area – let's get a band to keep the party going. Let's get someone legendary (easier said than done).
Why not go outdoors in Los Angeles – lets do a show on the f*&cking Santa Monica Pier. Maybe project the movie into the ocean and…(ok, sometimes we dream a bit too big even for TGR). Who knows, maybe we can get some surf in beforehand, and get some A-list stars out to the premiere.
Check…
After a huge California kick-off in San Francisco, we headed down the coast to see how fired up SoCal was for winter. First off was Solana Beach, for a premiere at the awesome Belly Up Tavern, followed by a raging after-party featuring The Aggrolites. With Mammoth Mountain presenting the event and providing lift tickets for everyone in attendance, a who's who of the SoCal action sports industry rocked late into the night. TGR athletes Daron Rahlves, Dash Longe, Tim Durtschi and Todd Ligare were all in the house and helped give away a TON of prizes from our sponsors: Atomic Automatics, Sony Action Cams (the same ones used in the movie), outerwear from The North Face, and swag from TGR, Volkl and more.
And then to the granddaddy of them all—after a quick surf session to wipe away the Belly-Up induced cobwebs—the Santa Monica Pier.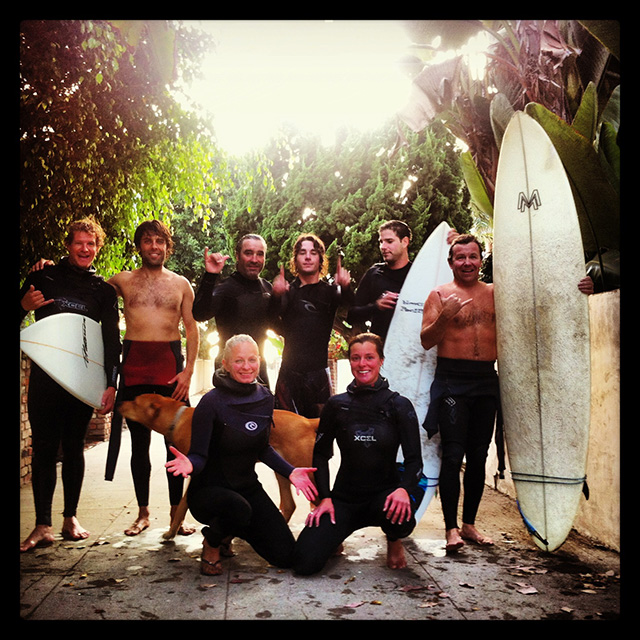 On an incredible night, TGR took to the biggest venue we have ever played, on the biggest screen we have ever seen, and with the coolest backdrop for the film we have ever considered. Sammy C got the crowd going by announcing that he was joining the Mammoth team, and a full crew of athletes, including Dylan Hood and Griffin Post, showed up to give away a ton of prizes to the stoked Los Angeles area crowd.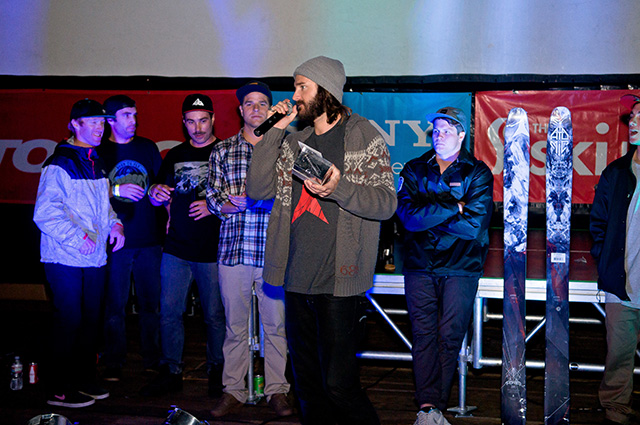 In addition to the usual assortment of gear, TGR-skate decks from Loaded Boards and 3-packs of lift tickets from Mammoth added more stoke to the fire (also fueled by our friends at Sierra Nevada). The star power wasn't just in the sky that night - Luke Wilson joined a cast of Mammoth passholders and winter enthusiasts in welcoming TGR to the beach, and winter to Southern California.
Yep--That's Steve Jones (and Luke Wilson)
Even Wooly made an appearance, finally disproving the long-standing theory (at least five minutes old) that Wooly and Sammy Carlson were actually the same person. A real shame too, we would love to see Wooly ripping it up in slopestyle…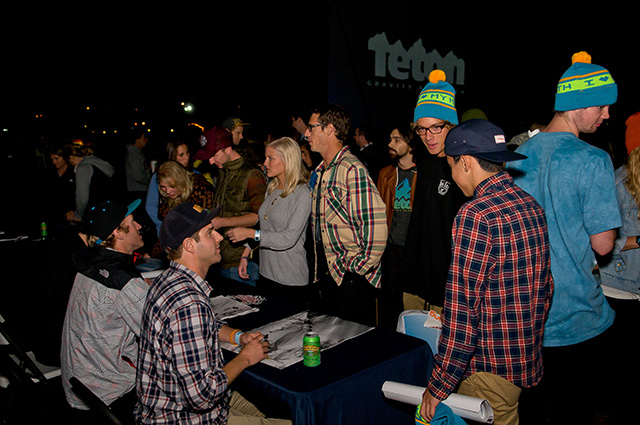 California, it was an awesome run. Can't wait to see what you have in store for us next year – maybe we will figure out that projection onto the ocean. Until then, it's time for us to roll through the rest of the world, with upcoming tour stops in New York City, Boston and more. See you on the slopes of Mammoth, Jackson Hole, and everywhere in between!
Santa Monica pictures courtesy of Jeff Urban at jurbanphotos.com