Words by Greg Fitzsimmons; photos by Jesse Hoffman (http://instagram.com/jessejhoffman)
It was August of last summer, and we were down in Chile at the Hotel Portillo. An afternoon sun was just about to duck behind the Andes, meaning it was après time for most. The iconic hot tub overlooking the Laguna del Inca was packed. I was on the sun deck wearing flip-flops and holding an Escudo, standing next to a tripod pointed up toward the looker's right side of the lake. More than 3,000 feet above the hotel was a skintrack—two kick-turns climbed up from a scree field, and then a long traverse track. The horizontal line stopped atop a visually arresting line that would have any skier frothing. At the end of the traverse stood 19-year-old George Rodney, former Junior Freeskiing World Tour Champion.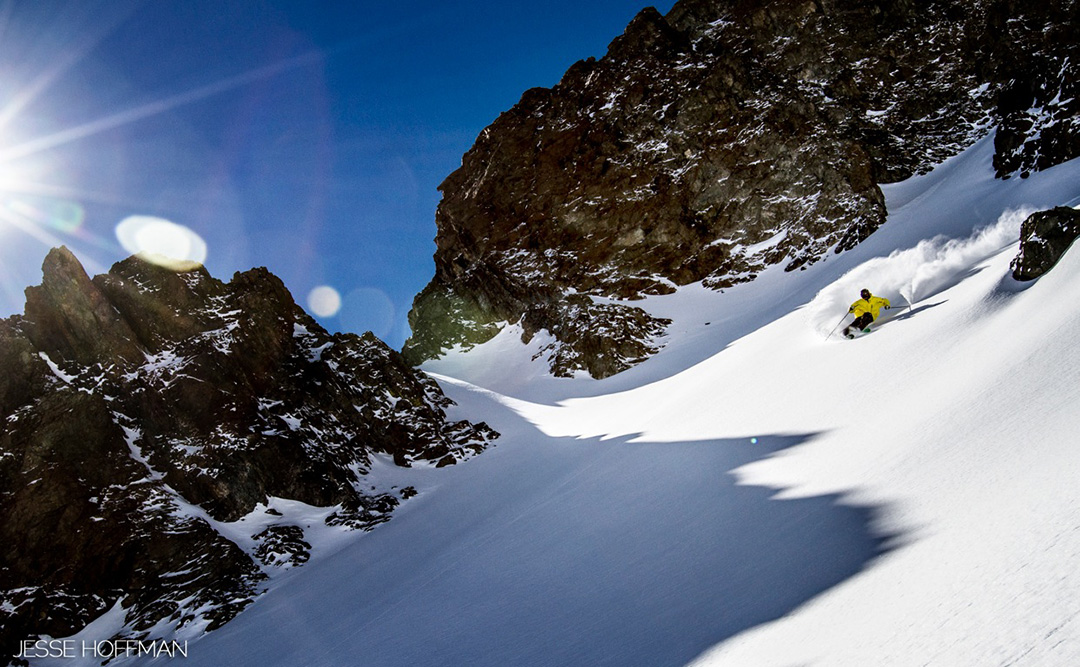 Directly beneath the traverse sat an untouched powder field that narrowed into a chute the width of two Chilean condors' wingspans. The tight choke marked the entrance into a rock-walled couloir before opening up for a few hundred feet and then once again tightening into a second choke. From top to bottom, this was the type of line that skiers like Rodney gravitate towards. And, after an entire day of bootpacking up couloirs, spinning off windlips, boosting natural terrain features, and flipping off booters, George Rodney opted to cap it all off by skinning to the top of it.
Skins off, locked down into ski mode, and clicked into his bindings, Rodney counted himself down. "Dropping in 10, 9, 8…" crackled over the radio, and the photographer I was standing next to—Jesse Hoffman—focused the lens on Rodney. Then, with the entire hot tub and a now-packed Sundeck watching his descent, the kid proceeded to absolutely lace the shit out of the line. Three huge GS-turns made quick work of the hanging powder field, a high-speed straight-line into the choke without an ounce of hesitation followed, one turn after the rock walls to dump a little speed before finding a hip transfer to air into the second choke, and a few railed turns in the exit apron. Rodney flashed the line, greased it in less than a minute. He slid onto the frozen peninsula on the banks of the Inca Lake's ancient waters, and claimed it. The hottub cheered, we were in awe, and Daron Rahlves spoke up over the radio from his vantage point on the opposite side of the lake. "Hell yeah, Rodney! That's how you ski," said the Hahnekamm legend turned big-mountain star. Not many 19-year-olds garner hoots and hollers from Rahlves, but Rodney did.
After standing on top of the overall JFWT podium in 2012, we took notice and included George Rodney in a piece about 10 Noteworthy Skiers on the Rise in May of 2012. The kid was about to transition from the junior tour to compete against the grownups, and Rodney was poised to make a splash in big-mountain competitive skiing.
"I was so stoked coming off that season," remembers Rodney. "I was committed to training my ass off all summer in the gym and starting the first semester of my freshman year at 'the U.' I was working at BD, going to school, and had my mind set on going to the FWT. I was working out every day, going to the tramps and Snowgression to get my air game down because that was the missing piece with my racing background. All I was doing that summer was working my ass off."
Rodney was busy. Studying engineering at the University of Utah, working with the Quality Assurance Engineers at Black Diamond batch testing new up-and-coming products like climbing equipment, cams, shovels, and probes, and interning with the ski developers at BD, hand-tuning the entire demo fleet and testing new skis and prototypes. "Every day it was gym, school, work, tramps, yoga, and bouldering," he says.
Then, on September 13 as the SLC temps were changing and the upcoming winter was starting to become palpable, things changed for George Rodney. He had a 10-punch card to Utah's insanely sweet tramp park, Snogression, and used his tenth punch to train that day. At the end of a two-hour jump session, Rodney did a Superman Frontflip—something he had done thousands of times before—and was going from the trampoline to the pad, but landed awkwardly. "I blew up my leg," he says. "Tore my ACL totally and part of my meniscus, and we later figured out I collapsed part of my foot, too. I was sitting partially on the tramp and partially on the pad screaming, 'No! No! No!' I kept trying to use the yoga mind, telling myself 'you're fine, it's just September and you have months to come back.'"
The next year was a battle for Rodney. He went in for ACL surgery—something a lot of skiers can relate to—but the doctors at Rosenberg, Cooley, Metcalf Orthopedic Clinic in Park City had a feeling it was more than just a knee injury. "My leg was shaved, needles were stuck in me, and I was right about to go under when Dr. Cooley walks in and says that foot and ankle specialist Dr. Beals had some free time and was going to take a look at my foot," says Rodney.
"I signed a form, they put me under, did some tests on my foot that I didn't want to be awake for, and were going to operate if they found what was wrong with my foot. I woke up a few hours later with a new ACL and bolts in my foot. That was about a month after the injury so they had to go in and re-break bones in my foot to fix the Lisfranc Fracture [collapsed arch] they found ."
The road to recovery was long, a process tons of devoted skiers are familiar with. Normally, athletes can start working back soon after surgery, but it was a month of waiting for his foot to heel and doing what he could to rehab before Rodney could get into the physical therapy for his knee. But, he put his work ethic and "yoga mind" into action as soon as possible.
Did he ever question skiing? "Fuck no!" Rodney emphatically answers. "I'd be in PT doing my stuff drenched in sweat, about to throw up, doing the little things I could to rehab as hard as possible. I'd bring my iPhone to PT to watch POV edits. I probably watched the Candide Kamera films hundreds of times. I was totally focused on skiing, it was actually driving me a little crazy."
After months of PT, crutches, and work, Rodney managed to get about 15 days of one-footed skiing in last spring at Alta/Snowbird, sliding around on his good leg, smiling and laughing, throwing shakas, and stoked to be back on snow. "As soon as I could walk I went skiing on one leg," he says.
Back on two feet and feeling strong, George Rodney headed down to Portillo for Chris Davenport's Ski with the Superstars Camp last August. And, Rodney definitely skied with the stars. He'd sneak away to bag a couloir with Rahlves, hit windlips with Mike Douglas, blast hidden stashes with Dav, arch turns with Ingrid Backstrom and Wendy Fisher, and ski long lines that had the entire hotel cheering during happy hour. "It was the best ski trip I've ever been on," he says. George Rodney turned heads at the camp, with an abundance of stoke and humility, sans an ounce of ego.
Now, he's feeling fully recovered and stronger than he was pre- injury. It was a long process, but George Rodney is finally back. So what's that mean? "I'm 100-percent focused on skiing and competing," he says. "This year I'll be filming with my buddy Noah Franklin who runs Thunderous Films. But, The ultimate goal is to qualify for the Freeride World Tour. I'll be competing in all of the four-star Freeride World Tour Qualifiers in North America."
So, just like we said in May 2012, take note of George Rodney—after all, he just podiumed at the Crested Butte Freeride World Qualifier this weekend. Rodney's worked hard to battle back, and now he's ready to rage.