2013 Colorado Freeride Festival Slopestyle Finals from The Bureau on Vimeo
Bikes, brews, berms and boner logs—what could be better? Winter Park, Colorado was the place to be last week for a heavy dose of freeride action. The Colorado Freeride Festival took over Trestle Bike Park with four days of intense mountain bike competitions including slopestyle, enduro, downhill, and cross country events. Nearly 800 athletes from over 20 countries made the trek to Colorado to compete, making the 2013 CFF the largest freeride festival in the United States.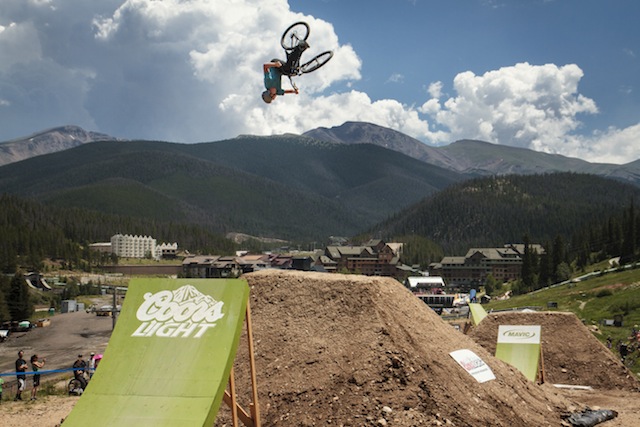 Arguably, the most alluring event was slopestyle, as it was the only Freestyle Mountain Bike Association (FMBA) gold-level competition in the U.S this season, and riders were laying it all on the line.
Finals popped off Saturday with a heavy international field. Sixteen of the world's best riders battled for gold on the highly technical course. Pro riders Kelly McGarry and Thomas Hey designed and built the massive set-up which was comprised of drops, a wall ride, a fruit bowl, a "boner log," jumps, and the "big-ass money booter."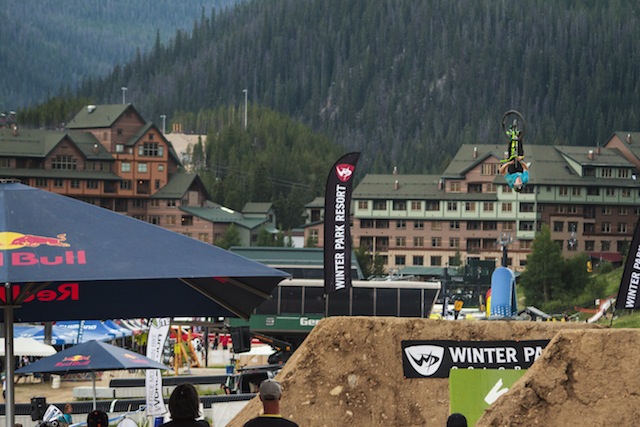 Sweden's Martin Soderstrom rallied to win the event during his second run, which was filled with flawless whips, bar spin flips, and a crowd-pleasing 360 double tail whip on the money booter. The run earned Soderstrom a dominating overall score of 94.6.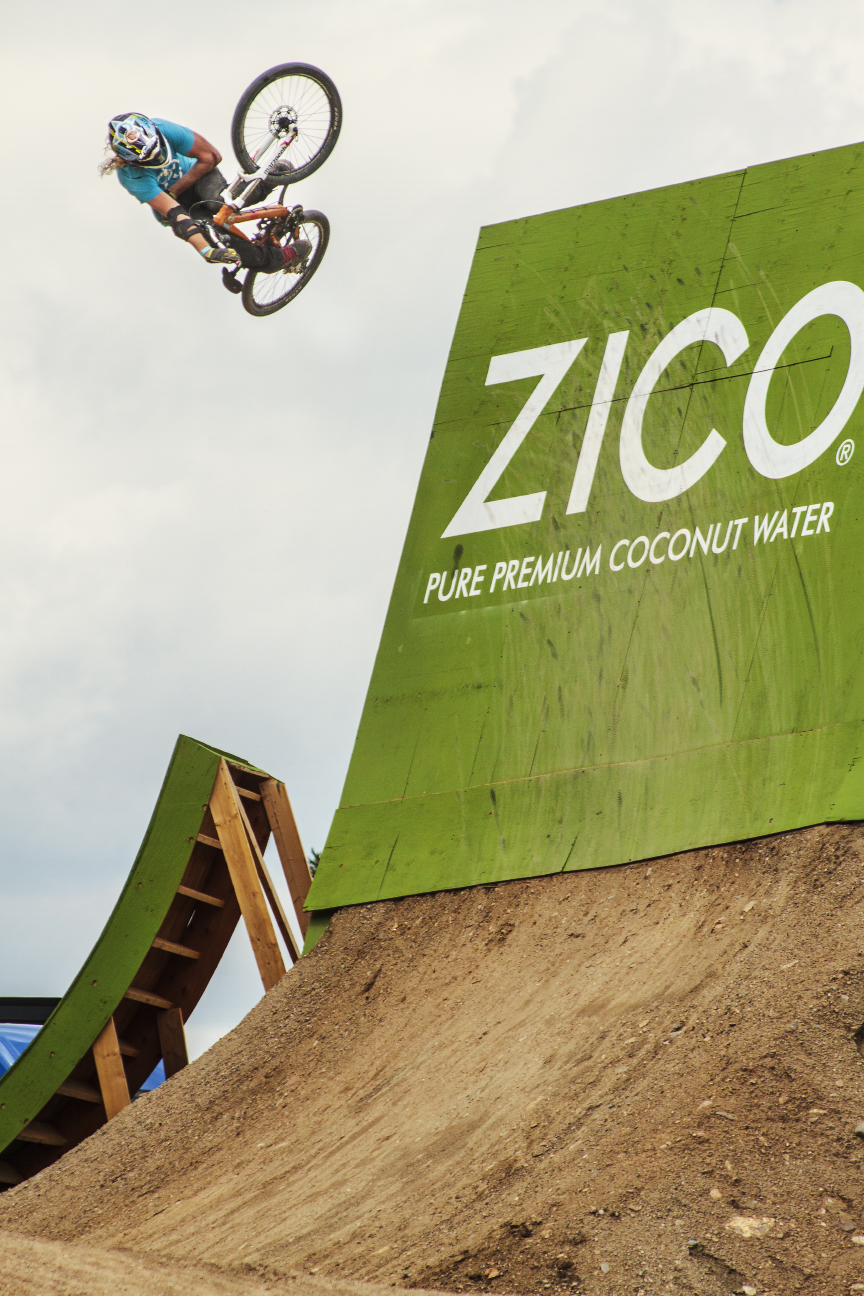 Following Soderstrom, the results were extremely tight, with four riders finishing within 0.6 points of each other. Germany's Peter Henke snagged second with 91.6, Anton Thelander of Sweden took third with 91.4, Belgium's Thomas Genon grabbed fourth with 91.3 and Sam Pilgrim from Great Britain rounded out the top five with a 91.0. All of the riders threw down, owning the technical course with an array of tricks including tail whips, bar spins, flairs, and double and triple flips.
We took it all in, cruised a couple downhill laps, slugged some brews and caught up with Soderstrom after the event for a slice of what it was like to win.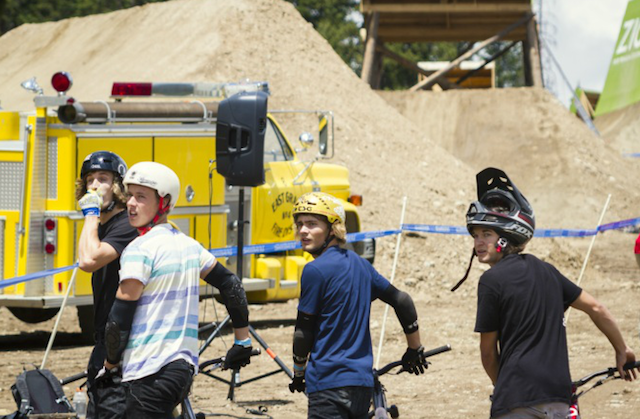 What did you think of the slopestyle course?
The course was really good. I liked it a lot. It had a good variation of big stuff and more technical stuff, which showed a good variation of tricks.
What was your favorite feature?
That's a good question. I would say the second feature, which was the wall ride, because it was something new and different from most courses.
What the best trick you did on the wall ride?
It was a 270 bar spin, which was actually where I gained most of my points, as there wasn't really anyone else tricking that feature.
Walk us through your winning run.
I did a 360 table top on the first drop, a 270 bar spin on the wall ride, a back flip up, a tail whip down, then a 360 tail whip over the jump, then a double tail whip, a 360 bar spin on the boner log and finished with a 360 double tail whip. So yes, it was many, so many whips and spins. Too much!
What do you think of the Colorado Freeride Festival, have you been here before?
Yes, I've been many times before and it's good. That's why I keep coming back. It's a good atmosphere here and it seems like they really want to push biking in general here. They don't only focus on slopestyle, or just one event, but are really open for everyone.
If you could pick one highlight from the festival, what would it be, aside from winning?
Oh, (laughs), winning is pretty good, and that is another really good question! I think the best part has been the fans here. They are open, they're screaming, and really happy. You can feel that they really appreciate what you do.
How does the Euro biking scene differ from this scene here in the States?
I guess it's not too different. American's are a bit more open, and they go a bit more wild. European's can be pretty shy sometimes. Like you just speak more here in the States. In Europe, it just seems more shy, quiet. But in terms of riding, there is a lot of really good Americans coming up. They had a bit of a rough time this time, but they will be back. Europe had a good weekend here in Winter Park.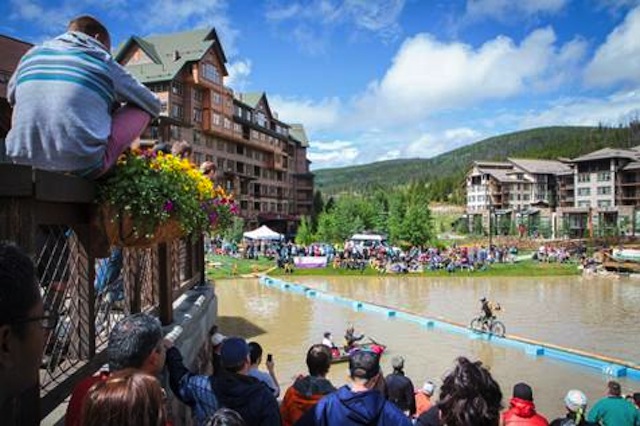 What is next for you?
Next I'm going back to Sweden for a few days to do a contest there, to help out the Swedish scene. And then Crankworx in Whistler. It's going to be good to go home and just ride for fun. Then the big pressure event is coming up. X Games [in Munich] and Crankworx are the other two biggest events of the year for me. X Games [in Munich] was a disaster, so now it's time to redeem myself.
Well you definitely redeemed yourself here.
I guess I did, a little bit.
This win should give you some good confidence going into Crankworx.
Yes, winning is good, but you just never know what will happen at the next event.
Stay tuned for our exclusive interview with course builder and pro rider Kelly McGarry.
For full results and photos, head to ColoradoFreerideFestival.com
Highlight video filmed and edited by Kyle Decker
Photos courtesy of Winter Park