On Monday, March 18th, after a two-day approach and five years of scouting, Jeremy Jones dropped in on the Grand Teton in Grand Teton National Park, Wyoming, kicking off the final leg of a snowboard odyssey that has captivated the world since the premiere of TGR's Deeper.
Joined by legendary snowboarder Brian Iguchi, and Exum mountain guides Zahan Billimora and Brendan O'Neill, Jones descended the Grand's Otterbody face, a high hanging snowfield with hundreds of
feet of exposure below it. A massive storm cycle yielded 27 inches of new snow only a few days before the descent, making the line a very touch-and-go operation.
Just getting to the line was a massive effort. "We broke it up over two days, It's about 5,000 feet to where we camped on the lower saddle. We spent a day getting to that point." Says Jeremy Jones. "The next morning it took about five hours for the last 2,100 feet."
Most of the route was hazardous, not just because of the exposure, but because of the new snow as well. "It was really questionable whether the snow bonded to the previous melt/freeze cycle," says TGR's Steve Jones who was onsite directing the shoot. "They went up Sunday night with the notion just to look at it on Monday. The whole decent is a no fall zone. If anything were to slough or slide, it's game over."
Conditions were stable and the group made the descent, but not without a few incredibly tense moments. At one point, Jones, Iguchi, and Billamora had all made an initial repel onto the Otterbody face while O'Neill skied toward them and triggered a large amount of slough. The three below were sheltered as the snow passed over them, but there was no way to tell that from the camera angles.
"It was pretty emotional in the sense that at a point I wasn't sure if I was going to watch my brother and two friends get sloughed off the mountain," says Steve Jones. "From our perspective it looked like the slough was bearing down on them. It was a really tense moment for everyone."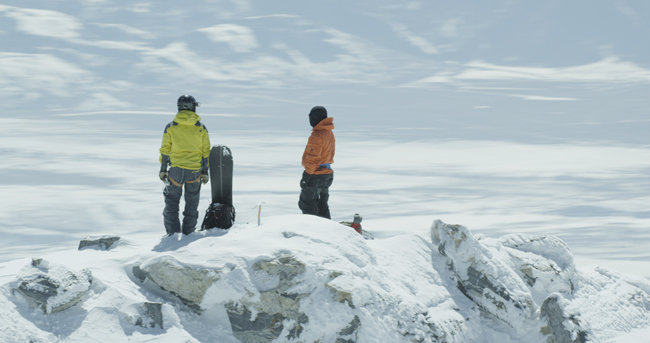 160
The tension didn't end there. When the group arrived at a mandatory 400-foot rappel, there was so much snow accumulation that the anchor was nowhere to be found. Instead of using a set anchor, they had to make a new one. Testing out a new anchor with a 400-foot drop isn't exactly ideal.
These trials are typical for a descent in Grand Teton National Park according to Jeremy Jones. "I've tried to have the Tetons in my last two films," says Jeremy Jones. "[They] are a tricky range, and probably the toughest place that we've tried to shoot in the last five years. Two of the last five years I've wrote it off right from the get go."
Jones says that Grand Teton National Park was one of his main motivations for going to terrain that was only accessed by foot. "I was running out of terrain, but I realized that there is so much terrain in the park."
When asked where Higher will take him next, Jones's reply echoed his never-ending sense of adventure. "Higher is an evolution of everything I've done in snowboarding. Where that shakes out, I don't know. We'll know in a couple of years when it's done."