From Left to right, Black Diamond's 2013-14 Megawatt, Verdict, AMPerage, Convert, and Zealot skis.
Sure, you may have just bought new skis, but they're already obsolete. Sorry, next year's boards have already been invented. Later this month, at the Outdoor Retailer and SIA trade shows, all of the winter 2013-14 skis will begin to be promoted, starting the annual cycle of ski-stoke and anticipation all over again. It's just how it works. Everyone likes shiny new plastic toys, especially when they allow you have more fun on the snow than the year before. And that's the point, to have more fun.

Last week, Teton Gravity Research office jockeys had the pleasure of testing out some of


Ski testing is tricky business. What may be the best pair of sticks for one person could be the worst pair of planks for the next person – and that was the case a couple times here. Also, there were times when just one person got out on a pair of skis, so you only have their opinion to go on. There are so many factors: conditions, group dynamic, length of ski, what type of ski the "tester" is used to, type of skier, how much time they had on them, etc.

So, consider this a first look at BD's 2013-14 freeride line.

We have listed exact dimensions, weights, and prices, then our thoughts. Many of these skis are already out on the market, but for 2013-14, many of the skis weigh less due to BD using pre-preg technology in their new factory in China that they say is eco-friendly.

If you don't feel like reading this whole thing, here's the take away: Everyone loved the 185 AMPerage and considered it a "one quiver" ski. Also, everyone loved the Megawatt in powder and thought is was "surfy."

Other results varied and not everyone was able to get out on all the skis.

Anyway, here we go.



Megawatt ($899)
178cm: 150-125-131 9lb 1oz
188cm: 151-125-131 10lb 9oz

Two testers total on the 188

Stoke Level: 8/10

"It was really fun," said TGR's Than Volk, who is 25 years old, 5'10" and 150 lbs. " I got one run of them, but that was all I needed. We skied [a fucking sick 3000-verical foot powder run in the Jackson Hole backcountry]. It was untracked with 12" to 18" of recent snow and the Megawatts were the perfect ski to be on. The width and rocker provided plenty of float to make really enjoyable big swooping, surfy powder turns. They reminded me a lot of my K2 Pon2oons, but are probably a little more versatile outside of untracked powder."

TGR's Sam Petri, who is 31 years old 5'10" and considerably fatter at 190 lbs, also found them to be "surfy."

"The Black Diamond Megawatt was snappy on the hardpack and surfy in the pow," Sam said. "These are definately powder slayers and were best in even the slightest bit of fresh snow. On hardpack, if you tried to lay a carve down, they snapped you into each turn. It was a little weird on hardpack, like many skis that are 125 mm underfoot. If you carved a little less hard and "scrubbed" your turns, it was more enjoyable on hardpack. But they are not for hardpack, they are for powder, and in powder, you could straight-up charge and do anything."

So, who is this ski for? What type of skier would benefit from this ski?

"This is a quiver ski for deep power," Than Volk said.

"This is a powder ski for the deepest days," said Sam Petri.




AMPerage ($799)
165cm: 139-115-123 8lb 10oz
175cm: 141-115-123 9lb 1oz
185cm: 142-115-124 9lb 8oz
195cm: 143-115-125 10lb

Four testers total on the 185, one on the 195

Stoke Level: 8.5/10

"The AMPerage 185 is the ski I most looked forward to testing," said Danny Holland, who is 29, 5'9", 180 pounds, and rips decent, considering he is from Colorado. "A similar shape to my Atomic Automatics and Rossignol S7s, I was curious how they would compare. We stepped into the side country and found a magic run to really give these a test. The 185 AMPerage skied amazingly. It had plenty of float due to the 115mm width underfoot and carved exceptionally from top to bottom. This year's model is also lighter by over 100 grams making the traverse out slightly less painful. Overall I would consider this a great one-quiver ski.


Danny Holland enjoys the 2013-14 Black Diamond 185 AMPerage in the Jackson Hole backcountry.

"I've always wanted to get on a pair of AMPerages," Than Volk said. "I rode them on a warm bluebird day with about 6" of new wind-affected snow. We hit both off-piste runs (Rendezvous Bowl early, Headwall and The Crags) and groomers in between. What impressed me most about the skis were their versatility. In both conditions the ski was a charger. It's fast, aggressive and agile. It reminds me most of my Atomic Automatic but is also categorically similar to my Hybrid DPS Wailer 112RPs (a less aggressive ski with more sidecut and less stiffness). This is a ski I'd definitely buy for myself and recommend to others."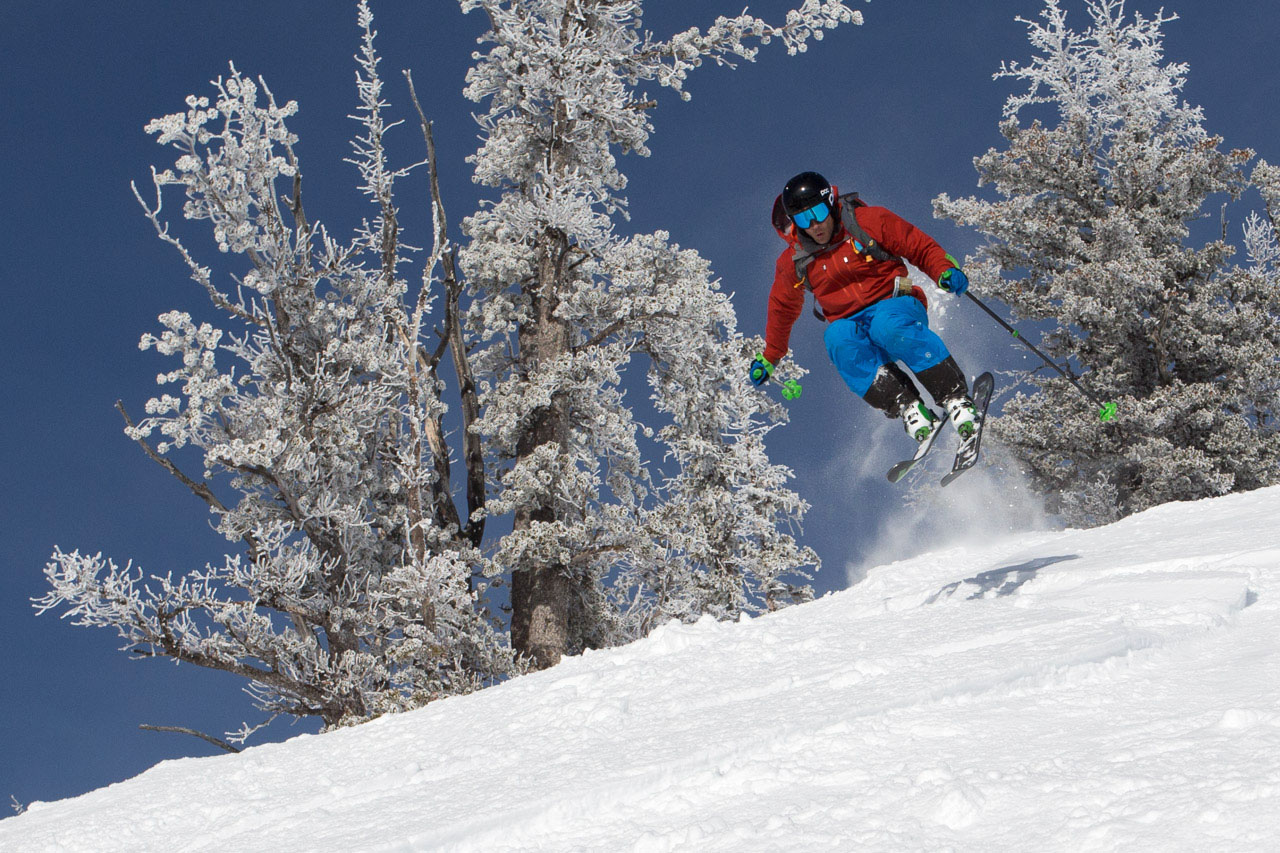 "The BD Amperage was a pleasant surprise in the versatility department," said Brian Wulf, who is 25, 5' 10" and weights 170 lbs. "We all dream of the days of endless resort pow and empty chairlifts, but that's rarely the reality. Instead, we end up bumping around on hardpack searching for the goods and compromising in fun. We either find a sick all mountain ski that blasts through the crud or surfs in the deep stuff, but never both. The Amperage may make reality fun again. Initiating a turn on hard park wasn't effortless, but never did it induce fatigue. And then comes the deep stuff. So easy to pivot, the ski was playful and poppy. I would however like the ski mounted a bit more forward."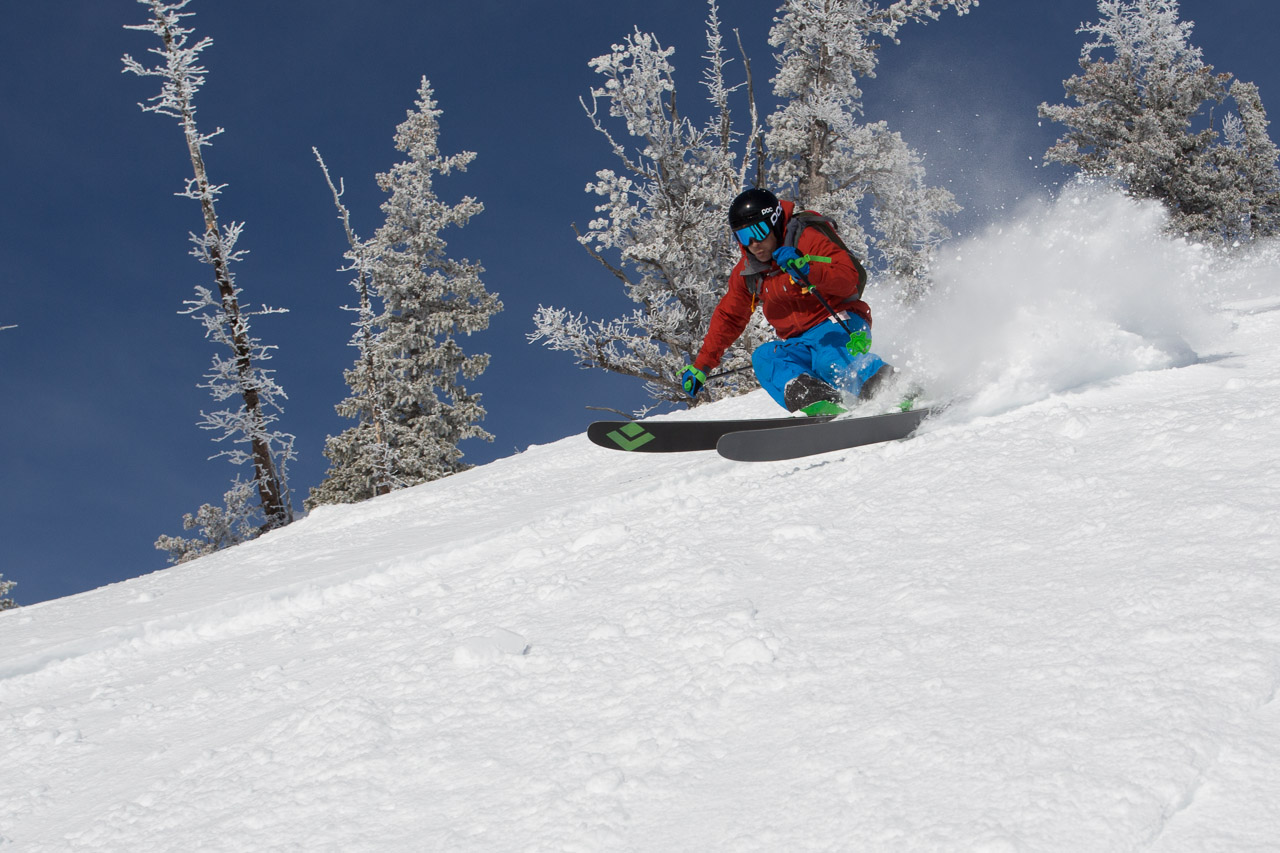 "I went out on a marginally deep, 'dust on crust' day with the AMPerage in a 185," Sam Petri said. "What I found to be impressive was its ability to manage these variable conditions with ease. Whether I was floating in powder or navigating ice bumps, these skis were there for me. While 115 mm under foot may be fat for some people, I consider this one of the truest 'one quiver' skis I've been on in a while. Seems like you could put touring bindings on them or resort bindings and be equally happy."

Who is this ski for? What type of skier would benefit from this ski?

"This ski is perfect for your big mountain skier," Danny Holland said. "It's for someone who wants something that performs well on various conditions and is a joy to ski when things are soft."

"It's a great all mountain powder ski for a resort like Jackson Hole," Than Volk said. "It's got the flotation and width for powder while maintaining the stiffness for crud and groomers once it's tracked out."

"The ski is versatile from trees, to crud, to pow," Brian Wulf said. "But the shape certainly lends itself to the skier that likes a more fun and playful stick.

"This ski is for everyone," Sam Petri said. "Again, I was so impressed by its versatility. I would be confused if someone were to ski this one and come back disappointed. I've never been on the Armada JJ, but all my friends have it and rave about it. I have to think this skis directly competes with it."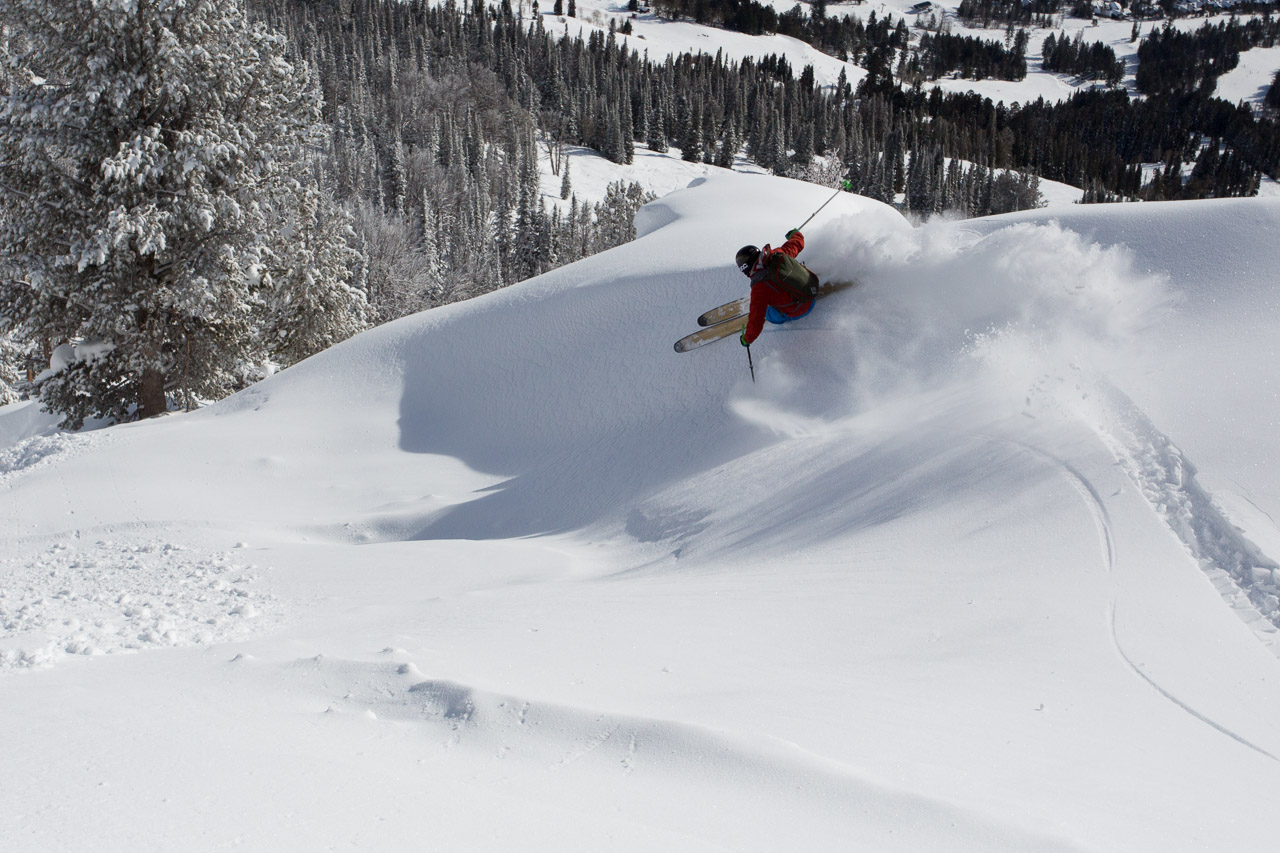 Zealot ($849)
182cm: 135-110-123 10lb 2oz
192cm: 136-110-125 10lb 13oz

Two Testers on the 182

Stoke Level: Hard to say. Results are a little inconclusive on this one. Only two testers took this ski out. Danny was stoked, giving them a 9/10. Than, not so much, giving them a 5/10.

"I have been the type of skier that has traditionally ridden on wider and softer skis such as the Rossignol S7 and recently Atomic Automatics," Danny Holland said. "My mind was completely blow away after getting on a stiffer hard charging ski like the Zealot. It was amazing to drop in and pick up speed, put in a turn and feel completely in control. It was like skiing on rails."

Than Volk, not quite as amped, but would like to try them again.

"The day before I rode them had gotten pretty warm," Than Volk said. "While we got 3" - 4" overnight, we were mostly riding off-piste and it was pretty much "dust on crust" conditions that would have been tough on any pair of skis. I have a pair of Volkl Kanatas and hoped they would perform similarly, but didn't feel like I got a great chance to test that out."

Who is this ski for? What type of skier would benefit from this ski?

"This is really a perfect big mountain ski," Danny Holland said. "It is ideal on those days where the thicker sticks really are not needed and you want to rip tram laps as fast as humanly possible."

"If it's anything like a Katana it should be a great front side ski that also holds its own in powder," Than Volk said.


Teton Gravity Research Advertising Guru - Than Volk

Verdict ($799)
164cm: 130-100-118 8lb 10oz
172cm: 131-100-118 9lb 1oz
180cm: 132-100-119 9lb 8oz
188cm: 133-100-119 10lb

One Tester on the 180

Stoke Level: 7

"The Black Diamond Verdict is a great ski but for the conditions that we had today I would have probably want something a little heavier and stiffer," Said Johanna Murphy, who is 26, 5'5" and 135 lbs. "I would have loved to try these out in lighter snow because I think that's where these skis would have shined. I felt somewhat sloppy because hitting any hard packed snow they almost flew away from my body making balancing challenging. In the hobacks where the snow was a little softer due to being in the sun these skies performed well. I was in control and smoothly going over the bumpy terrain."

"My best moment on them was in the Hobacks – The Hobacks were pretty soft when we skied on them and the Verdicts were great handling that light slightly cruddy snow," Johanna said. "The worst moment was on groomers – I didn't feel like there was enough edge to catch on the icy groomers that we hit. I felt like the skis were chattering."

So, who is this ski for? What type of skier would benefit from this ski?

"This ski is for an all mountain skier that has lots of snow to play with. If you are a hard charging skier with a hardpacked mountain to ski on, these probably are not for you," Johanna said.



Carbon Megawatt ($999)
178cm: 145-120-127 7lb 1oz
188cm: 147-120-127 8lb

One Tester on the 188

Stoke Level: 8.5

"For such a fat ski, I can't believe how light these boards are," Sam Petri said. "I skied these on Teton Pass and they were mounted with tech bindings. It was a true pleasure to hike with such fat skis that didn't weigh so much. On the way down, it was mostly powder and I felt these performed similarly to the non-carbon version in powder – which is awesome. You can make both large and small turns and you can do that new school thing where you throw them sideways at high spped to make a giant powder plume. I would not ski these at the resort, though, as I think skiing an all carbon ski in resort conditions often leads to a 'tinny' feel."

Who is this ski for? What type of skier would benefit from this ski?

"This ski is for the dedicated backcountry skier who has a quiver of skis and wants this one for the deepest days of the year and general powder crushing," Sam Petri said.





Convert ($799)
164cm: 131-105-116 6lb 6oz
172cm: 132-105-116 7lb
180cm: 133-105-117 7lb 4oz
188cm: 134-105-117 7lb 11oz

One tester on the 180

Stoke level: 8.5

"There is no question that these Black Diamond Covert skis are meant for the pow," said Joni McGregor, who is 23, 5'7" and 120 lbs. "They were super fun and fast in the wide open powder fields. They gave me confidence that I don't get from my own skis in the deep snow. When we started hitting groomers and going through the trees, these skis were not as ideal. It was more difficult to make good turns on these runs. Overall, I had a great time on the Covert and it would be the perfect ski for the really deep days."

Who is this ski for? What type of skier would benefit from this ski?

"An expert skier that likes to tour to find the pow."






A few of us got to get out on the new Factor Mx 130 Ski Boot.

Black Diamond's Factor Mx 130 boots offer an impressively alpine-boot like feel with an equally impressive walk mode. While everyone's foot is different, these boots are a solid choice for those that want to ski hard and tour hard. We charged in and out of bounds in them. Below are some specs and some thoughts from BD ski category director Thomas Laakso.

Available in sizes 24.5-30.5
Weight: 4 kg (8 lb 3 oz) [size 27.5].

· Mx Direct Connect technology for unmatched lateral stiffness and Flex 130 fore/aft stiffness
· Mx Direct Connect Alpine and AT Sole Blocks (tech binding compatible) included, integrated heel shock absorber
· Resistance-free walk mode offers 40 degrees of touring freedom
· 30% lower profile buckles than previous Factor boots
· Performance 100 mm V-shaped last with 100% thermoformable Direct Connect liner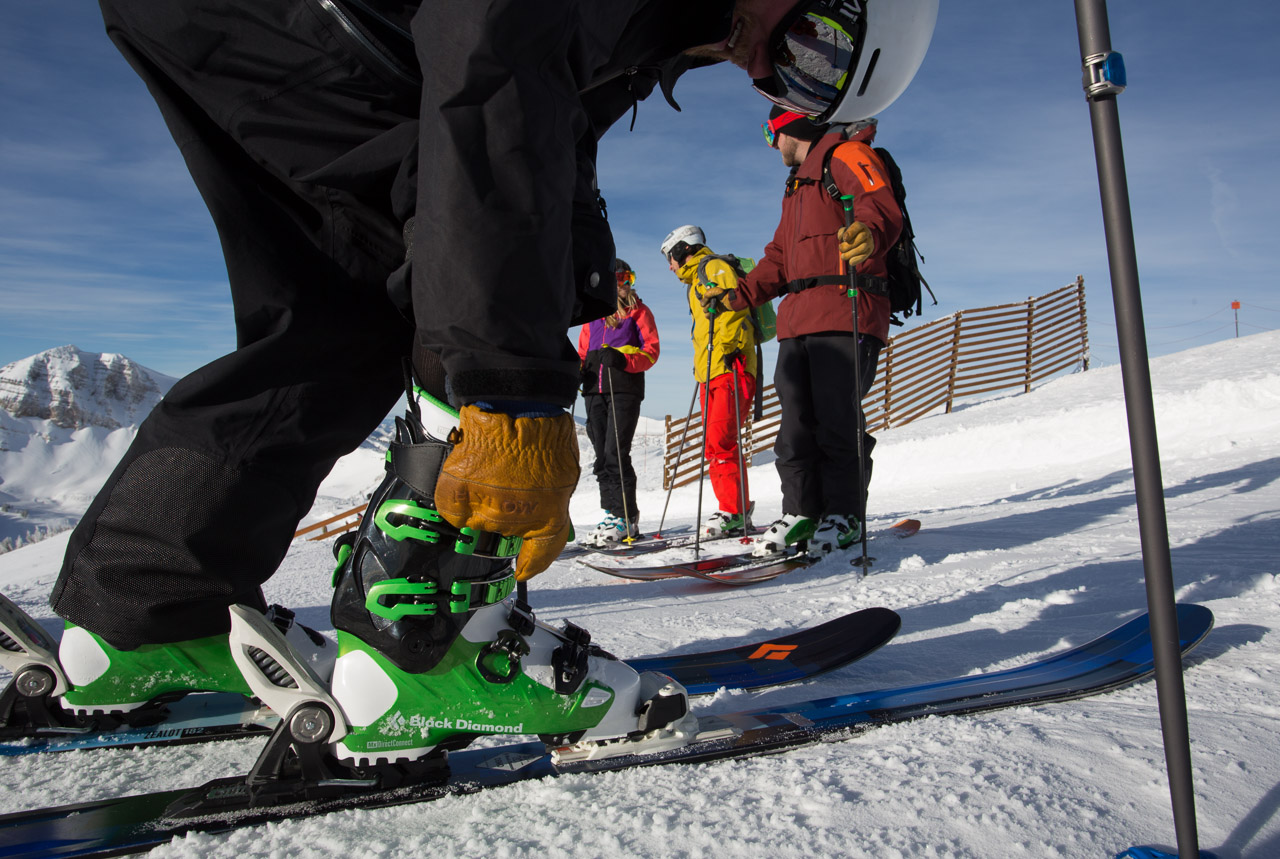 "Did you catch Johnny Collinson's run up at Revelstoke?" BD ski category director Thomas Laakso asked in an email. "I'm kind of biased but sort of think that was one of the sickest airs of the comp, along with a super technical line of which he got ROBBED… But anyways, of relevance, I think it was the first time anyone's really competed on a freeride boot like that. Stock Factor Mx boots and slaying a line like that! Along with the new Amperage as well which surely helped him stomp that 3 like a man. But it is pretty cool that he's competing in it, filming in it, touring in it, and slaying it. Same with Angel. Same with Callum Pettit who's not competing, but touring, filming and just monkeying around all in that one boot. And same with Samuel Antematten in Europe who's competing on it next week in Courmayer. There hasn't been a boot that you can do all that with yet. Who knew that a walk mode boot with 40 degrees of touring could also compete at the highest level where they were using plug race boots just last year!"


Thanks again to Black Diamond for letting us have the first look at the 2013-14 freeride line! Much appreciated!
Shop for Black Diamond skis, boots, poles and more at Backcountry.com while helping support TGR!