Welcome to Editor's Picks. Here TGR's desk jockey kooks lay out the products they put to use before work on Teton Pass or on their days off at the resort.
Managing Editor Mike Sudmeier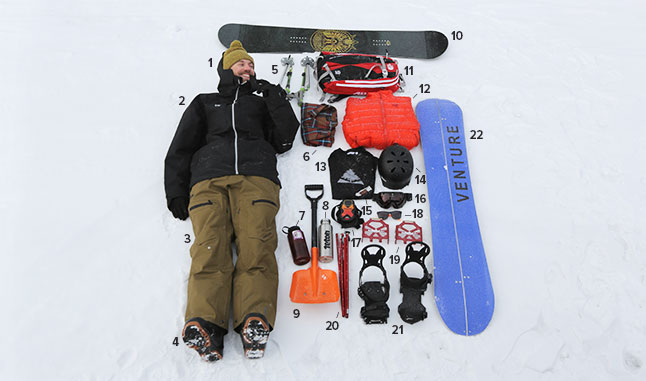 Mike is TGR's Managing Editor, and when he isn't sucking down gallons of iced tea or writing notes on person-sized post-it notes, he's usually in a meeting. Recently married and sporting a handsome Iowa-bred beard, Mike has a propensity for small snowboard brands, backside hacks, all-star manners, and brewing large quantities of iced tea.
Candygrind OG CO Beanie For years, Candygind's OG CO Beanie has been a winter staple. It keeps ears warm and rocks a pom pom—what more could you ask for?
Homeschool Universe 3.5 Layer Shell With a nod to its Northwest roots, Homeschool makes outerwear built to endure the elements—however brutal they may be. Its 3.5 layer outerwear can readily withstand one hundred day seasons. And while many brands are quick to emphasize how waterproof their apparel is, Homeschool also focuses on breathability. By using Cocona fabric and developing base layers, mid layers, and outerwear that function as a system, the brand aims to keep riders warm, dry, and smiling. After rocking Homeschool for three seasons, I know I can depend on the brand's gear.
Homeschool Karpis 3.5 Layer Pants Jackson is tough on pants. Luckily, Homeschool's Karpis 3.5 Layer Pants are super burly. Whether skinning or lapping the mountain, the Karpis is perfect for embracing time on the snow. And thanks to their Cocona fabric and strategic vents, these pants can handle both subzero tram laps and spring time tours. To top it off, the Karpis features Homeschool's clean aesthetic.
Deeluxe Empire Boots Deeluxe's Empire is as versatile as it is reliable. Its Thermoflex liner keeps things comfy while its lacing system and powerstrap afford a responsive ride. As a mid-stiff boot, the Empire can crank out turns, barrel up a bootpack, or handle a long day of skinning. And as icing on the cake, the boot's craftsmanship is top notch.
Black Diamond Compactor Poles Thanks to its folding design, this three-piece pole can readily fit inside a pack. If you're into trekking through urban environments, you may even be able to conceal the poles inside a purse. That being said, the Compactor Poles are most at home on the snow.
Oakley General Woven Flannel Business? Casual? Backcountry adventures? The General can handle it all. While grandmothers are quick to compliment the shirt for its good looks, you can readily appreciate its breathability and warmth.
Nalgene 32 Ounce Lexan Water Bottle Simple and reliable, Nalgene has perfected its wide mouth bottles through the years. While there's a time and place for sophisticated hydration systems, sometimes it's just nice to chug from a bottle. As an added bonus, mine features a nice patina from iced tea as well as a "Clean Plate Club" sticker from the King's Chef in Colorado Springs.
Teton Gravity Mizu Water Bottle I've become a huge fan of our stainless steel bottles, which are made by Mizu. Durable, easy-to-fill, and easy-to-clean, this bottle is the perfect daily driver. And thanks to its slim profile, it readily fits into the pockets of an overstuffed pack.
Voile Telepro T6 Shovel The Telepro puts most shovels to shame. Big, burly, and guide approved, this thing can move some snow—and handle plenty of abuse. Buy one for yourself—and then buy a few for your buddies. After all, the life you save may be your own.
Smokin KT-22 162 Smokin's KT-22 is a favorite among riders who call places like Jackson and Squaw their home. Nonetheless, the board can readily transition from terrorizing big lines to holding its own in the park. Consequently, it's a deck that lives up to its claim as being a true all mountain board. Thanks to a directional flex, setback stance, and Smokin's Clash Rocker—which places rocker between the bindings and camber outside of it—the board can crank out turns and provide plenty of float in the pow. And as icing on the cake, the KT-22 sports Magne-Traction for enhanced edge hold.
The North Face Patrol 24 Pack The North Face's Patrol 24 Pack offers everything you need and nothing you don't. In addition to sporting a built-in Avalanche Airbag System, the pack can readily haul your board (or skis), avy equipment, and everything you need for a day's tour. Rugged yet refined, the Patrol Pack can handle anything you throw at it.
Arc'teryx Cerium Jacket I practically live in this jacket throughout the fall and winter. Arc'teryx has staked its reputation on crafting premium apparel—and the Cerium proves that this reputation is well earned. Extremely packable and warm, this jacket is much appreciated on cold days. The Cerium is also a perfect layering piece for backcountry tours—you can keep it on call and in your pack all winter. As testament to Arc'teryx's commitment to innovation, the jacket sports synthetic insulation in areas most likely to encounter moisture and down insulation in its core.
Naklin Winter Weight Crew Naklin—cofounded by Abe Gilreath and legendary pro shred Kevin Jones—keeps things simple. The brand offers clean base layers that are built in the U.S. and made of merino wool. Whether lapping kickers, skinning in the backcountry, or just relaxing, Naklin's Winter Weight Crew will keep you warm, dry, and comfortable.
Bern Watts Snow EPS Helmet For years, Bern has been quietly driving innovation. Thanks, in part, to its iconic brim, the Baker and the Watts have emerged as the brand's signature helmets. A series of vents helps the Watts regulate temperature, while a plush lining keeps things comfy. I've rocked the Watts for three years—and am stoked to rock it again this season.
Sog Fielder KnifeAlthough I always carry a Leatherman in my pack, I tend to also carry a Sog Fielder in my pocket. Clean, simple, and sporting a straight blade, the Fielder is perfect for handling the tasks that pop up throughout a day—be it performing an emergency tracheotomy, cutting webbing, or simply cooking dinner.
Zeal Eclipse Goggles Photochromic lenses are the future—let other fools fidget with swapping out lenses. Super stealth, the Zeal sports a polarized, photochromic lens. This lens reduces glare while also adjusting its tint in response to the prevailing light conditions. And although over-sized, the Eclipse is practical—providing a clean appearance and ample peripheral vision. Flat light, bluebird days, intermittent sunshine, the Zeal Eclipse can handle it all.
BCA Tracker 2 Beacon When it comes to ease of use, Backcountry Access has its products dialed. Thanks to its simplicity and reliability, the Tracker 2 is one of the most prevalent beacons on the market. I trust my life to it.
OA High Adventure Gas Station Shades These were a gift from some friends. I'm assuming they picked them up for free by the dozens. Although nothing takes the place of some quality optics, it's always great to have a cheap pair of shades on the dashboard or hidden in a pack to serve as a spare.
Spark Sabertooth Crampons The Sabertooth Crampon is the perfect companion for Spark's Afterburners. When you need extra traction, tap the Sabertooth.
BCA Stealth 300 Probe Thanks to its super efficient Stealth Quick Lock, you can readily assemble this probe—potentially saving seconds. With a 300 cm length and burly design, the BCA Stealth 300 Probe is designed for professionals—and anyone else who relies heavily on their gear.
Spark AfterBurner Bindings From its headquarters in Bozeman, Spark keeps busy transforming how we ride. Through the years, it continually refines its products—and thus how riders experience the backcountry. Its new Tesla System—which serves as the foundation of the AfterBurner—eliminates traditional pins by using a toe ramp that snaps into place for both touring and riding. This new system cuts down on transition time while also shedding weight. As Spark's stiffest and most responsive binding, the AfterBurner is designed for charging hard.
Venture Odin 166 Splitboard Nothing rides like a Venture. Designed by legendary big mountain rider Johan Olofsson and Venture engineer and cofounder Klem Branner, the Odin craves big lines and wide, arching turns. The craftsmanship of the deck is evident in how its halves fit together—and, needless to say, in how it rides. The board offers a stable, fluid ride and also skins with confidence. Last winter, my Odin was the perfect sidekick for dozens of tours throughout the Tetons. And, like most Ventures, this board has years of life ahead of it. Few decks are as durable as a Venture.
Social Media Editor Joni McGregor
Joni is part of a long-standing TGR human resources tradition of hiring employees from the Deep South. Despite her roots in the couloir-less expanse of greater Atlanta, Joni comes from a family of passionate skiers and is our Social Media Editor. Like everyone in Teton County, she's currently training her dog to ski with her.
Associate Editor Ryan Dunfee
Ryan comes from the bad lands of New Hampshire and the living room freelance writing world, having convinced ouftits like Powder to pay him for his nonsensical rants for years, and is still marveling in the fact that there is consistently soft snow to ski in Jackson Hole. When he's not listening to an incoherent Spotify playlist or seeking out equipment to assist him in his quest to get out of the backseat, he's our acting Associate Editor.
First Ascent Downlight Vest Simple & light, I stash the Downlight Vest into my pack in case I need an extra layer or am waiting for a hungover ski partner at the top of a skin track.
Marker Jester bindings While the mega core bros might demand the stiffer Jester Pro or a burly steel FKS binding, I find that the normal Jesters work fine for unremarkably gnarly bros like myself, and you save the weight without all that metal.
BCA A-2 Extension Shovel with saw A solid shovel with an extension for more leverage, loops for building a ski sled to transport an injured rider (I'm missing my parachute cord in this collage), and an included snow saw for snow pit tests or chopping down kindling make the A-2 a sweet option.
Moment Deathwish ski The bizarre Moustache Rocker of the all-mountain Deathwish, which creates three separate cambers underfoot and four separate contact points along the edge, makes for razor-sharp edge hold on groomers on a decently stiff platform. Get it in pow and the thing is down for slashing and slarving and sports a 112 waist and a rocker profile that keeps you afloat while playing to a bobbier, poppier style in the fresh. If I'm bound to hit a variety of conditions at home or on the road, this is the one ski that inevitably makes it onto the roof rack or into the ski bag - very few skis match the range of the Deathwish.
Bern Macon EPS helmet Hate the idea of being some bulbous helmet-wearing safety nerd? Bern's got some seriously low-profile brain protectors like the Macon that save your brain cells for your Monday through Friday without making you look like you're joining the space program.
Smith Optics I/OX goggles The I/O has been the best goggle I've ever owned, and one of the only that prevents my propensity for sweating from fogging up the lenses for the rest of the day. The I/OX simply gives you a bigger field of vision for your eyeballs to relish in.
BroBOMB The Facemask There's nothing like using a bigger media site to plug your sideblog, so I wear my BroBOMB The Facemask whenever someone with access to a bigger Facebook fan base is pointing the camera at me. Made by Phunkshun Wear in Colorado, its thin polyester construction keeps me from sweatin' up as I run for the hills away from all the pro skiers whose careers I've insulted on the 'BOMB.
Flylow Gear BA Puffy Jacket When's it's dipping way below freezing on the dawn patrol ski tour, an uninsulated shell is just not going to cut it. Flylow's BA Puffy jacket has been keeping me in a good mood despite the cold with its medium-density synthetic down fill. It's a little on the short side, but a big sell are the two sizable mesh pockets on both sides of the interior of the jacket - perfect for keeping a pair of climbing skins warm and dry on the ski down without having them awkwardly bulked up on one side of the jacket.
First Ascent Guide Gloves A pretty straightforward set of leather gloves that are doubly reinforced on much of the palm and thumb with a burly wrist strap and a wool lining. They're not the warmest or the most waterproof, but they have been my go-to glove for a few seasons now.
Saga Monarch 3L Pants Saga makes a solid 3L pant with the all-important crotch vent, along with two more along the outside of the knees. I'm still a little confused about what I'm supposed to put in the knee pockets - maybe a map? - but hey! They're warm and keep me dry, and the fleece lining along the butt and knees keeps critical joints warm.
Dalbello Panterra 120 I.D. boots Based on the Krypton 2 platform, the Panterra 120 continues that model's tradition of serving fat-footed hard chargers with a smooth-flexing three-piece shell that doesn't choke when it comes to controlling big skis at high speed. The included Intuition wrap liner is god's gift to skiers' feet, and new in the Panterra model are a walk mode, an adjustable heel height, and a fourth buckle over the toe that can change the last from a looser 102 mm to a tighter 100.
Backcountry Access Stealth Carbon 260 probe The probe. One third of the trifecta of the absolutely essential backcountry gear, along with an avalanche beacon and shovel. Whip it out. Stab it in the snow once you've narrowed down your beacon signal. Find a victim. Save a life.
Black Diamond Traverse Ski Poles Adjustable-length poles are critical for the backcountry, where the hike up asks for longer poles than the way down, and the Traverse has been the go-to model for years. While my older pair are staying strong, the newer version has a full-size basket and a rubber grip around the upper shaft for quickly adjusting to the shorter uphill side of a steep skin track.
Adventure Medical Adventure First Aid 1.0 kit A compact first aid kit for basic injuries. I neglected to include a few crucial items that will come in handy if things get serious, like a backcountry repair kit, parachute cord, knife/multi-tool, space blanket, and compass.
Coors Heavy In all honesty, I almost exclusively pack water for my ski days, but I forgot my water bottle for the shoot, and PBR is way played these days.
Stanley Classic Flask filled with High West Rendevous Rye whiskey Stanley makes the kind of timeless camping products you imagine your grandpa used when he was trudging through the snow in the 50's in an all-wool outfit hunting elk. To remember him, I picked up the Stanley Classic Flask, which I fill with my favorite whiskey, High West's Rendevous Rye, for post-ski parking lot cocktails or a quick shot of warmth on a cold day. For wine aficionados, a bota bag is an excellent alternate option.
Reed's Ginger Beer For the best whiskey gingers known to man or buffalo.
Black Diamond Spot headlamp The Spot headlamp is a pretty straightforward model from BD that comes with its own AAA batteries, which is a big sell for shopping slackers. The best features are the different light modes, one of which shines a focused beam deep into space while another casts a dimmer, wider beam that is better for fumbling around in your tent or reading a book. A lightweight tool to throw in a ski pack for pre-dawn starts or in case of emergencies.
TGR Team Tech hoodie Slick polyester exterior with a warm, soft fuzzy interior. Be a team player.
LL Bean Maine Hunting Shoe Making New England proud, even if it's just while changing in the Teton Pass parking lot, guy.
Norrona Narvik Gore-Tex 2L jacket Beyond making really sweet mountain bike edits, I've also learned that relative newcomer (to 'Merica) Norrona also makes some bomber ski clothes. The Narvik is one slick shell, with a long freeride fit, long mesh-lined zippers both under the armpits and on the chest itself, and a well-conceived cuff whose upper section reaches out over the top of the glove and whose wrist gator is unobtrusive but still tight enough to keep the snow out. Norrona claims the Narvik is designed to be flexible for high-movement freestylers, and so far, I've felt no resistance fishing my chapstick out of my pocket.
Black Diamond Avalung II It might seem a little redundant to have an airbag and an Avalung, but hey, last week someone in Utah was still buried a few feet under even with their airbag inflated, so being able to breath under the snow for awhile and clear away your carbon dioxide still seems like a good idea.
TGR Coffee Mug Filled daily with dark espresso Cafe Bustello for a stomach-curdling blast of caffeine to get your morning going. Currently sold out online with a few last units available at our Wilson, Wyoming headquarters. Mind the elk herd!
SONY Action Cam Noted for its high audio quality, the Action Cam is also pretty low-profile, great for those who want to capture their day of the shred without sporting an antennae of self-indulgent electronics.
BCA Tracker DTS beacon There are better beacons, but for many in North America, this is their first and still a go-to after all these years. Make sure you know how to manually search for multiple burials with the DTS, as it's yellow multi-burial function can be a little less than dependable.
Voile ski straps An absolute essential for the backcountry. Brutally strong and adjustable, Voile's ski straps keep iced-over climbing skins affixed to skis, splint up broken ski poles, and can even be used as a tourniquet in emergencies. I never head out with less than four.
Backccountry Access Float 22 airbag BCA's packs are always straightforward and their philosophy of minimal exposed straps ensures against tree branch or chairlift snags. The 22 liter size provides space for all the safety essentials plus an extra layer, gloves, goggles, and snacks - all I need for the majority of my ski touring missions that take place in the limited amount of daylight before work. Of course, airbags are all the rage for safety these days, and BCA's single-piece airbag inflates behind the head and protects from some trauma.