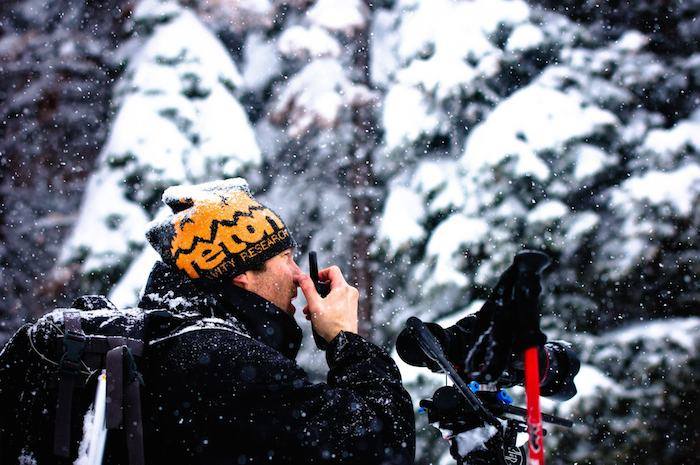 Greg working on a shoot for TGR
This past Friday Greg Epstein, our Head of Physical Production, volunteered his time for an Ask Me Anything (AMA) in our own TGR Forums. Questions asked revealed insights about the future of ski films and the avalanche that Greg got caught last March. For those who might not know what exactly what a Head of Physical Production does Greg's responsibilities include:
-Managing budgets for the films
-Choosing locations for shoots and managing logistics
-Picking and hiring cinematographers, photographers, guides, gaffers, pilots, etc. for film shoots
-Picking athletes for film shoots
-Helping oversee post-production (editing, etc.) for a lot of the films
Greg has been essential in creating both Jeremy Jones' Higher and our new ski film Almost Ablaze. Without his direction and insight TGR would be a very different company. We have picked out some of our favorite questions and answers from the AMA. Enjoy the highlights below and be sure to check out the original thread here. Words Greg Epstein.
Greg enjoys a ski day with now wife Mira & Griffin Post
What are some of your all time favorite ski flicks that have inspired you or that you strive to achieve similar success? Films that I have inspired me are The North Face Presents Skiing Extreme III, and all the early Greg Stump films. I also really liked the TB 5 by Standard Films.
What's the worst shot you've seen blown? Missing shots is something that happens every year, you just hope that it doesn't happen on a unique line or jump. The worst time this ever happened was in Haines, AK with Nobis and Kreitler. A lens of mine broke and I didn't notice until the shoot was over. Huge bummer.
Are the TGR movie target groups so shallow, trite and unimaginative that there's no value in producing a movie that tries to approximate an actual storyline with character development and a demiplot a la Blizzard Of Ahhs? With the limited time to turn a film around each year digging into a deep story line is very difficult. We have tried a few times, but always run of time to really refine the story. Additionally most of our audience wants to see skiing and snowboarding when they come to our annual film. With the Jeremy Jones trilogy and in the future we plan to have more story, and character based film.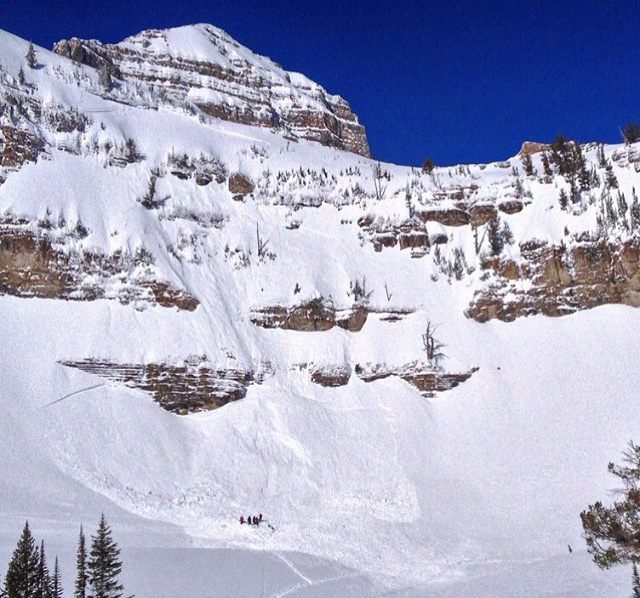 The result of the Breakneck avalanche. The crown where the avalanche broke can be seen high up on the face. Photo via the Bridger-Teton Avalanche Center.
Having survived an avalanche in Granite Canyon - What is your view on the new Teton Lift at JHMR? This is a tough one, I'm for development at the ski area, but I hate seeing people get hurt. If the top of the new lift has informative signage and is well managed I don't see that there will be much of a change in traffic. The secret of the dark side is out, there already are moguls on the Air Force chutes. Fortunately I had an ABS backpack so I stayed on the surface during my slide last march.
I'm considering a career change- what are 3 things you would recommend to amateur filmmakers looking to get involved in your industry? Stay in school, Become a good writer, Stay in school
Can I have some of your old gear for free? We have some gear from the 80's you can have.
What is it you look for when picking an athlete? I have a sneaking suspicion that skills are just half of the equation, if even that? Talent is 50%, attitude is another 40% and the business side is the final 10%.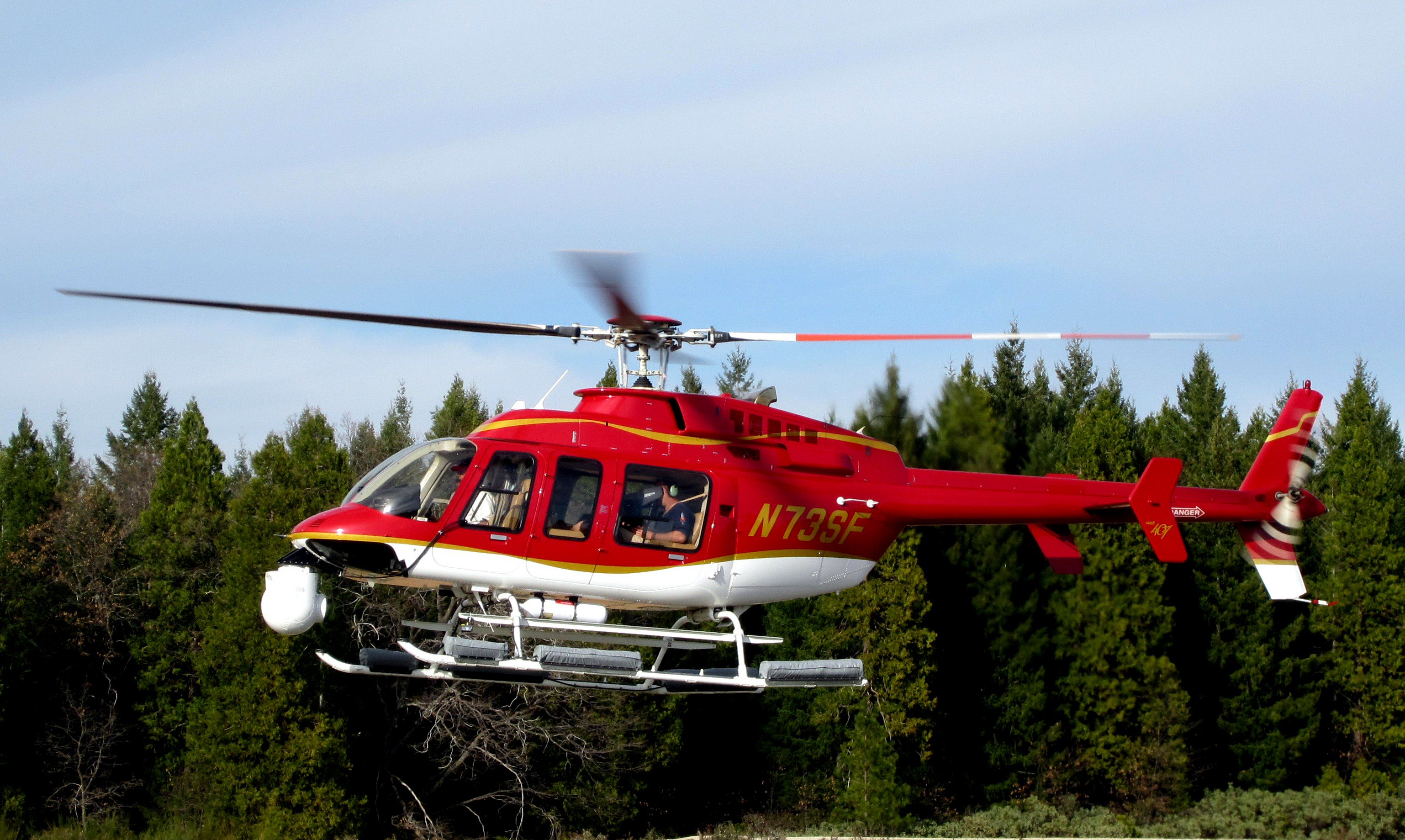 The GSS C520 system mounted on a heli. Photo Credit: www.gyrostablizedsytems.com
What does the near-term look like for drone shoots? We have our GSS C520 aerial system, which allows us the get the very best images. Regarding drones we are looking but haven't pulled the trigger. I think the technology still needs a couple of iterations to go before perfection. The FAA/FCC is another challenge. I see us buying a DJI to start practicing in the near future.
Has making your living in the ski industry taken any of the fun out of skiing? Do you ever wish you did something else for money and just skied on your own time? Besides getting into an avalanche I have one of the best jobs in the industry. I get to ski a lot and definitely get quality over quantity. This job also allows me to live in Jackson, which has an amazing lifestyle.
Do you feel the current format of ski movies is getting a bit burned out? Where would you like to see it go in the next five years? I guess this depends on who the ski movies are for, and what purpose they serve. With our core film we look at it as a passage into winter and a vehicle of stoke. We are currently working on a couple of other films that have more of a story arch, but these take more than year to produce.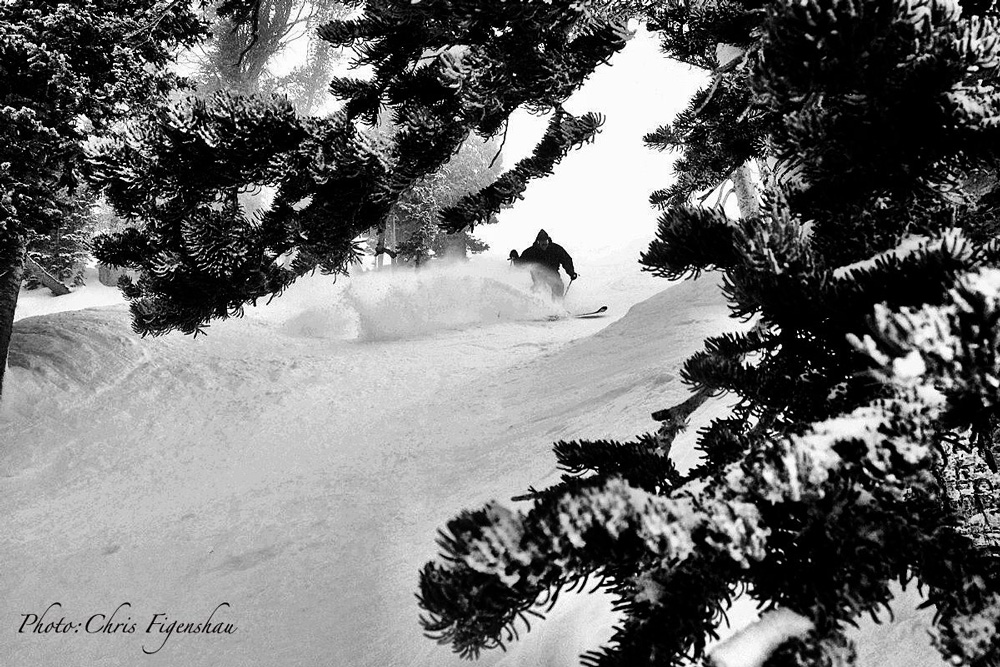 Greg Epstein skiing at Jackson Hole Mountain Resort. Photo by Chris Figenshau.
What are your feelings/views on back country skiing and risk before and after your accident this past winter? What's different for you before the accident to now? I'm still a huge advocate of backcountry skiing. What happened to me is purely a numbers game. Now I don't plan on jumping back into Granite once I start skiing again, but I will get there again someday. Ultimately being in the backcountry on skis or a board is one of the best thing any rider can do both mentally and physically. It's church for me. Go for it
And....do you think it will influence the types of stories and the way they are told in TGR movies? Since the Jeremy Jones films, foot power has become a bigger initiative for TGR. We just need to be more prepared for the unknown through, team training, first aid and using the proper resources when on location: guides, snow info, locals, local emergency teams. Additionally with the rise in popularity of BC skiing it makes it trickier to film with other people out there. So yes we will continue to push further into the backcountry.
Be sure to check out tour pages for both of the films Greg Epstein has helped create on this year. Be sure to join the conversation in TGR's Forums and look for more Ask Me Anythings with TGR athletes, filmmakers, and more over the next couple of months.