What happens when top-ranked slopestyle, enduro, cross country and downhill mountain bikers all descend on one place for four days of world-class competitions? Mayhem, or what's come to be known as the Colorado Freeride Festival.
The second annual CFF will take over Trestle Bike Park in Winter Park, Colorado on July 25-28. The event is touted as the largest freeride festival in the nation. We caught up with Bob Holme, head honcho of Winter Park's terrain parks and general manager of the CFF, for an exclusive guide of what to expect at this year's event.
What can we expect at this year's festival?
The Colorado Freeride Festival involves all different types of mountain biking. We have everything from a cross country race, to an air downhill, which will take place on our premier jump trail, Rainmaker, to an enduro race, which is one of only two stops in North America of the Enduro World Series. We also have a Freeride Mountain Bike Association, FMB, Gold Level Slopestyle contest. This the only event of its class in the United States this year. We'll also have the Intergalactic Pond Crossing event, festival village and family activities.
Will the CFF be the biggest mountain bike event in the USA this season?
From a truly racing experience--the size and scale of events with the enduro and the FMB slopestyle event—it's safe to say that we are the largest freeride festival in the United States.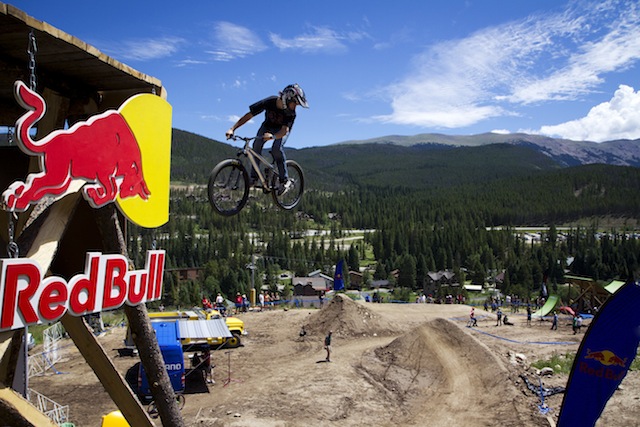 Which of these events are you most looking forward to?
All will be exciting, but I'd highlight two--this year's enduro will feature some of the best mountain bikers in the world. We have top names coming in to compete in this stop of the Enduro World Series, which will be an amazing showcase of bike handling, fitness, and all different styles of riding. I'm really looking forward to seeing many of the European riders come to our mountain and enjoy our bike park.
Also, slopestyle will be insane. During winter, we do photo shoots, massive events and tons of crazy stuff on snow-- I can watch all of that and understand how it all works. If it doesn't go right, I can see how it may be semi-consequential, but I'm relatively callous to most [winter riding]--I really have to see something insane to make me go, holy crap, that is freaky. But when it's on dirt-- it's totally different. When riders are throwing tricks off these features, I have a completely different response. I'm like "oh man, come on, get it!" Because, if these riders don't land it, they are slamming so hard on dirt. From a snow perspective, I wouldn't think twice about some tricks. But on dirt, it raises all the consequences.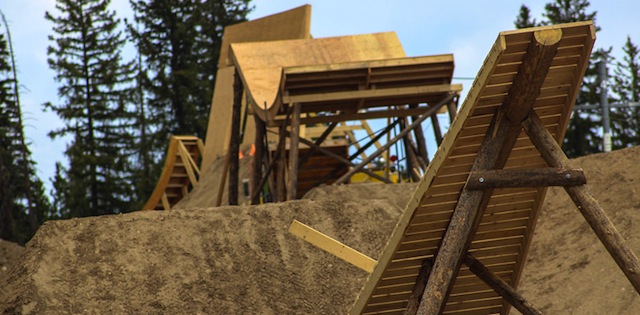 Tell us about the courses. What kind of features can we expect?
The enduro race is five different stages and a total of six different courses that highlight every style of riding you can find in a bike park. It's everything from high-alpine single track to technical downhill, to the jump trail, to "No Quarter" which is a trail with tons of drops, to a true, old school, descending cross-country route. Who ever wins, will be the best rider in Trestle Bike Park without a doubt. This is because they are very balanced courses, where it requires skill versus fitness in order to get good times. I anticipate the finishing time to be somewhere near an hour of racing as a combined time from all five stages.
The slopestyle contest is a judged event and the course includes everything from massive doubles, to drops, to wall rides, to an elevated "fruit-bowl" which is a wooden bowl riders will jump into and launch out off, to massive "boner logs" where riders will send it out onto landings, and hips--it's very similar to what you see in the wintertime in a slopestyle contest. Plenty of wooden features and jump and air features.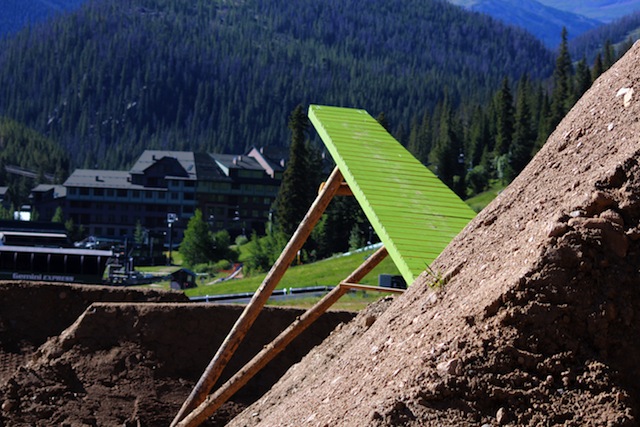 What goes into building the courses?
The courses are built specifically and only for this event. We bring in thousands upon thousands of yards of dirt and wooden structures to build up the venues.
The courses for the enduro race were constructed and maintained by our bike park. The slopestyle course is a combination--it is designed by professional athletes, one of which is Kelly McGarry, who is a pro athlete and a pro course builder. The other is Tom Hey. These guys designed the course and they worked in conjunction with our park crew to actually build the course.
What makes Trestle a unique location to host the CFF?
One the main reasons is this area's long tradition of being "Mountain Bike Capital, USA." Winter Park has long been regarded as such. We've featured racing of all kinds here for over the past twenty years, so it makes sense for us to host a festival of this size, and to also to offer all the different types of disciplines. Trestle Bike Park has been the fastest growing bike park in North America for the past three to four years. So it's great to highlight our bike park, all the growth and new trail construction we've done. We're full service. We have it all right here. Everything from renting a bike, to enjoying a meal, to nightlife to watching a Friday night movie at the base of the park. It's all here.
The closing event of the festival is the Intergalactic Pond Crossing. What's this about?
This will be our fourth summer doing it. Essentially we looked at the CFF as having a lot of really high intensity events that are not necessarily the easiest to watch. We tried to think of something that would be very off board, not serious, and just fun. Since we have the pond in the village, pond crossing seemed like a perfect fit. It's a fun way to test riders' bike handling skills on an eight-inch wide moving plank. It's classic. It's really fun to watch and more people fall in than not. Last year the last athlete to cross the pond was Brandon Semenuk after he won slopestyle finals. He brought up his bike and tried to cross the pond—it was just a really good time for all.
Head here to check out the full list of invited riders for this year's Colorado Freeride Festival, and jump here for more info on this exciting event.
Colorado Freeride Festival 2012: Slopestyle from PlusSizeBMX on Vimeo.
All photos Courtesy of Winter Park
Course Photos: Andy Holloway
2012 CFF Action Shots: Brad Torchia