Leah Dawson is a self-proclaimed "lover of the sea" who has ranked among the top ten longboard surfers for the past ten years and has appeared in over four acclaimed surf films. Incredible feats for the fresh-faced 27-year-old, but the determined Dawson won't stop there. Instead, she's tapping into her creative side and is busy working on several surf and sea awareness programs. Dawson recently created The Sea Appreciation Project, a series of short films based on the sea, and is an ambassador for the Non-Toxic Revolution and for the Keep A Breast Foundation. We sat down with the spirited surfer for this edition of Hi-Fives.
Leah Dawson, what is unique about you?
I communicate with the sea, and talk with her every time I have the opportunity to unite my body within the magic of the ocean. She makes me laugh and makes me feel the tingling effect of overwhelming joy.
How long have you been surfing?
I was blessed with parents who love the sea and are surfers themselves. When I was three, we were living in Orlando and boating on the regular. After I stood up with no instruction on the little boogie board, my parents took me to the beach. Dad plopped me in the front of his board, and I've been mesmerized by the sea ever since.
Do you still compete?
Hmm, competition holds an interesting place in my life now. I used to be so gung-ho about competing—I wanted to be the best for myself, wanted to continually progress and bring my A-game to whatever the conditions presented. Yet, as I've grown older, practiced yoga, and discovered myself spiritually, the less I judge things and the less I seek to be judged. Yet, comparison and judging are the roots of surf competitions, so competing has really become unappealing to me as a way of life. Every now and again, I'll enter an event if it is at a good surf break, or if it offers an opportunity to unite with all my awesome lady surfer friends. For the most part, my focus has changed from competition to expression-- to have the ultimate dance with the sea each time my toes touch the water.
What are the best and worst parts of competing?
The best part of competing for me is the group of amazing friends I have made through traveling to contests. The worst part of competing is then having to be in a heat against those same friends. Being cutthroat is challenging, especially when your surfing against a friend you admire and respect. A benefit of competing is the inspiration for progression that naturally occurs from wanting to win. Now, I gauge my progression based on how in-tune I feel with the sea-- being in the right place at the right time, predicting, flowing, allowing my hips to be free, my hands flowing as a delicate designer. When I am aware of my breath when on a wave, I know I am in tune.
Tell us about the Sea Appreciation Project. What is your role with it?
The Sea Appreciation Project is a media initiative I created when I finished my short film "Peanut Butter". I recognized I wanted to establish an ongoing project that I could continue making short films with, that expressed my underlying theme. Appreciation is the first step towards awareness, towards a shift in consciousness, towards more love, more gratitude, which leads towards sustainability. Media is so effective in our world, so I seek to inspire as many as I can to feel Sea Appreciation. In hopes to make daily decisions that support that state of mind.
How did you come up with this vision, and what are your goals with it?
As I was working on the film, "Peanut Butter", I injured my knee while exiting an amazing barrel while riding my favorite old board. I was bummed and in pain, yet gratefully confident the injury would lead me down a path necessary for my dream's evolution. Instantly realized these two words, sea and appreciation sum up my 'calling', at least for now.
My goals with the Sea Appreciation Project are both small and large.
Continuing to produce inspirational, emotionally provoking short films inspired by the sea is a given, yet I see this growing beyond that. I've got some TV concepts in the works that are in line with this motive, as well as a few feature film dreams. Now it is following the path of manifestation, unwavering belief, hard work, and forever a smile. Daily, I seek to create and take the opportunity to work on something inspiring, that serves the greater good. That includes worldly 'research' as I like to call it.
What is your partnership with Keep-a-Breast all about?
I've been a fan, supporter, and ambassador for KAB for nearly five years. My dear friend and chosen big sister, Shaney Jo Darden is the co-founder and CEO of the organization. She and the KAB crew were integral in helping me learn what a 'healthy lifestyle' truly entails, along with being aware of the numerous harmful things we face in our daily environments. As of right now, one in eight women will get breast cancer. I'm not OK with that. There are ways of prevention, products to avoid, and actions we can take to lower our risks. So, why not? The goal is to spread the good word of prevention, mainly living naturally, and being in tune with the earth, each other and ourselves.
You are also an ambassador for The Non-Toxic Revolution, what does that entail?
Non-Toxic Revolution, NTR, is the brother of KAB, born out of Shaney Jo's recognition that the toxic environment we all are surrounded by, is indeed connected to the high cancer and disease rates we see around the world. NTR's mission points towards making healthy choices in terms of what you eat, put on your body, use in your house, wash your pets with, etc. Essentially, every day we make choices. They can be toxic and harmful, or they can be conscious and healthy. We vote with every dollar we spend. NTR to me is to buy organic food, grow a garden, use reusable everything's, and love all neighbors as thyself.
What other exciting things do you have on tap?
I'm so honored and impressed by the universe's answers to my dreams and visions. This summer and fall I have the honor of touring with Michael Franti and Spearhead as their filmer and media producer. Working with this team, and the positive impact they are sharing with our planet, is a dream come true. It's an affirmation to me, that when we request to work with people who inspire us, the universe responds.
With so much going on, what does a perfect day of surfing look like for you?
Wow, a perfect day-- It includes friends who I don't always see, but are family to me, and my family is there as well. A plethora of surfboards posted up on the beach, all shapes and fin sizes, especially SINGLE FINS! A hand plane, a camera to play with, and epic, reeling waves: consistent, six feet, glassy, barreling, a minute crowd of smiling, sharing-inclined surfers, and a circle full of musical instruments to play on the beach. Then hang out there, all day long. The best part would be to watch the sun dip below the sea, or rise for that matter.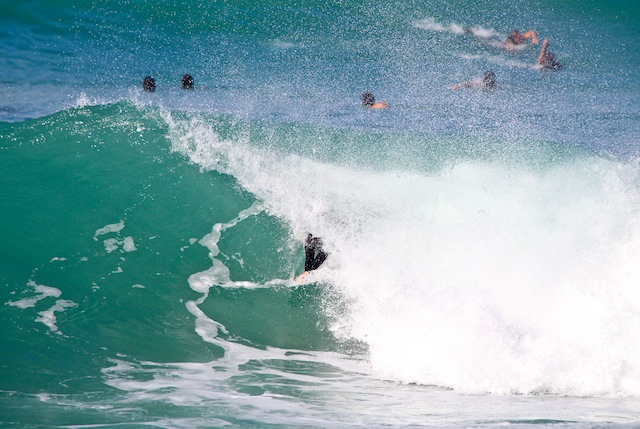 Your surfboard is named Peanut Butter. How did you acquire this board?
Peanut Butter!! Haha. I had been day-dreaming for weeks about finding an old 1970's single-fin surfboard under a house on the North Shore. Sure enough, the first time I visited what would become my home, my roommates mentioned a single fin under the house. It was exactly how I envisioned-- Peanut Butter was there, swinging under the house, dusty as all can be. This project really did come full circle for me, humbling to say the least.
Check out more about Leah here.
Watch all the Sea Appreciation edits here.
All photos courtesy of Leah Dawson