Hi-Fives is a new column that puts the spotlight on badass people and places that are breaking the mold. We kick things off by interviewing Thomas Vincent, a twenty-three year old passionate skier from Missoula, Montana. We caught up with Vincent at the top of Beartooth Pass, a remote backcountry mecca in Montana, during the Beartooth Summer Sessions a few weeks ago.
Vincent was shooting with Hi-Line Films—a production company based out of Missoula, Montana—for its upcoming release, "the simple side." We happened upon him as he stood drinking a beer and smiling while holding a napkin to his bloodied cheek. Despite fresh injuries, he graciously answered our questions about Hi-Line Films and what the heck they were doing in Beartooh.
Give me the run down on yourself, name, age, job?
My full name is Thomas Caywood Vincent the 5th. Let me look at my passport here, ah yes, I am 23 years of age. My parents introduced me to skiing when I was in kindergarden, so what...I was 5? I've been riding and filming with Hi-Line since the winter of 2011-2012. I'm currently studying digital film at the University of Montana and I often find myself following a bit of a fantasy more often than not. Since there aren't dragons flying around our heads, I put planks on my feet and slay snow ghosts. It's really my way of saying, "hey earth, do better....bitch." It feels good to ski.
Why did you come to Beartooth Pass?
I actually came here for redemption. Last year we came here at the exact same time of year with with Hi-Line Films. And last year, I found a way to break my jaw, so this year we decided I needed redemption-- I can't end on a bad note! So we came out here and I did what I sought to do, and I feel really, really good about it. This place is phenomenal. You drive up to the top of Beartooth Pass, your buddies drop in, you lap a couple of times, you hoot and holler and go home to your campsite and feel a lot better at the end of the day. It's incredible--it's big line skiing in June.
What has your experience in Beartooth been like?
We got here late, super late on Tuesday night at like four in the morning. So we got up a little late and ended getting up to the pass at about noon on Wednesday. We got to Gardner Headwall and literally there is a road that will swing you up to this amazing face with tons of long lines, shoots, and, couloirs. So we all rallied up and six of us hiked out to the top of our lines. When we dropped in, we rode out this bulletproof chunder and did the best we could. We basically straight-lined the chutes, rode it out, and powered our quads through it, even if it brought tears to our eyes because it hurt so much to hold. But when you know you are getting filmed, you gotta hold it through. And we did it!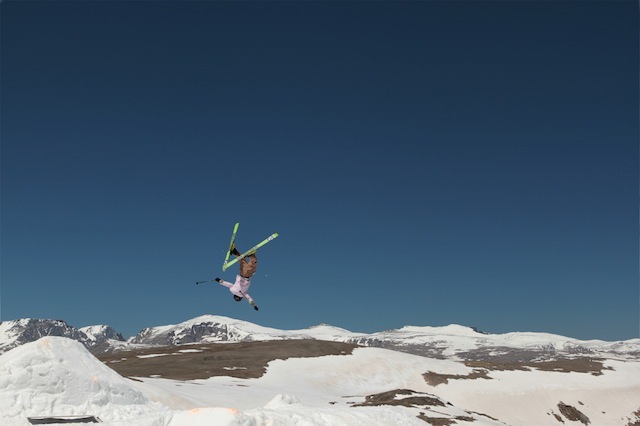 What went down on your second day on Beartooth Pass?
The next day we built a massive jump on top of a cornice that Toy Solider Productions was working on last year. It's down and around from the Garder Headwall. We basically found a nice big cornice to build a jump on, to boost us up and over. We built a nice backcountry step-down. I did a starfish lincoln loop over it, which I was pretty happy with.
There was actually a carpool of British people at the base and they were ecstatic about it. They said it was the most "brilliant" thing they've ever seen in skiing--so I'm happy about that. Bringing back some old school. I like it. But a few of us were having some problems with speed on the jump. I was fortunate to stomp out some tricks, but some of the other members of the team were having a hard time and not stoked on it, but I really wanted, needed to get my redemption trick out of it. So I decided to try a cork 9 for true redemption, and I brought it to my feet a couple times, but we started seeing lightning and hearing thunder so we decided to call it, and headed back to our campsite. We got pretty rowdy at the campsite, had a raging fire, drank beers, talked about our lines and enjoyed the heck out hanging out.
Are you still seeking redemption, what happened today?
This morning I woke up, wasn't sure if I would have the energy to go for that 9, but I got convinced. The Hi-Line crew stoked me up, so I decided to go for it. I hiked up to the jump by myself. We had the Hi-Line filmers posted up on the road, watching and tracking my progress through the telephoto lens. Once the sun peeked out, I went for it. First try, cork 9, to my feet--couldn't hold it. Second time, to my feet--couldn't hold it. Third time, started getting sloppy, cork 9 to my chest. Fourth time--almost broke my jaw again! I felt the ski come up to my jaw again, real tough. I landed the nine, and my ski just got stuck in the chunder and shot up straight into my face. So after that I decided to call it. But we're on top of Beartooth Pass, looking at Garder Headwall, right now, waiting for three of our guys to get on their lines. Ben [Zeimat] is actually setting up camera now. And shit, we're drinking beers, we're chilling, and we're loving it. This is enough for me.
Editor's note, we stop the interview as the remaining three guys needled a tight, steep chute. We hooted, hollered, cheered, and got back to talking.
This place is no joke, you guys are gnarly . These lines are legit. So tell me what other projects have you been apart of?
I've been working with "The Trimming's" web series. It was produced by two Epic Planks pro riders, and the series has been fairly popular this season. And through that I have been getting a lot of practice. With Hi-Line, they have been primarily focused on backcountry. They really don't touch any resort, so you're going to see a lot of skinning, a lot of hiking, a lot of effort, a lot disappointment and a lot of excitement in our film. We're calling the movie, "the simple side" and it will be coming out next fall.
Who all is in Hi-Line Films?
Ben Zeimet, is the filmer, director, producer. He is the man behind it all. He will commission additional filmers to get different angles. But yeah, it's been really interesting and an awesome experience working with these guys. Some of the other riders you'll see are T.J. Andrews, you'd be familiar with him from, "Come Find Us," the first Toy Solider Film where he was trying the triple cork, which, actually, was right over there, right over there on that ledge. [Points to ledge.] He became a legend in Montana for that. So that guy has been pushing the hell out of me this trip. But let's see, we're also with Sam Arroues, and Garret Umphress. So those three including me are kind of the core team. But we've had a bunch of friends claiming lines and adding to it.
When do you plan to release "the simple side"?
We'd like to get it into Missoula by mid-October along with premiere season. We're going to tour it around Montana. We might go into a couple different places, but we know our market niche is in Montana. And we'll definitely have a teaser coming out soon.
What you guys are doing here is the core essences of shredding..living life, camping, waking up, hiking these huge lines, and getting shit done. It's awesome.
Ya, totally! And tonight, we're going to party in a school bus at our campsite. It broke down a few days ago en route to Beartooth, but we fixed it up, and tonight we'll be celebrating our successes out here and going for it!
Check out Thomas and the rest of the Hi-Line guys in the teaser below.
the simple side. Mid Season Teaser from Hi-Line Films on Vimeo
Riders:
T.J. Andrews
Sam Arroues
Thomas Vincent
Garrett Umphress
Joel Anderson
Brett Bacon
Danny Arnold
Luke Morris
Riley Johnson
Jake Fagrelius
and friends
Filming and Editing by:
Ben Zeimet
Produced By:
Hi-Line Films and Generation One Media
Photos: Gavin Gibson