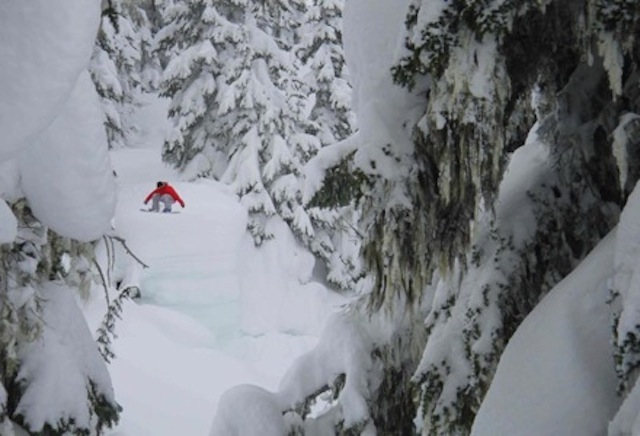 Kimmy Fasani shreds harder than you. It's a simple fact. Whether she's in the backcountry or the park, this Mammoth native gets after it. But instead of begrudging Ms. Fasani for her awesome talent, we sought to get the inside scoop on makes her so damn good. For this week's edition of Hit List we went straight to the source and asked Kimmy a bunch of hard-hitting questions, along with some random, unnecessary queries. Read on for all of Kimmy's unadulterated answers.
Five Fun Facts about Kimmy Fasani:
1. I have a three-pound Yorkshire Terrier named Reese
2. I have a college degree in business marketing
3. I am married to a professional skier—Chris Benchetler
4. I was a gymnast
5. I love sushi and Thai food
What's the weirdest thing that's happened to you while snowboarding?
Walking out of the bathroom at the main lodge at Mammoth Mountain and straight into the rapper, The Game. He was at the hill snowboarding and I am a super fan.
If you could pick your favorite TGR Film of all time, what would it be?
One for the Road, because my husband (Chris Benchetler) had a really cool segment.
What are the top three things you do to stay sane in the summer?
Bike, Yoga, Rock Climbing. Done and done.
Favorite places to shred your bike in Mammoth?
On the mountain I love the MTB trails Paper Route and Twilight. On the road, my go-to is the Benton Crossing Road.
What is the absolute best thing about being on Burton?
How involved all the riders are in product development!!!
Olympics. What are your thoughts on them?
I was going to give slopestyle a solid effort, but unfortunately had a big knee injury in December. I really respect the athletes who are pushing the sport in a positive way.
What is one song you can always listen to and never get sick of?
Anything by Bob Marley.
What is the most creative costume you've donned for Halloween?
Chris and I dressed up as the main characters from Grease. We were Sandy and Danny.
What's one gig you could never do?
Something where I had to be around spiders. Couldn't handle that.
You spent your honeymoon in Africa, what was the most memorable moment from your trip?
Seeing all the massive animals just ten feet away. Lions, Elephants, Zebras, Giraffes. It was surreal.
What are your favorite boards these days?
The new Burton Day Trader is an incredible women's powder board. I also love the Anti-Social, Burton's splitboard for women.
What was the first concert you went to?
LL Cool J and Sir Mix A Lot! Holler!
Most obscure place you've snowboarded?
In the backcountry of Interior BC. Totally off the grid.
What's a better training food: Skittles or Sour Patch kids?
Sour patch kids and/or Swedish Fish. I try not to eat them at all, but if I eat candy, those are my splurges.
Voila. There you have it, Kimmy Fasani in a nutshell.
Photo credits: Blotto, Andy Mahre, Chris Benchetler