Team Canada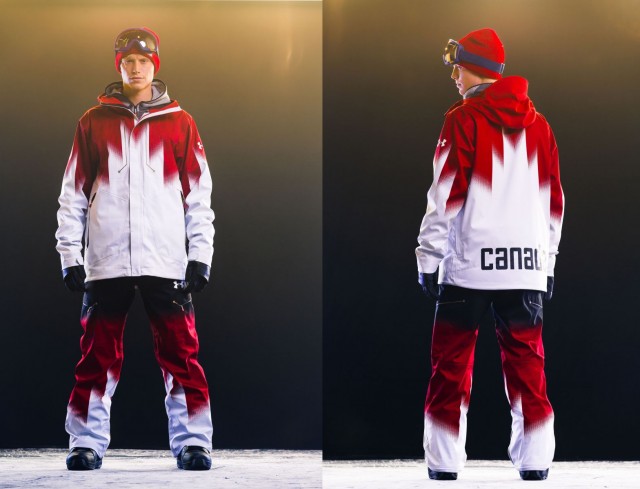 Under Armour is making the Canadian snowboard team's uniforms for Sochi, and Mark McMorris could probably do a run without suffering any embarrassment if it weren't for those hideous pants. Reports claim that the uniforms are a tribute to the uniforms of the Canadian men's hockey team from the 1972 Summit Series against the Soviet Union, which Canada won. To me it just looks like someone spilled ink all over the buttocks.
Hot or not? NOT!
Team Germany
Dear god. If any Sochi uniform is fodder for the anti-Olympic segment of the freeski community, it's ze Germans. Designed by Bogner – I say again, Bogner – these awful puffies look like the designer ripped the wallpaper off of Willy Wonka's chocolate factory, stuffed a bunch of down behind it, and then stitched a "Team Germany" logo on it that has both palm trees and a polar bear, neither of which are native to Germany. Unless the Sochi Olympic logo has a palm tree in it, which if it does and if I were more superstitious, would seem a bad omen to be plastering all over the place when you're trying to keep your Olympic halfpipe intact at such a low elevation that the average February temperature is above freezing. I'm getting more confused every sentence. I wonder if Bene Mayr is as confused as I am.
Hot or not? NOT!
Sochi Volunteers
It's apparent that once Germany was done raiding Wonka's chocolate factory for the wallpaper, Vladimir Putin sent the KGB in to repossess all the Umpa-Lumpas' wardrobes and stitch them all together into one incorrigible mess of a quilt trimmed in blue. So, if you're really trying to get in on the volunteer gig just for a chance to kiss Scotty Lago's medal (http://technorati.com/sports/olympics/article/snowboarder-scott-lago-sent-home-after/), you must suffer the embarrassment of looking like a sun god threw up a rainbow all over your chest after a long night with tequila. At least they added some rainbow-fingered gloves as a peace offering to the homosexual athletes and visitors Putin initially outlawed before reality caught up with him.
Team USA
Ok, ok, so the "Rebel Americana" theme is a bit of a stretch, but
The North Face
otherwise nailed it with the 2014 USA Olympic outfits. Solid colors, clean design, subtle American flare—these uniforms even have Tall T's. These patriotic pieces are a 1000% better than the garbage Team USA had to wear in Vancouver.
Burton's denim theme
was definitely dumb, so these TNF suits are a definite upgrade. Tom Wallisch is stoked, the rest of the skiers seem stoked that they don't have to look like a collage of paint swatches form the Home Depot, and the only one bumming is Shaun White. How can he possibly perform his famous
boot grab
in such baggy pants?
Hot or Not? HOT!
Team New Zealand
The Kiwis' theme colors of black and white was must have been tough on the summer athletes as they suffered in black leotards in August, but New Zealand's Winter Teams gets it pretty good for Sochi. The manly color palette has even helped Jossi Wells grow a beard! We're not really sure why tank tops are a part of the uniform, unless those guys are the only ones with realistic expectations for snow conditions on the slopestyle venue. Because anyone that rocks a tank under a puffy knows what's up-- It's the fire on the inside that counts- Kaw Kaw! These Kiwis are going to crush it.
Hot or Not? HOT!