The Co-Lab is now available on
Dale spinning into the wild half-bowl feature that took two days and twelve hours of shoveling to build.
While plenty of the Co-Lab field built backcountry cheese wedges to send tricks off of, no one spent as much time slaving away with shovels as Dale and the 4bi9 crew did. "That half-bowl feature [across the street from Alta] took two days and probably twelve hours of shoveling to build," Dale said. "We shoveled forever - it was awful. We were trying to think outside of the box, but the first day we hit it it didn't work at all; we had to rebuild it way bigger." And while growing up shredding the mean blue squares at Okemo wasn't exactly a great training grounds for skiing big lines around Little Cottonwood Canyon, Dale knew they'd have to at least shoot some backcountry jumps if they were going to win a TGR-hosted contest. Even on skinny cambered park skis, Dale managed to stomp flawless switch 7's and one beautiful cork 900 tail-to-tail grab into powder.
Dale spinning above the streets of Salt Lake... at dawn.
And while the rest of the Co-Lab field were getting pre-dawn starts rallying snowmobiles up trailheads in the Whistler backcountry, the 4bi9 crew were on their own dawn patrol program, building the epic segment-ending roof gap in the middle of the night and hitting it just as dawn broke before anyone was around to kick them out. Dale's intuitive ability to stomp impossible tricks on the first try would come in handy while trying to bag one of the most outrageous features of his edit, a kicker in the middle of Salt Lake City that required a car tow-in to clear a forty foot gap to the landing, which was itself the roof of a pavilion, with only a few feet to gather his composure before dropping ten feet to the ground below. "We only had an hour or two on that before we kicked out. I only got to hit it four times because school was getting out and this guy was harassing us to leave. I stuck that last 900 on, 180 out on the fourth hit."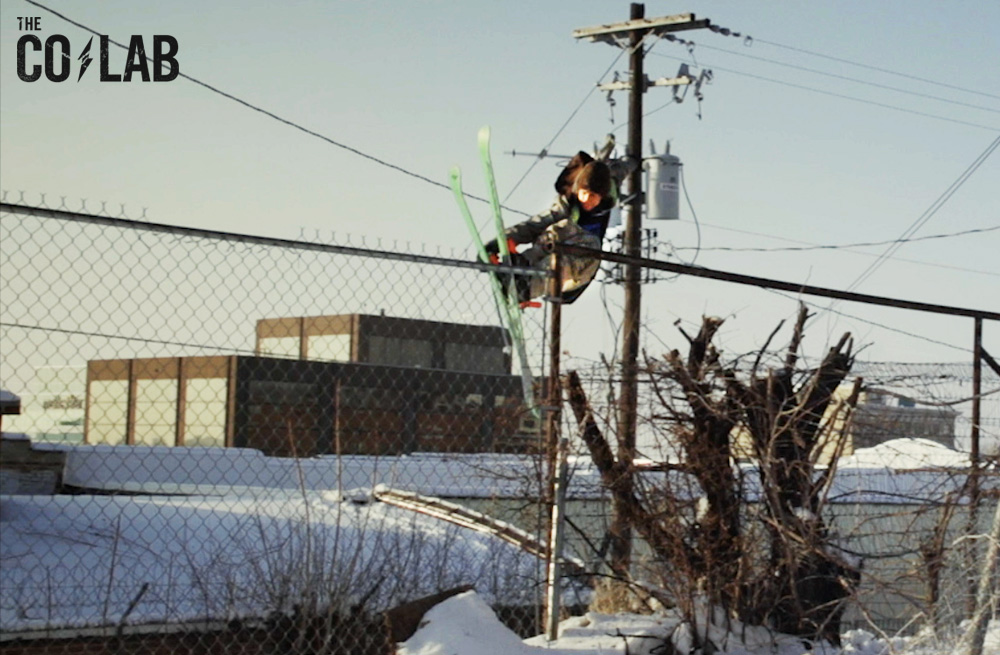 Nonetheless, despite feeling confident in the level of the footage they put together and the high quality of the edit AJ put together, Dale still had no idea who might actually win the Co-Lab." I thought it was really anyone's game just with the way it was judged," Dale said, referring to the combination of athlete and audience voting and the inclusion of a judge's panel as well. " I was definitely worried about the competition from Nick McNutt, Flo Goeller, and Randy Evans. Nick had so many good tricks in the backcountry and sick pillow line, and Randy's segment had sick skiing down some really big lines."
Despite the stacked field of competitors, on Saturday, September 21st at the world premiere of TGR's 2013 ski film, Dale found himself holding a giant foam check with six figures written across it. " I couldn't be any more stoked and it's definitely a life-changing event," Dale said, reflecting on the win. "I don't really have to worry about money as much this year and I can focus on skiing and trying to travel more and film again, and finally fix my Outback." After getting his car fixed and recovering his $500 bar tab from the night of the premiere, Dale will split the rest with his friends from 4bi9, who must be feeling pretty good about all those hours they spent shoveling kickers and weird bowls and getting up in the middle of the night in a go-for-broke effort to film one of the most incredible segments of 2013.
The Co-Lab is available now. Snag it from iTunes or order your copy of the DVD here.