Remember when you were young, wild and carefree, and all you wanted to do was go snowboarding? Try as you might, something always bamboozled your plans. Perhaps your parents didn't have the time, energy, or wherewithal to make it happen, or you were too busy getting in trouble to go yourself, or maybe you lived deep in the city with few options to get to the mountains. And if this doesn't sound like you, consider yourself privileged. Let's face it, snowboarding and board sports in general are too expensive and inaccessible for a large portion of the population, especially for underprivileged kids and at-risk youth.
Jake and Donna Burton realized this situation and wanted to lend a hand to those that need it most. This sparked them to create The Chill Foundation. The organization started humbly in 1997 in Vermont and has gained momentum ever since. Currently based in twelve cites in the US and Canada, Chill operates with one mission: to "provide opportunities to at-risk and underserved youth to build self-esteem and life skills through board sports."
We fully believe in Chill's mission and wanted to find out more. So when we got invited to check out Chill in action during a recent standup paddle board event in Denver, we jumped on board to get the scoop on this powerful program.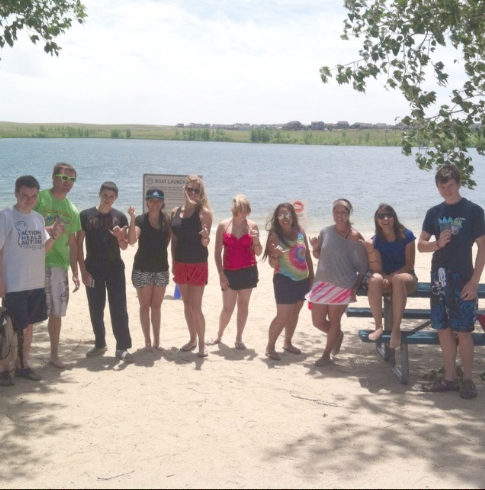 Following a nine to five day at the TGR office, we rallied from Jackson to Denver to arrive at the Aurora Reservoir the next morning. We were promptly greeted by Molly Mazel, the director of the Denver division of Chill, and were introduced to the youth participants and chaperones. The morale was high and the energy and excitement for the day were palpable. We spent the morning partaking in activities that supported the day's theme of "responsibility" and helped clean up the reservoir.
Armed with trash pickers and plastic bags, we scouted the shore for remnants of power bait, fishing line, and other pieces of trash that posed deadly threats to the surrounding wildlife. Instead of begrudging the task, the youth participants embraced it, and did their best to help out and take on this responsibility.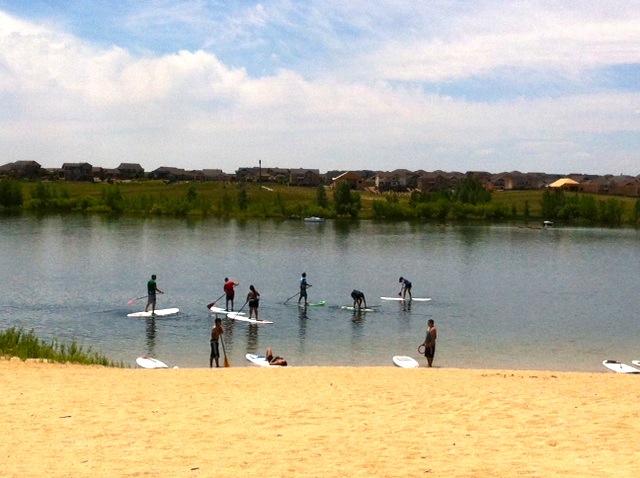 Once our bags brimmed with the potentially deadly debris, we unloaded our findings to the local park ranger and set off for the SUP portion of the day. We were greeted by John Poppleton, the founder of Surf's SUP Colorado, who set us up with our boards and paddles for the day. From there, the youth learned paddle board skills together, and had a kickass time. While some participants were more advanced than others, a sense of accomplishment was widespread and felt throughout the day.
After meeting with the youth and partaking in the program, we chatted with Molly Mazel to get her insights into this impactful program.
What is your role with Chill Denver?
This is my fourth year with Chill. I was the seasonal, local coordinator for three seasons running the snowboarding program in Denver, and last fall I started year round, full-time. This is a new model that Chill is moving into. The sites are all going from seasonal into year round, self-sustainable sites. We're building new programing, and really, we're only one staff in each city. I do have help with advisory committees at each site, but I wear all the hats. I do fundraising, development, communication, developing new programs, and running the programs--which is the best part of the job. We're an established organization that Burton started in '97, and we've been around Denver since 2005. It's really exciting to be a part of this startup, going into future seasons and keeping our kids involved each year.
How does Chill partner with youth organizations?
We recruit new youth service agencies that are serving the demographics and populations of the youth that we want to serve, which is at-risk and underserved kids who wouldn't otherwise have access to these board sports. It's been my experience in Denver, that a great majority of the agencies we work with have been involved with us since we started. And once they are involved, they tend to stay involved and come back year after year. I think our program is a great complement to the agencies we serve, so they keep coming back, which works out great.
How many youth does Chill-Denver work with?
It depends on the program. Our snow program is pretty established here. We typically run two nights a week and we can typically bring forty-five kids per session. So I'd say we can serve ninety kids each session. Each youth agency brings together three to fifteen kids, depending how many they are able to bring, with the chaperones they are able to allocate. For this new SUP program, we have thirteen kids enrolled. It's a lot smaller than our winter programs, as the youth here [at the SUP event] are from just three agencies. So we're hoping to grow this program moving forward.
Can you tell me a bit about the winter program, how does it run, what can the kids expect?
We have a gear space centrally located in Denver, so all the groups meet us there, and we outfit the youth with everything they need to learn to ride completely free of charge. We get them outerwear, gloves, helmets, boots, boards, everything--and we pack up on a bus and head up to the mountain. We had been going to Echo Mountain in Colorado for the past four years prior to last year, when they unfortunately closed down. So last year we were up at Frisco Adventure Park and we're actually in the midst of talking to other mountains now, trying to get a new contract nailed down. So we have weekly theme sessions which we hold on the bus and have microphones and the kids come up to participate. It's really a lot of fun. The real meat of our sessions is really the life skills curriculum we teach each week. When we get up to the mountain we learn how to ride and we're relating these life skills to learning a board sport.
In terms of the gear, who are your main sponsors?
Burton is a great sponsor of ours. Not only did the owners of Burton Snowboards found The Chill Foundation, but a great contribution they make is all the gear they donate. We are very appreciative of them. We do take in some things from the community, but a lot of it does come from Vermont, from Burton.
What is you favorite part of your position with Chill?
Working with the kids. Hands down. I sit behind a desk a lot of the time, but I do it to be out in places like this—to be out in the mountains and out in a reservoir, bringing kids who have never seen such places, and seeing them being out of their comfort zones and really lighting up. To see them learning something new in an amazing part of the world that they aren't used to seeing—that's my favorite part.

So you run this whole show in Denver?
I'm actually the only Chill Denver employee, but I have a fantastic advisory committee that helps me. We put our heads together to think of ways that we can improve things. We put events together and we fundraise. They help me brainstorm everything. Members of the advisory committee are all former members of Chill whether they're chaperones or they've volunteered before. I've got a great support system. People who see Chill in action seem to be very passionate about it. And though I'm the only employee, I've got a lot of backing.
How did you get Chill Denver involved with Surf's SUP Colorado, the SUP event sponsor?
I wanted to do a SUP program and I started looking up different companies that could be a good possibility, and I cold called John [founder or Surf's SUP Colorado] and asked if he wanted to volunteer with at-risk youth. He looked into it, we met a couple times and he's all about it. I think he really likes working with the kids and giving the sport he's passionate about back to they kids. It's similar to why Burton founded Chill—giving their passion for snowboarding back to kids who otherwise wouldn't have had access.
Looking towards the winter, what do you have on the horizon for programs?
As for the winter space, we're looking to extend the program. We have a six-week curriculum in place, but we want the kids to be able to continue to snowboard. It's a sport that they don't have access to, so when our six-week program ends, in the great majority of cases, that's it for them, no more snowboarding. So I'm looking to get a mentoring program going where we match the kids up with a mentor, one on one, which would keep them going snowboarding once a week until the end of the season. That's on the horizon. I'm looking to hopefully pilot that this coming winter. We're also looking to get into other summer programs such as skate and possibly even longboarding.
Find out more about Chill and how you can be apart of its awesomeness here.
The mission of The Chill Foundation is to provide opportunities to at-risk and underserved youth to build self-esteem and life skills through board sports.
Photos couresy of Chill