X Games terrain park builders Snow Park Technologies to star in reality TV show on National Geographic Channel.

Story and Photos By Seth Lightcap

Reality TV has shown us dirty jobs, dangerous jobs and of course, 'only in Nevada' jobs (see Cathouse). But for once, you're late night channel surfing is about to drop you into the boots of a talented crew doing a really freakin' cool job.

Ever wonder what it takes to build an X Games halfpipe or design a super-human sized slopestyle feature? You're about to find out as the exploits of


Armed with a no-nonsense, get-it-done-right attitude, Gunnarson will take a lead role in the TV series as the show chronicles the SPT president's moves leading the company.




Beyond strictly on-snow, on-location scenes, Mountain Movers will showcase SPT's new Jib Factory, a cavernous office/production facility in Verdi, Nevada where they design terrain park layouts and build the rails and wallrides. SPT's drive to bang out on-time construction, delivery and installation of such features will be a focal point of the show. This massive 40x30 foot wallride (the biggest SPT has ever built) was constructed early-January in the Jib Factory for the 2013 Winter-X Snowboard Street course.




Snow Park Technologies' lead fabricator Tyrone Coyne is arguably the king of terrain park rail and jib building. Coyne built the world's first "fun box" (a slide-able park feature with lexan plastic on top of it) when he was working at Snow Summit Resort in the late '90s and has been designing and crafting signature terrain park features for SPT ever since. With a masterful eye for jib design and a steady hand with a welding torch, Coyne is the shop supervisor of SPT's Jib Factory. Get ready for some heavy metal moments as the NatGeo cameras capture Coyne in action building monster features.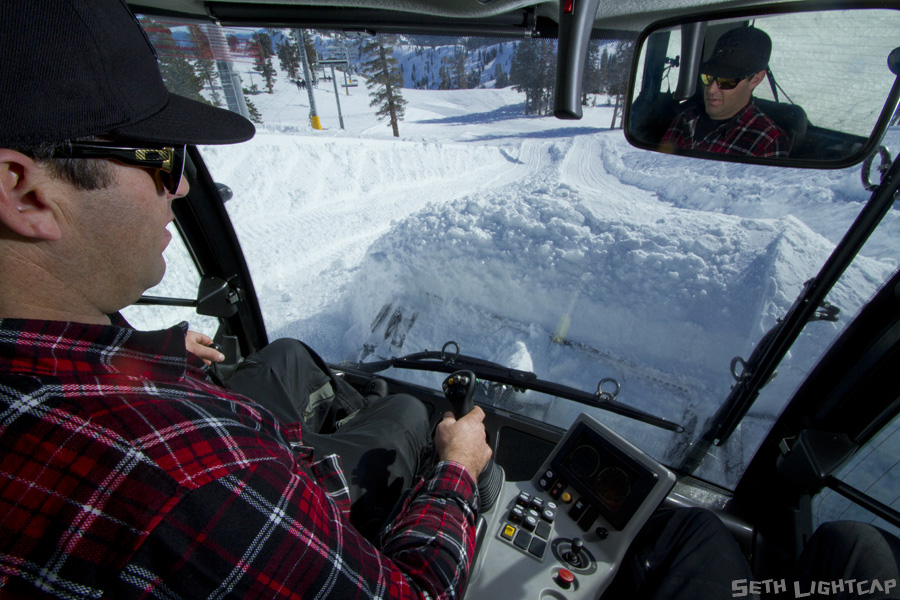 Laying down corduroy in a snowcat may not sound that riveting, but sculpting jumps and halfpipes should present some interesting angles on some serious cat-time. SPT Project Manager, Corley Howard (shown here), and the legendary halfpipe cutter and SPT Business Director Frank Wells will be two of the cat drivers featured.




"The weapon of choice is the Prinoth Bison X," said Howard, talking about the best snowcat for building terrain parks. The Italian-made Bison X is a terrain park-specific snowcat equipped with special features that allows them to push snow more efficiently than a standard grooming cat that's designed to go faster up and down ski runs. SPT has its own custom-wrapped Bison X that will star in the TV show and snowcat snafus will be a likely source of tension in the story line.




SPT uses a software program called Google Sketch-Up to create 3D renderings of what a terrain park feature will look like on the mountain before it's built. These drawings allow SPT to precisely present its suggested park layouts to resort and event management. The dimensions of the drawings can be used to determine the amount of steel needed to build a rail or the water volume needed to make enough snow to build a jump or halfpipe. These drawings depict a new jump line at SPT partner resort Alpine Meadows.




Nobody builds bigger, badder jibs than SPT. Inside the Jib Factory, SPT fabricators Sean Picard and Erik Jakobsen prepare a couple gargantuan rails for primetime. Two of these rail segments came together to form the 'Bat-wing' rail featured in the 2013 Winter X slopestyle course.

Look out for more info on 'Mountain Movers' including scheduled air dates at snowparktech.com.