Another beautiful morning in Jackson hole today gave TGR's local crew a chance to try to knock off the lines they didn't get to two days ago. The plan was for Lynsey Dyer and Rob Kingwill to ride the Triple Cliffs area on Cody Peak, while Cody Barnhill and Shroder Baker would continue over to the backside of Cody and hit the cliffs next to Once is Enough.
The skies were blue, but they were wicked cold, too. Below zero temps and 20+ mph ridgetop winds combined with a Cody Peak hike that is particularly gnarly this season to put Josh Nielsen's tough-guy index at 4 out of a possible 5.
No pro photographers were around this morning, so that left me as the sole still photographer for the day. I decided to go pig and try to get all the action. I figured I could shoot Rob & Lynsey on Triple Cliffs, then head down No Shadows and back up to the other side in time to catch Cody & Shroder's lines by Once is Enough. With all that rock between me and the rest of the crew, I was out of radio contact, and didn't realize I was too slow until I got to the top.
Cody had already stuck a sick two-stager through the cliffs (I saw the tracks and it was nuts). Shroder cracked off a slab that broke 15 feet above him and hit him in the back. Shroder was certain he was going to be pancaked against the rocks, but fortunately he somehow came out unharmed, although down one ski pole.
Lynsey, Rob, and Shroder decided to make their way over to No Name Cliffs to try for one more shot. The light was in & out, with clouds continually forming off the ridge above us. Ace cinematographer Matt Herriger gave Lynsey the go ahead when a blue hole finally came through, but a slab released at her feet on her second turn. Lynsey fought to hold it together over the cliff, and when the powder cloud settled she was standing up, disgusted but unhurt.
Rob decided to give No Name Cliffs one more shot, but the snow let go just as he hit his takeoff, and he couldn't spot his landing in the cloud. With the clouds getting thicker, and no letup in the cold, we decided to pack it in for the day.
I'm gonna sleep for the whole weekend. Who would have thought that joining the paparazzi would be so hard??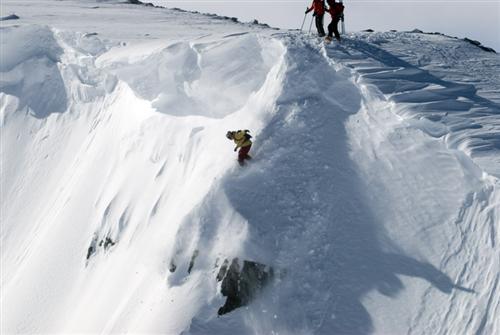 ** Rob Kingwill drops into No Shadows**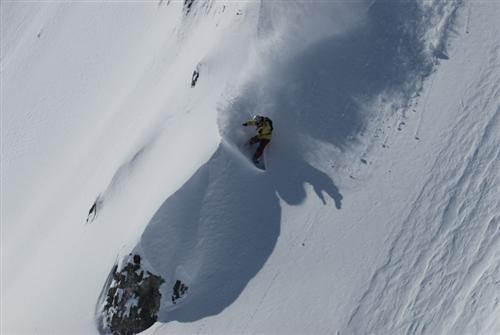 ** Big Kingwill slash**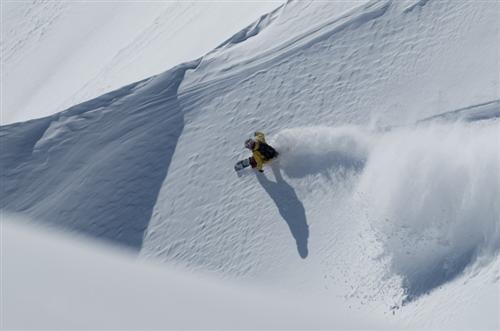 ** Kingwill machs out**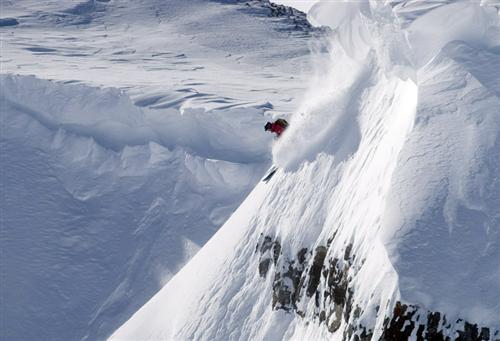 ** Lynsey Dyer, Triple Cliffs**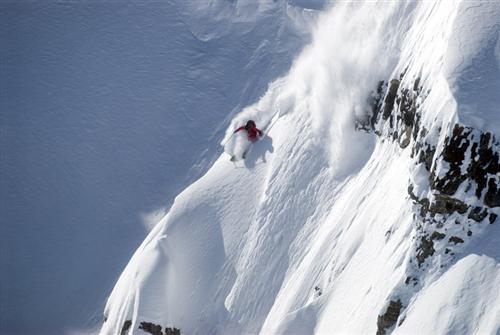 ** Lynsey**
** Lynsey**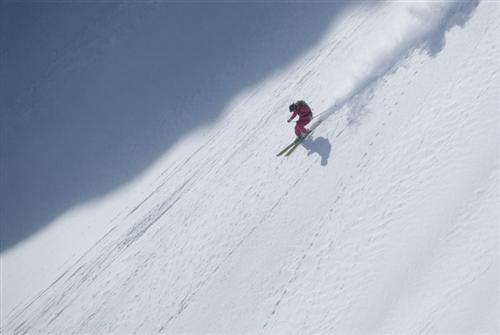 ** Lynsey straightlines out**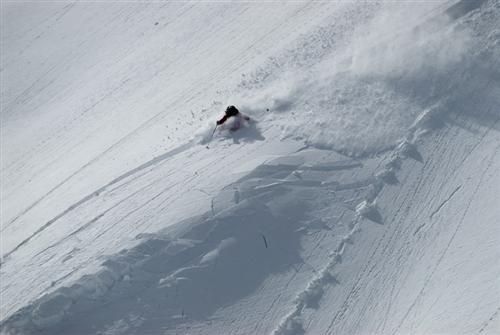 ** Lynsey Dyer finds the button - No Name Cliffs**
** Lynsey back on her feet**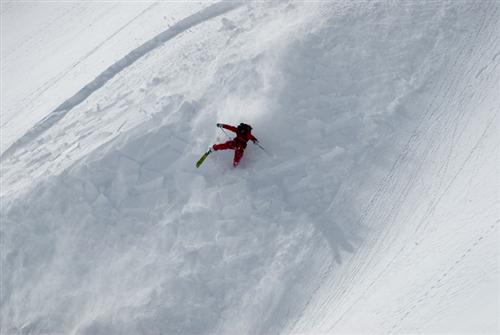 ** Lynsey fights to hold it together**
** Lynsey's slide path**