Last Saturday the Jeremy Jones' Higher tour came to TGR's hometown of Jackson Hole. The famous ski town hosted two back-to-back screenings of the awarding winning film at the Jackson Hole Center for the Arts. Jeremy was there himself along with a cast of characters that helped create Higher. Enjoy a recap of the evening and be sure to download Jeremy Jones' Higher presented by Subaru now available on iTunes.
The Asymbol Pre Party:
Last Saturday evening saw the V.I.P. party in honor of Asymbol's "Higher" Collection launch and the Jackson premiere of Jeremy Jones' Higher. A collaboration with photographers Andrew Miller and Jeff Curley, the Higher collection lit up some of the film's most epic moments. Asymbol gallery hosted the movie's artists, riders, filmers, and fans, giving everyone a chance to get up close and personal with the collection and its creators. The entire town of Jackson was firing with party goers, and lovers of snow riding, and it is safe to say that fun was had all around.
Josi Stephens from Asymbol wrote a terrific review of two of the film's segments including the backstory with these photographers.
The Alaska Segment: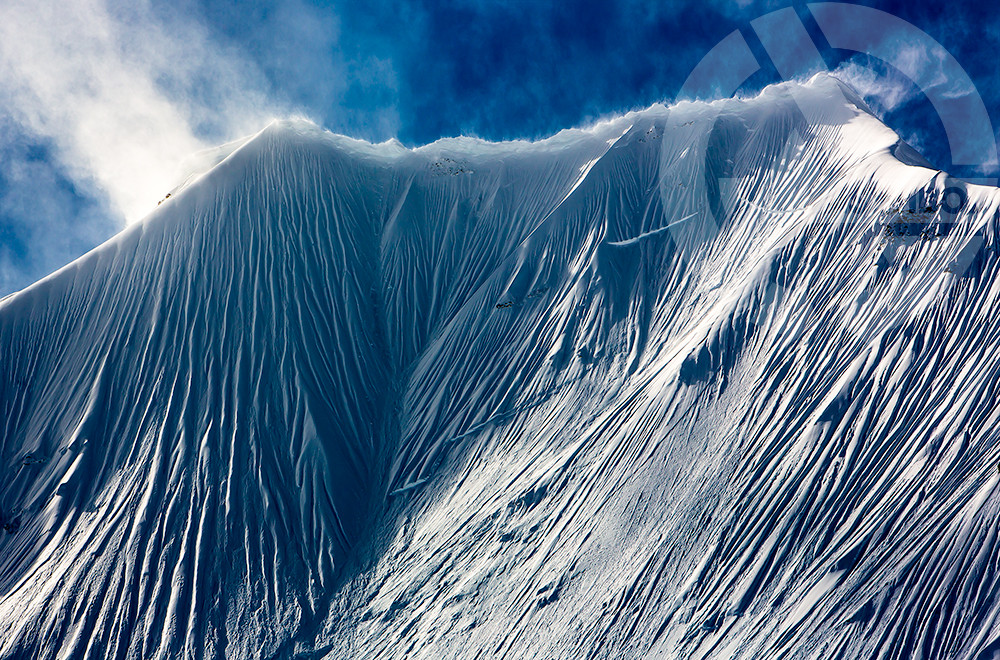 Mt. Timlin Photo Credit: Jeff Curley Asymbol "Higher" Collection
Higher is the third and final film in TGR's Jeremy Jones' Deeper, Further, Higher trilogy. He and his crew hike in to places that helis can't or won't go, the lines they seek are considered by most to be unattainable, and the dream is more about living life completely than coloring inside of existing lines. Jeremy chose Jeff Curley to shoot the Alaskan segment. Curley was in Alaska on a one way ticket when Jeremy invited him on board. It was last minute, Jeff was deep in other projects, but when you get that call you say yes.
Jeff and Jeremy have worked together before, the chemistry they have yields epic shots of dreamy powder and elegantly carved out lines. The trek into the Eastern Alaska Range would be that, and quite a bit more. The universe had a few hurdles in store for this expedition. Right as they were heading into the mountains news of friend Joe Timlim's death in the Loveland avalanche hit the crew. Timlin was a Jones Snowboard rep who lived his life with passion and a love of riding that effected everyone who knew him. It may have sidelined the trip but ultimally they knew that it would honor him to go forward. "I respect life, but I feel like you have to live it," Jones says, the show had to go on.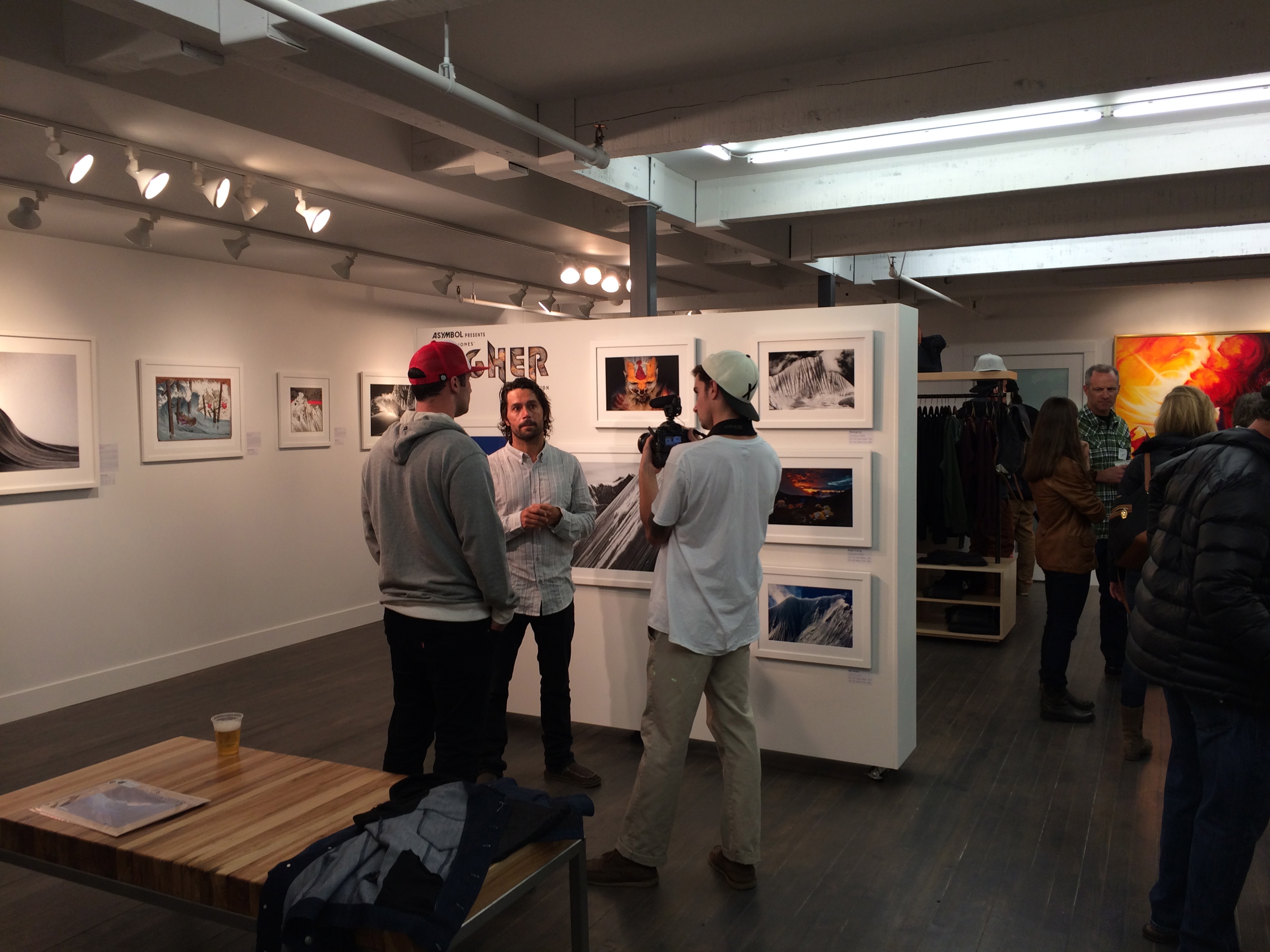 Jeremy Jones interviewed during the Asymbol preparty.
It was the Holy Grail, unridden, unnamed, a superwall with many unknowns. By the end of the expedition it would be named Mt. Timlin, a fitting honor for one of our own. By the end it would still hold as much mystery as it had from the start, but the journey was a reward beyond anyone's wildest dreams.
After setting up camp, they strapped in and gave the terrain an initial look. Mt. Timlin was unbelievably beautiful and with the conditions, perfectly unridable. When the storm hit they were only a few days in. By the 12th day of raging wind and nuking snow, the cook tent was decimated and moral was fading. In order to keep the sleep tents standing there was hourly shoveling, complete "trench warfare'. Mother Nature had a plan and nobody knew what it was. Day 20 Jeff woke up to hooting and hollers, the sun was out and Mt. Timlin had morphed into the most insane spine wall any of them had seen. What was blue ice and rock had been blanketed with gorgeous powder.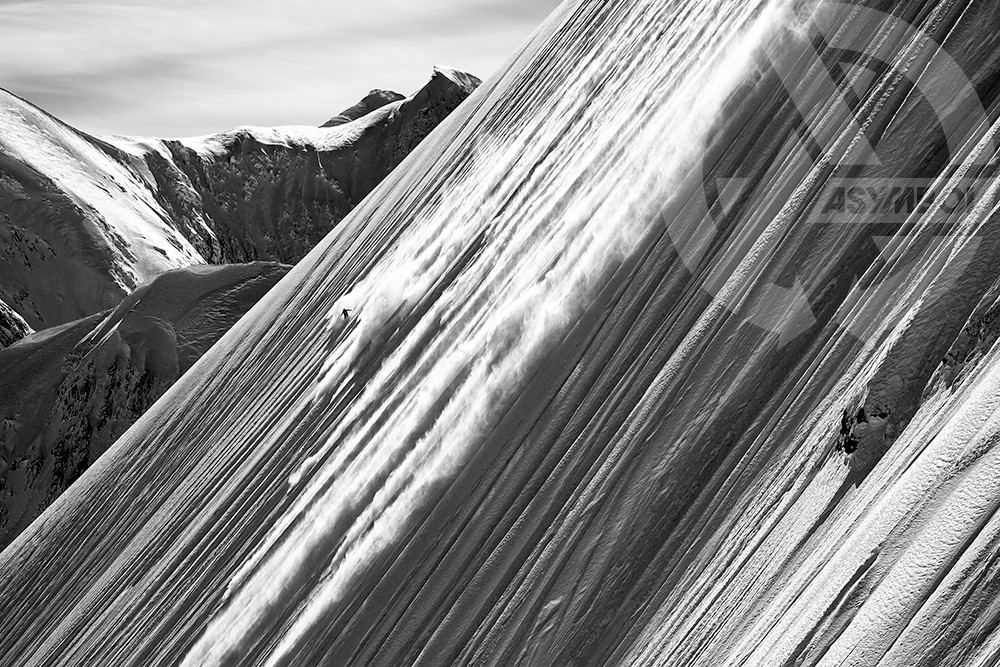 Jeremy riding Mt. Timlin. Photo Credit: Jeff Curley Asymbol "Higher" Collection
After a few tries up his initial route, Jones mapped out a new line, one with a 50/50 shot. A nearly vertical four hour hike got him to the summit. This is where he would drop into 3,000' of raw Alaskan terrain. Jeff had done his own unthinkable trek to get a good angle of the ascent and descent and it was clear from where he sat that Jones had a solid grip on of how the run would go. After a nearly three week build up and a storm that came dangerously close to derailing the whole thing, Jones' dropped into the line of his life. He came in hot and dug deep into his signature boned out turns. This run and the journey to it was a deeply fitting way to honor life and the spirit of what it means to get Higher. "There's no words for way down."
The Nepal Segment: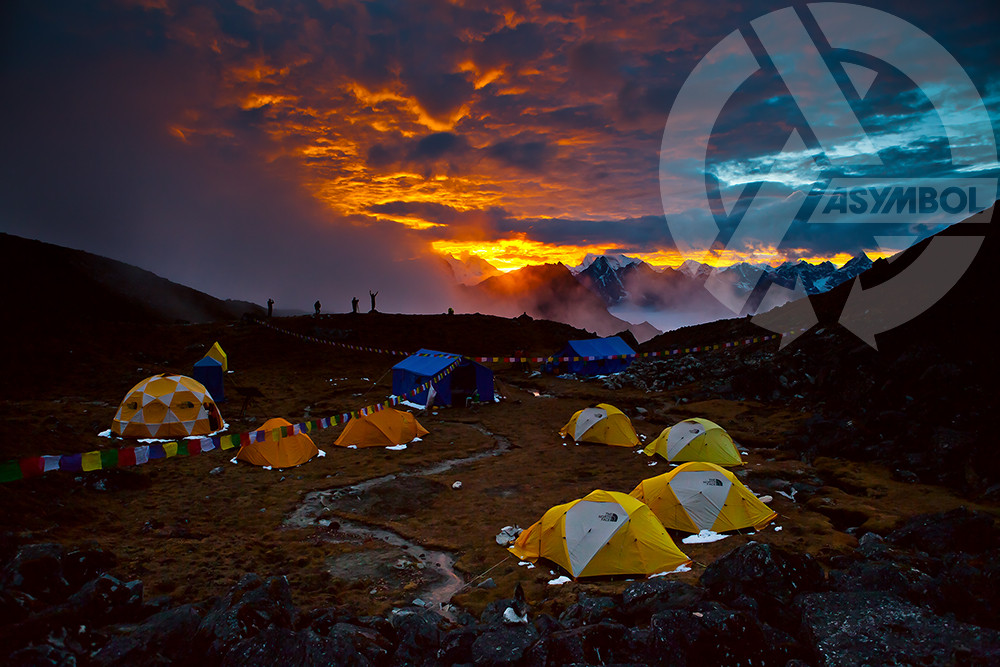 Basecamp in the Himalayas. Photo Credit: Andrew Miller Asymbol "Higher" Collection
Andrew Miller met Jeremy Jones on a filming trip Chile in 2013. Talk of a fabled line off the Shangri La section of the Himalayas was volleyed around and Miller wanted in. Shangri La is a term that is used to describe all kinds of earthly, and wildly unachievable delights. In this case, a sky-high ascent into a mountain range of every mountaineers fantasy. TGR filmer Chris Figenshau noticed the line in an 80s guide to hiking the Himalayas, nobody was really sure if it was doable or just a figment.
Words do no justice to the work that went into getting the Higher crew to Khimba Valley, the base camp that would be home for 40 days, let alone the climb to the top. The justice is served by the images, still and moving. Talking to Miller, one gets an electric sense of what this trip meant to everyone. The stakes were high, there were three runs taken total, leaving no room for error, behind and in front of the cameras. Like a troop going into battle, plans were meticulously laid out, then scraped or fundamentally rearranged as conditions changed. And change they did, rapidly and without mercy. In what is easily the gnarliest 30 seconds of any movie, real or fiction, Jones gets sloughed off of a spine, his labored breathing and effort coming through the mic. It brought a stark reality of the dangers of the trip . That was the 2nd run taken in 30 days. The fourth run, ventured solo by Jones would be the first Transworld cover shot for Andrew Miller.
The Aftershow
Once the film concluded the crowds left the Center for the Arts and headed over to the World Famous Million Dollar Cowboy Bar for a night of rowdy antics and music from The Deadlocks. Drinks were consumed and fun was had by all. Be check out TGR's new film, Jeremy Jones' Higher presented by Subaru, on tour now and available to purchase on iTunes.