Not long ago, Jason Prigge and Dave McReynolds sharpened their teeth in front of TGR's cameras. They starred in numerous films, including Uprising, Realm, Further, High Life, Tangerine Dream, and Subject to Change.
Although no longer hucking in front of the cameras, the two keep busy running MFD. We caught up with Prigge to learn more about his time with TGR, what motivates him as an industrial designer, and MFD's efforts to debut a new line of ABS packs via Kickstarter—which coincides with the brand signing Dash Longe to its team.
Jason Prigge (Photo by Adam Clark)
You've got a rich history with TGR, do you mind telling us a little about your pro career and time filming with the company?
The first time I met up with TGR was back in '97. I was nineteen years old and living in Jackson for my second season. It was a pretty rad time in skiing as big mountain skiing was just taking off and for the first time ever there was a freesking tour within the U.S. and Canada. The Alaska and Crested Butte comp had been around, but it was the first time for a full tour.
The first stop was in Jackson. My first comp ever and I got spanked. Picked a few things up though and did well in the next few and ended up winning the Nationals at Kirkwood. Brant Moles was the man that year and was pretty much chucking fifty-foot crotch grab airs every run and winning every comp. He must have missed his crotch grab in Kirkwood and I squeaked out the win. That caught the attention of Todd and Steve Jones. They probably wondered who the hell this grom was from their home town. So the next season I started shooting with them in Jackson for TGR's third movie Uprising. After that year it just became standard issue—when you were in town and it went blue you showed up for the 8:12 and linked up with Todd for a day out looking for, as he loved to call it, mind blowing footy…
Although Prigge's paychecks no longer come from skiing professionally, he rips as hard as ever. (Photo by Adam Clark)
Since walking away from filming, you've kept incredibly busy—creating products for a range of companies, developing the MFD AllTIME binding, and preparing to launch a new line of packs. What's been the biggest surprise from all of these adventures?
The biggest surprise honestly has been running a company. There's so many variables involved. We make every ALLTIME binding by hand, right here in Utah. Yes, we work with amazing suppliers around the region, but each binding is assembled right here in house. Logistically it all needs to line up just right for us to get product out the door on schedule. That's one of the most challenging things, but the most rewarding comes when you meet up with someone in the lift line or out in the backcountry using the product. Especially the backcountry…Even if it's just a day out with friends on MFDs, it's just rewarding seeing that we've made something that solved a problem for us in the backcountry. Watching your buddy charge a line out in the backcountry with utter confidence or one of our athletes landing a thirty-footer switch—that's rewarding.
Lately, what's a typical day look like for you?
Coffee…Feed the dogs. Usually I'm working unless it's firing up Little Cottonwood Canyon. Then all goes haywire. Phone is blowing up. Checking, scanning reports, avy sites, weather…Trying to figure out what's the best call for the day. Most of the time work wins over, but I always find ways to get out when I need to.
We're guessing this is one of those days when it was "firing up in Little Cottonwood Canyon." It must be tough to get work done around the office. (Photo by Adam Clark)
Arguably, as an industrial designer you make magic happen. What motivates and inspires you to do this day in and day out?
What originally inspired me was working with sponsors. I always had an interest in art and science, but never knew what I wanted to do with it. One of my sponsors at the time was Oakley and on one of the trips down there I got a tour of their manufacturing facility—that was standard, but what really caught my eye was when we got to go into the R&D department. This is typically under lock and key so it was a big deal to get in there—even as an athlete. That was my first look at what an industrial designer does and at Oakley the designers are some of the best in the world. Mind blowing as Todd would say. I was hooked.
Fifteen years later and after finishing out my BS in Industrial Design, I really enjoy two things. Seeing other designers' work and creativity and the process that goes into creating a product. Whether it's a backpack, ski binding, or your iPhone. It all starts with a sketch. Then a better one, then a prototype, and finally you end up with something that can be produced. You and your team have done all that work to make it happen. That's pretty cool.
Mind blowing footy? Or just another day laying down lines? Whatever you call it, it sure looks good. (Photo by Adam Clark)
What are some of the greatest lessons you learned as a professional skier? How have they shaped your approach to MFD and designing equipment?
Through skiing I met some of the best people and skiers in the world. I would say that skiing as well as biking was the other influence that led me to where I am today. With design you can focus on anything you want—transportation, furniture, tech products you name it. My passion was outdoor and action sports and that came from as far back as I can remember. So there was my home. Even today, to help pay the bills, I still do work for other companies in those industries and I have been lucky enough to work with some great companies. I even came full circle by going back to fill in my design opus and working with Oakley designing and developing products for their surf, snow and mountain bike lines.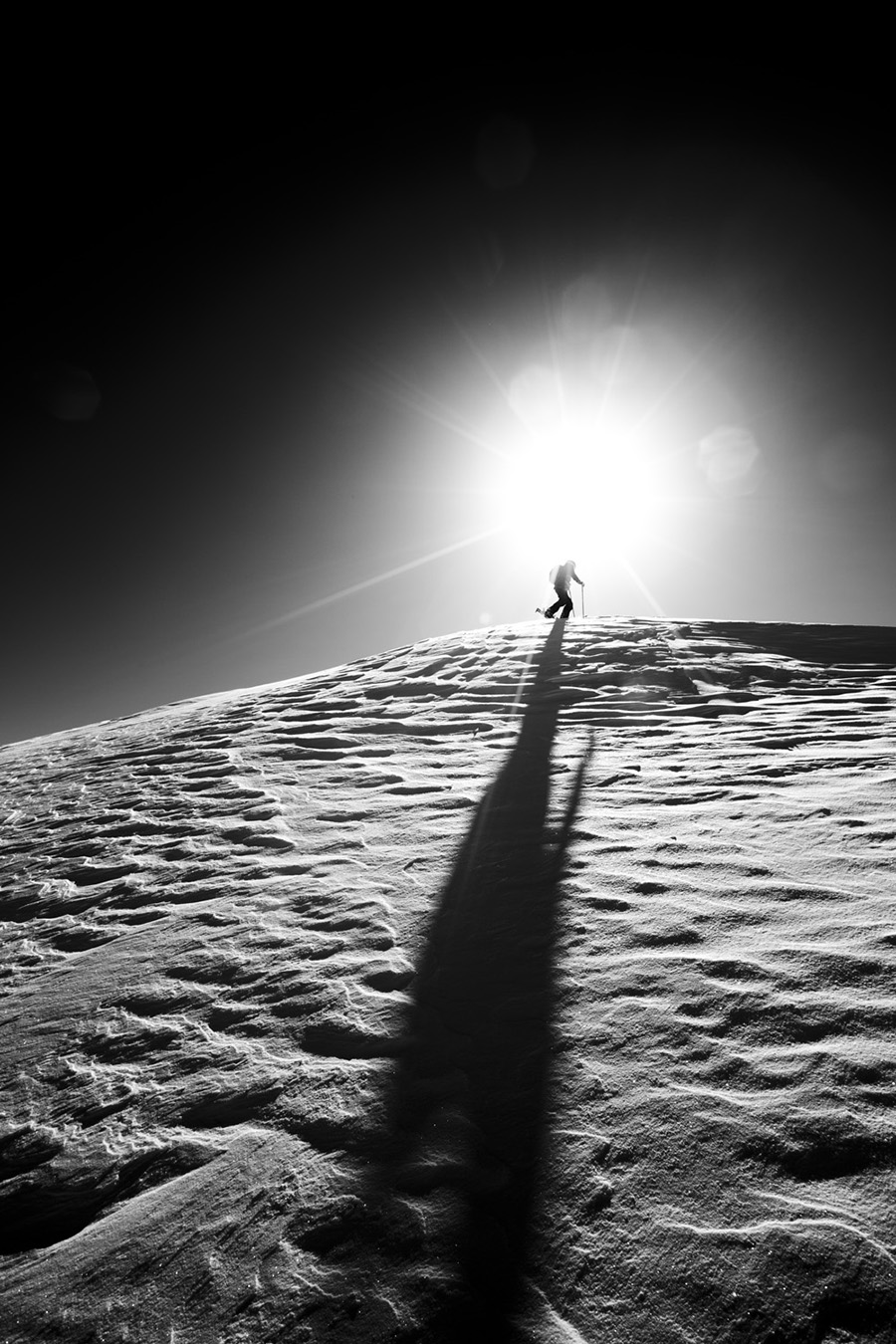 Jason Prigge out earning turns. (Photo by Adam Clark)
Who has inspired you the most in the ski world?
Shane McConkey was a big influence for me to originally take the leap and start MFD. I was lucky enough to know Shane and get to experience some great times with him before his passing. Outside of being one of the funniest humans on the planet, Shane had an amazing ability to see things differently. He almost single-handedly laid down the path that has led freeskiing and skiing to where they are today. Fat skis, reverse camber, multiple profiles…all Shane. It wasn't easy though; the companies didn't want to listen. They had been making skis one way for decades and saw no reason to change. Skiing was dying. Shane wasn't interested in that happening so he fought the hard fight and got his sponsors and the industry as a whole to wake up and listen.
When I was an athlete I saw some of the same problems. Sponsors would come to us for our ideas, make a big deal about it, and then just go off and make a soft version based on our feedback. So that's what we are trying to fix at MFD. We listen to our athletes and community around us with the goal of making products that progress our sport.
Although Dave McReynolds aired this cliff over a decade ago, the drop is as impressive as ever. (Photo by Lee Cohen)
What led you to team up with Dave McReynolds to create MFD?
Dave and I skied a lot together back in the day. We had both moved beyond our ski careers, but when I moved from Jackson to Utah he was pretty much the first person I called when the first snow fell. Around that time I had started prototyping the ALLTIME binding and ended up showing it to him one day. We went out touring and he was blown away that the rudimentary prototype I had created was the answer he was looking for to the challenges he was having in the backcountry.
Mostly though, Dave knows skiing. He also had industry sales experience recently working for Salomon, as well as years of knowledge from being an athlete for Rossignol, Scott, TGR and others. I knew he'd be the perfect fit. We started MFD from the core and we aim to keep it that way.
Jealous? When searching for photos of Dave McReynolds, Prigge had this to say, "Damn, the kid was so good, these could be published today." We agree. (Photo by Lee Cohen)
Despite its youth, MFD has some rich roots with TGR. You and Dave filmed with TGR and now you just brought Dash Longe onto the team. What inspired you to bring him into the fold?
Dave and I knew Dash from skiing in Utah, but we originally met back in the day filming at some point for TGR. Another one of the guys involved with MFD is also really good friends with Dash so he knew that we were developing our new pack line with an ABS airbag option. Dash was going up to AK to film with TGR so he was interested in checking out our packs. He liked the designs and how the packs carried skis and gear. And although he liked those features, it was our ABS airbag option that really made him make the move to ride for MFD.
The newest addition to MFD's team—Dash Longe. (Photo by Adam Clark)
You've just launched a new collection of backpacks and collapsible bottles. What was the catalyst for creating these packs and for debuting them via Kickstarter?
I think MFD a lot of times comes off looking like a far bigger company than we actually are. We are lucky enough to have hard working, talented people involved that make our online presence look better than most small startups. It also helps that most of the people we became friends with skiing are now also somehow involved in the industry. So we tie into our network to do our best to get the word out.
In reality though, we are still in our infancy and struggle with all the hardships of growing to be a successful, profitable company. We lack the distribution, marketing budgets and lines of credit that the large corporate ski companies have, so in order to compete we have to work smarter and come up with creative products that push the limits and almost speak for themselves. Even then it's sometimes not enough to break into the system and force the change. So, that's why we need Kickstarter. We don't have million dollar advertising budgets, in fact we don't even have an advertising budget…Kickstarter gives us the voice we need to reach out to the ski community and tell them about what we've created. Who is behind it, why we are doing it, and ask for the community's support to come together and help us bring these products market.
MFD's new 20L ABS compatible pack
How about your ABS Compatible Backpack? How did that come into play?
Our athletes demanded it. We were obviously aware of airbag packs and the safety benefits. We believed in airbag technology as a company but it was really our athletes (Eliel Hindert and Carlo Travarelli) that came to me while we were testing and said they were stoked on how the packs were functioning, but they were only going to use backpacks with access to an airbag system.
So that's what made me take a deeper look. Originally I planned to take MFD into the airbag market after we had success with our initial launch, but now I knew we had to make the push from the start.
Disclaimer: don't deploy this thing on the tram.
Why ABS?
We chose ABS as our partner to create our ABS Compatible 20L backpack because in our opinion their technology is superior and they are also the original airbag backpack company with over twenty years of experience. ABS also allowed us to focus on the part we know best and leave the technology up to the experts. Our Freetour 20L backpack is a "zip-on" system that is compatible with the ABS Vario Base Unit. The problem currently is that almost all airbag backpacks focus on the airbag technology. That's a good thing, but creating solid ski carry systems as well as internal organization are being overlooked. That's were we saw the opportunity to make the improvement.
Further strengthening our decision, ABS is also the only company to use a twin air bag system. Even if the bag gets damaged in an avalanche you still have a backup bag. The system deploys from both sides of the bag so it also gives you a stabilizing effect during a slide. Another key benefit is that the bags deploy in a way that does not inhibit your ability to see what's around you and, if you still have the option, there's no interference to try to ski your way out of a slide. You don't ever want to be there and we stress to take all the precautions, get all the education and experience you can, but in the end if you get caught you want the best tools possible to survive.
Dash first rocked MFD's packs while filming in Alaska for TGR's Way of Life. He has since joined the brand's team of heavy hitters, which includes Carlo Travarelli and Eliel Hindert. (Photo by Adam Clark)
What's next for you and MFD?
First and foremost we are focused on funding our Kickstarter campaign. At this time we are one-and-a-half weeks in but need a big push to get to our goal. The way Kickstarter works is that people pledge to your campaign, but you have to hit your goal to receive the funding. No credit cards are even charged until we reach the goal.
We realize we are campaigning to sell ski backpacks damn right at the start of summer, but we need help to bring this program to life. It's definitely hard to grab people's attention, but if we are going to have an opportunity to deliver these this fall we are going to have to start building them now and we need the numbers to do it.
All we are saying is that if you like what you see consider pledging for one of our backpack systems or another pledge. Pre-check your backpack just like you do your ski pass. If you help us succeed come fall you will have a brand new backpack ready to go.
What's next for MFD is more well thought-out products and our promise to not only always listen to the needs of our athletes, but our customers as well.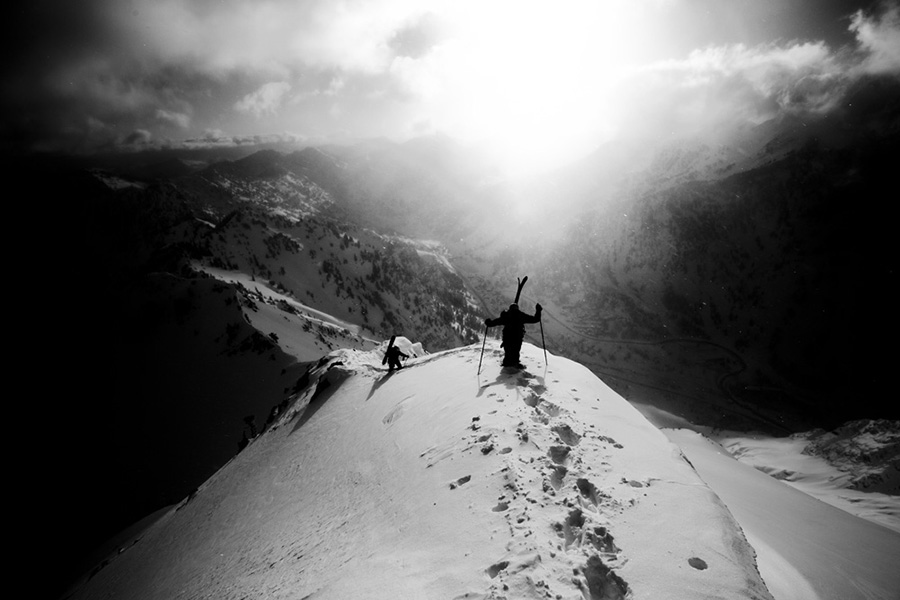 Prigge may call this "product testing." We, however, prefer to call it a sick day. (Photo by Adam Clark)
Anything else you'd like to share?
Just a big thanks to all our supporters and backers of our Kickstarter campaign and MFD. We couldn't do it without you.
To learn more about the brand, drop into MFD's site or back the brand on Kickstarter.