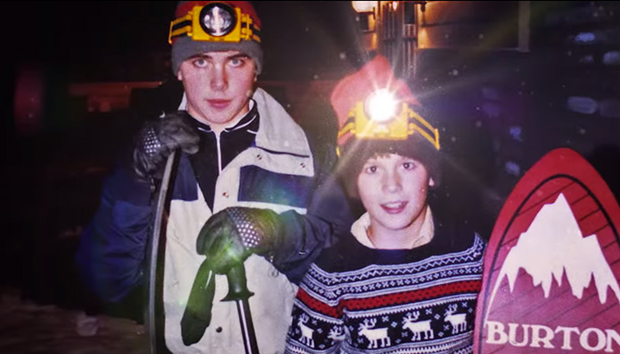 Jeremy and Todd with their Burton Backhills in Stowe, Vermont.
Jeremy Jones' Higher presented by Subaru will be premiering this afternoon at Jeremy's adopted home hill of Squaw Valley, California. The film explores Jeremy's riding from Jailhouse Hill in Cape Code to the big spine walls of the Himalayas. I sat down with TGR co-founder, Higher director, and Jeremy's older brother, Todd Jones, to talk about Jeremy's early days of snowboarding. Be sure to preorder the movie and buy tour tickets for Jeremy Jones' Higher here.
How did Jeremy get involved with snowboarding?
Todd Jones: Steve, Jeremy, and I had snowboards at an early age. We had these Burton Backhills, which were really the first iterations of snowboards. My dad got three of them–one for each of the brothers. We used to hike and shred any hill that we could, and once the lifts closed, we would swap our skis for these snowboards and we would go out and ride with headlamps on. Then Steve and I went away to high school to focus on skiing and racing.
At some point, we came back, and Jer had taken all the boards and traded them in for one with edges. At the local shop you could trade boards in for a certain value, and get upgraded. So he took all three–so that he wouldn't have to ask anyone for more money–and just went for it. Of course, him being the youngest, he took a little bit of a beating for it.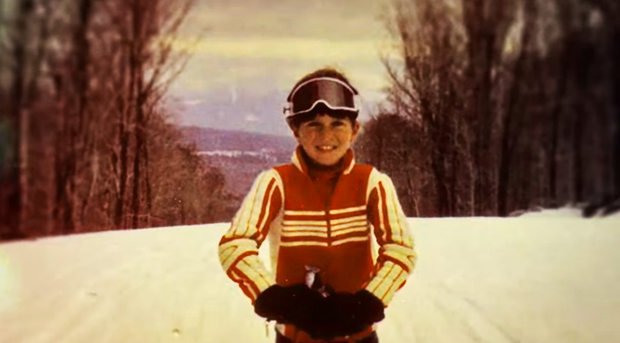 The early Jeremy Jones days...pre-snowboard in Stowe, Vermont. Photo courtesy of the Jones family. Photo courtesy of the Jones family.
All three of us were way into sports. Jeremy and I skateboarded a lot, and all of us surfed. When snowboarding came around, he just gravitated towards it. For me personally, it was always easier to default back to skis, but that never got in Jeremy's way of figuring out how to ride.
Looking back on that moment, it turned out to be a good thing for both TGR and Jeremy. That was the first time Steve and I could really see how real Jeremy's drive for and focus on snowboarding was.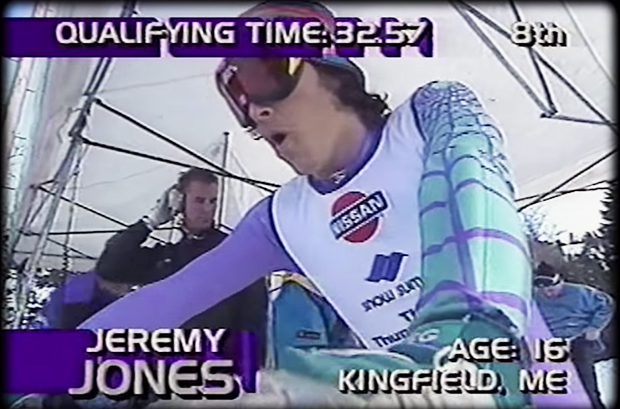 Jeremy pumps himself up in the starting gate during as snowboard slalom race during his days at Carrabassett Valley Academy, near Sugarloaf, Maine, in the early 1990's.
When did you realize the Jeremy had a special talent for snowboarding?
We realized it really when Jeremy started to race and we saw the race results. He was on the race circuit and started to do really well really quickly. He rose through those ranks pretty rapidly, started competing with the best of the world, and when he was 16, he turned pro. You see a lot of young X Games athletes nowadays, but at that time, that was pretty young to be a pro snowboarder. Seeing those results come in was when I realized that there was something special going on.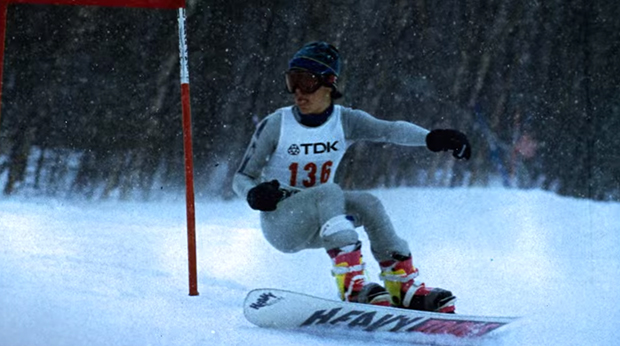 Jeremy ripping around a gate in his younger days at a hardboots snowboard racer in New England.
You and Steve were living in Jackson Hole. What was Jeremy's impression of the place and freeriding in general?
He felt pretty quickly that we had found a good vein with Jackson. We were into the whole freeriding powder thing, and at the time, Jeremy was traveling and driving a lot to race. He would swing into Jackson whenever he could and during those trips I could definitely see his love of freeriding, and that corresponding style of riding, develop. At the time there were really not that many snowboarders in Jackson. We were all part of the same posse, whether you were on skis or a snowboard. He was definitely riding hard and hanging right in there with the Jackson guys. When he first set foot in Alaska, however, and started hitting that terrain... that was when I was like, "Woah, this guy has the potential to be a pretty serious big mountain rider."
---
Get the full story of Jeremy's evolution in snowboarding, from the days of riding edgeless Burton Backyard in Vermont, to nailing down first descents in the Himalayas, as the world tour for Higher gets underway following tonight's World Premiere at Squaw Valley. Be sure to buy your tour tickets, and order Jeremy Jones' Higher, here.