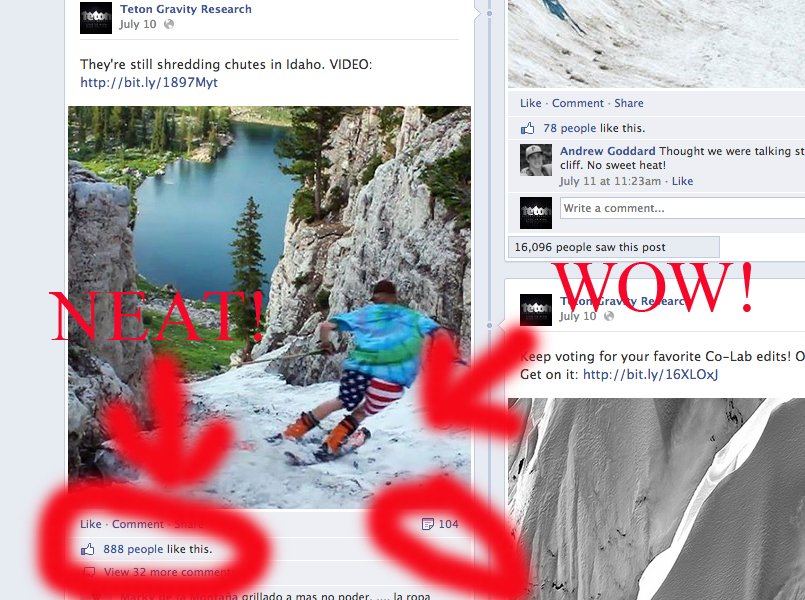 THE INTERNET—Drinks were spilled and babies were kissed last week at Teton Gravity Research Digital Media Headquarters thanks to a Facebook post that received more than the anticipated amount of interaction from TGR's followers.
"The internet can suck my [expletive deleted]," exclaimed TGR Social Media Editor Johnee Rivers while standing on top of a broken computer screen. "Everyday I walk into work and just blow shit up. Someone get me a bottle."
"It wasn't just the number of Likes that made it so successful," said independent social media expert David Analog. "The amount of Shares is what really set it apart in terms of virality."
"Either way considering the relatively-low quality of the image and timing of the post, it did way above average," continued Analog. "Whoever posted that must have some sort of sixth, or even seventh social media sense."
In direct response to the post's success, TGR's low-brow satire column Ketchup Soup wrote a story about the post's unexpected success, angering internet fans across the globe.
"Ketchup Soup makes Fridays into Mondays," said internet user Adam Bible. "If I have to see one more bad Photoshop job or read one more stupid joke I'm un-following those assholes."
**Ketchup Soup is TGR's weekly satire column aimed at poking fun at the sports we all love. TGR's "Ketchup Soup" is a fictionalized, satirical publication. Its content should in no way be interpreted as an actual record of events. These stories are also not intended to be, nor should they be construed as, attempts to predict the future course of any individual or entity, but should be viewed only as parody. TGR's "Ketchup Soup" is not associated with any other news service. Names used in "TGR's Ketchup Soup" stories, unless those of public figures or entities, are fictional, and any resemblance to actual persons or entities is coincidental, unintentional, and accidental. Any event described in TGR's Ketchup Soup" that actually comes to pass should also be considered coincidental, unintentional, and accidental.
The moral here is laugh now, but remember, you're probably next.