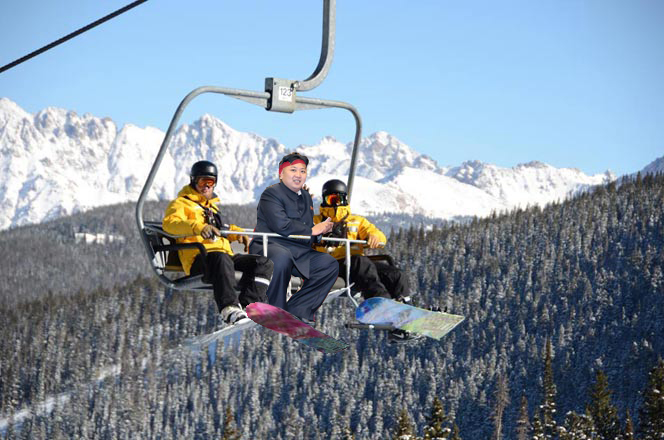 PYONGYANG—Fresh on the heels of Kim Jong Un's announcement that he is developing a world class ski resort, Vail Resorts has acquired the fledgling ski area and its surrounding base area of North Korea.
The move should come as no surprise; Vail Resorts has been moving in and penetrating new markets for quite some time. "North Korea's gentle rolling terrain fits our consumer profile very well," says Vail CEO Bob B Houndz. "And besides, all of our yellow Mountain Safety jackets are made there. Where else can you get such totalitarian authority?"
Houndz reports that North Korea's unrestricted testing of crowd control measures and customer suppression tactics will help Vail Resorts be the "spearhead of skier safety." He points out that several new devices are already in the works from "that three-dot thing from Predator" to something called "The Gaper Day Device." Houndz declined to comment further, but did note that "We are excited about incorporating North Korea's nuclear capabilities. They definitely provide a competitive advantage in some of our more saturated markets.
Vail Resorts decided to acquire the entire nation of North Korea for a simple reason, according to Vail Chief Marketing Officer Lynda Karl: "We need the parking."
Vail Resorts plans to use the entire nation as an elaborate weave of low-ceilinged parking structures and Bavarian style villages. This will force North Korea's local population to park along the South Korean border, but Kim Jong Un is excited about the new industry. "Fuck those guys," he explains. "If they want to park, they can pay me."
According to Karl, North Korea is the perfect addition to the Vail family because it already has many of the same attractions found at other Vail resorts. "The abandoned industrial buildings strewn throughout the country are very similar to the Detroit area around Boyne. The Ryugyong Hotel fits into the natural landscape just like any of our villages," Karl offers. "And the best part is that North Korea's massive infrastructure of propaganda speakers is just perfect for pumping mellow Muzak and advertising throughout Vail's North Korean experience."
Vail Resorts Plans to have the new ski area up and running by this winter. "There's almost nothing to be done," says Houndz "The place is already under total lockdown. The streets are empty, but North Korea has plenty of willing laborers capable of erecting a new lift once every fifteen minutes. Ski ya on the slopes!"
** EDITORS NOTE: Ketchup Soup is TGR's new weekly satire column aimed at poking fun at the sports we all love. TGR's "Ketchup Soup" is a fictionalized, satirical publication. Its content should in no way be interpreted as an actual record of events. These stories are also not intended to be, nor should they be construed as, attempts to predict the future course of any individual or entity, but should be viewed only as parody. TGR's "Ketchup Soup" is not associated with any other news service. Names used in "TGR's Ketchup Soup" stories, unless those of public figures or entities, are fictional, and any resemblance to actual persons or entities is coincidental, unintentional, and accidental. Any event described in TGR's Ketchup Soup" that actually comes to pass should also be considered coincidental, unintentional, and accidental.
The moral here is laugh now, but remember, you're probably next.