Welcome to Last Call. Dropping every Friday, this column serves as a wrap-up of our favorite stories and videos from the week—some old, some new, but all worthy of attention.
Parking Lot Culture
Shit this is good. This episode of the 2014 Tiny House tour provides a candid glimpse into the lives of those who call ski area parking lots their home--even if just for a weekend. Whether spending the night in an r.v., truck, or tiny home, the folks in this edit reveal the beauty in living a little more simply--and the convenience of living right next to the lifts. Unfortunately, pulling this off gets tougher and tougher every year as resorts and ski towns crack down on overnight parking, camping, and those who exercise a little creativity in order to avoid paying for an overpriced motel room. Even if you don't watch the whole episode, just remember to not shit in your r.v. during the winter . . .
Is It Too Early for a Bike Video?
Is it sacrilegious to mention mountain biking in the middle of February? There have certainly been cold moments this winter on a third or fourth climb up the skin track that have left me dreaming of short sleeves, warm breezes, and smooth berms (yes, I recognize I'm spoiled), and this quick edit from Kona provides the summer stoke, along with some beautiful nature cinematography that's worth its own mention. In an age of six-inch go-everywhere bikes, Kona uses the striking trail systems of Hawaii to suggest that cross-country bikes are still actually fun to ride. Because biking is, you know, fun and all.
Dave Downing Goes Deep in Japan
Dave Downing's contributions to snowboarding run deep—and they're ever expanding. Whether shredding, surfing, or skating, Downing rides with style. As a pro, he was an exceptionally versatile rider—at home riding rails or dropping pillows. Now, he continues to shape snowboarding through his work with Burton—a relationship that started during his time as a pro. In this edit, Downing hits up Alts Bandai ski resort near Fukushima, Japan. Just as impressive as the glades Downing rides is the fact that the edit was filmed completely on an iPhone thanks to a Hitcase sporting a wide-angle lens. We've heard a lot lately about both the durability of the case and the quality of the footage it can help create. And now it's great to see the proof first hand.
Sage Kotsenburg on Letterman
Yep . . . Just like his colleagues in figure skating, Sage now has to tour the television circuit. In this edit, David Letterman reveals that he shares Sage's sentiments about shitty knuckles on park jumps. Sage also explains how this year brought the end to a nine year drought in which he never won an event. It looks like "Second Place Sage" needs a new nickname. As icing on the cake, Letterman reads Sage's trick list from the course.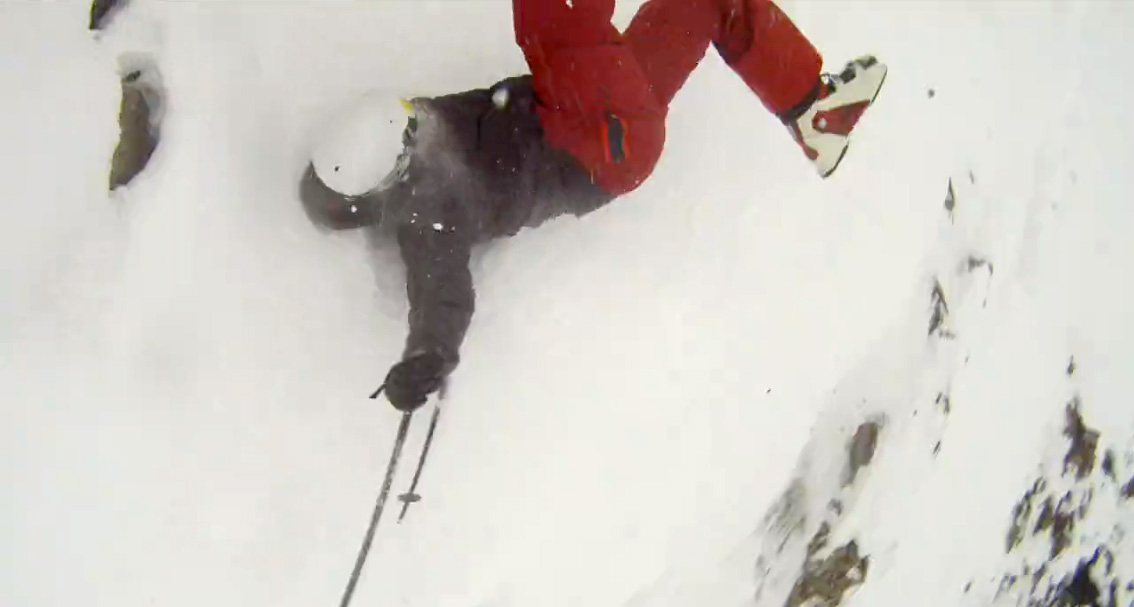 Freakin' Terrifying Wipeout
Our friends at Earlyups showed us this stomachache of a yard sale. For the first 46 seconds of the video, you're going to be on the edge of your seat wondering where the hell he could crash that would be so bad. Just wait. Around 47 seconds your jaw is going to drop and you're going to want to shield your eyes like you did in every other SAW scene. Don't worry, Jesse is okay. But this was the gnarliest crash we have seen in quite some time. To view the full crash, drop into http://earlyups.com/scariest-fall-ever-jesse-telluride/