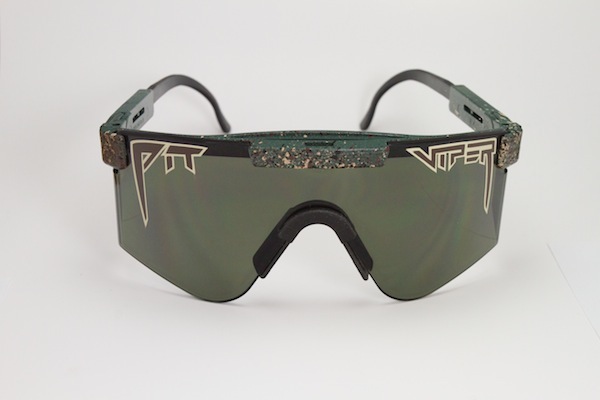 Let's face it: you suck. Every single time you manage to nail a solid turn in deep snow, you wake up. You're not going to get any better, so stop spending money on fancy gear that just makes you look like a rich douche bag. Demand respect and authority with a pair of Pit Vipers. Spotted on every notable skier from Tanner Hall to your mom, Pit Viper shades level the playing field.
Renaissance man Chuck Mumford brought about Pit Viper in the spring of 2012 while seeking to change the sunglass game. With hand-painted, military-grade glasses that exude an attitude of "Don't mess with me, unless you're down to party," Pit Viper shades get the point across like a Rick James backhand.
Since its humble inception just over a year ago, PV has grown a steady cult following. The brand's rise to infamy lead us to showcase Pit Viper's newest frame, The Jungle, in our new gear column, "Lust." This column highlights unique products that you shouldn't live without.
The Jungle is the first new color-way to be released since PV started production, so we got in touch with the man behind the radness, Chuck Mumford, and his trusted ally, Chris Garcin, for the nitty gritty on these combat-ready frames.
What makes Pit Vipers so badass?
Well, they are bulletproof. They are capable of stopping a steel pellet traveling at 7,800 inches per second. Not only that, but they also have three separate adjustable points: turbo, nose-bender, and earpiece spot (e-spot).
What are ideal situations in which Pit Vipers should be worn?
Since Pit Vipers are ideal for the majority of situations, we thought it would be easier to list situations in which Pit Vipers are NOT intended for:
-Shirts on pool parties
-Having a quiet night alone
-Staying awake in class/work
-Being a runner-up
-Player hate'n
-Being sober
-On trial in a court of law
-Sipping wine and weeping to Ghost
-Awkward eye contact
How does one become a Pit Viper Key Player?
Key Players support the Pit Viper Movement (PVM, which may include taking over the world). Show us you are a keyplayer* by posting pictures with the tag #pitviperkeyplayer
*You may be alerted at random if we think you rule.
Here are a few more dirty details straight out of the snake's mouth.
The Pit Viper History:
In the spring of 2012, founder Chuck Mumford was traveling to the Teton Mountains for a ski touring adventure. Chuck had his current "high-end" sport sunglasses in tow, which quickly broke and left him looking for more. He started developing Pit Vipers shortly after this trip. His goal: develop rugged shades that could be shot, sat on, shoved in pockets, and run over—and still maintain their sun and wind bucking ability. After the Pit Viper prototypes successfully passed Chuck's tests, it was time to give them some attitude. Being an accomplished artist, Chuck began painting the PV's to match his extreme lifestyle and they looked damn good. Bottom line is that Pit Vipers may look like the most incredible thing in decades but they are also functional sunglasses—the perfect blend of style and performance.
Pit Viper stats:
▪ Military grade.
▪ 3 adjustment points for the perfect fit.
▪ Made in the good ole U S of A.
▪ Ballistic, solar, and Laser protection.
▪ Bullet proof: will stop a 15-caliber steel pellet at 650 feet per second.
▪ Optimal peripheral vision.
Want to see these Pit Viper's in action? Watch the ballistic test below, and get your hot little hands on a pair today: Pit Viper Sunglasses