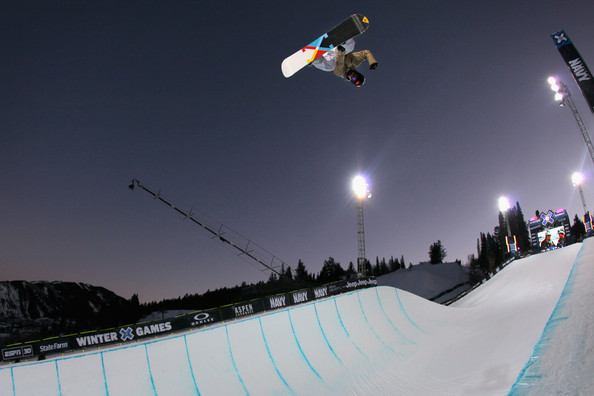 If you're a skier or snowboarder and you haven't checked off going to see the X Games in Aspen, Colorado from your bucket list your doing it all wrong. Watching the events from your couch can be nice if your lazy but hiking up the pipe, getting a prime spot and watching the invited athletes sore through the sky is truly amazing.
It almost always snows during the X Games, so bring your board or skis and take some runs. Like swag, who doesn't? Upon entering the X Games grounds everyone is given a bag full of sponsor freebies and giveaways.
And to top that off now ESPN is showcasing music, film and art during this years X Games.
X Games Aspen Kicks Off 2013 Global Expansion with Style, Film and Music
Major Lazer and Calvin Harris to Perform; Kevin Pearce and Green Day Present Their Films 


ESPN, the leading action sports content provider and creator of the X Games, is collaborating with artists, filmmakers and action sports icons to integrate cultural elements into the four days of action sports competition and festivities that is X Games. With relevance to contemporary youth around the world, X Games Aspen launches into 2013 and the six-event global expansion as a transformation from an action sports competition brand into an action sports lifestyle brand that will highlight new locations with enhanced cultural and digital elements around the world.
X Games: FILM
Premiering a few days prior at the Sundance Film Festival, HBO's "The Crash Reel" is a jaw-dropping story of one unforgettable athlete, Kevin Pearce; one eye-popping sport, snowboarding; and one explosive issue, traumatic brain injury. Through 20 years of astounding action and verite footage, "The Crash Reel" chronicles the epic rivalry between Kevin and Shaun White which culminates in a life-changing crash and a comeback story with a difference. The film is directed by Academy Award nominated Lucy Walker.

Wednesday, January 23 at 8:15 p.m. - The Wheeler Opera House


"¡Quatro!" pulls back the curtain and takes fans inside the world of Green Day, from the various spontaneous live performances in select cities across the U.S. to the chronicling of their creative process while conceptualizing and recording their current trilogy of albums: Green Day ¡Uno!, Green Day ¡Dos!, Green Day ¡Tré! ¡Quatro! is directed by Tim Wheeler and produced by Tim Lynch for Farm League X.


Saturday, January 26 at 9:15 p.m. - The Wheeler Opera House.
X Games: LIFT TICKETS

Discounted lift ticket packages are available for the X Games - 6 day Aspen/Snowmass lift access+ 6 - $20 dinning vouchers

X Games: MUSIC


While performances from top artists often have been part of the X Games experience, 2013 marks the debut of a special concert series dedicated to showcasing the best talent in each of the five countries set to host the events this coming year: the U.S., France, Brazil, Spain and Germany. X Games Aspen will launch the X Games: MUSIC series with headliners Calvin Harris and Major Lazer performing on the X Fest Stage and streamed live to XGames.com.
Calvin Harris – Calvin Harris has been nominated for two Grammy Awards for "Best Dance Recording" for his hit single "Let's Go" featuring Ne-Yo (Ultra Music) and "Best Short Form Music Video" for "We Found Love" by Rihanna featuring Calvin Harris. Both tracks appear on HARRIS'18 MONTHS and these accolades mark his first Grammy nominations ever. Released in late October 2012, 18 MONTHS also includes songs with Kelis ("Bounce"), Example ("We'll Be Coming Back") and his smash radio track "Feel So Close," as well as selections with guest vocals from the likes of Dizzee Rascal, Ellie Goulding, Tinie Tempah and Ayah, and collaborations with DJ/producers Nicky Romero and Dillon Francis.
Major Lazer – Diplo (AKA Wesley Pentz) has risen through the ranks and has asserted himself as one of the most pioneering producers of his time. He is the Grammy nominated founder, owner and head honcho of Mad Decent records, which has not only garnered widespread critical and audience accolades since its inception, but has also deservedly earned a hefty reputation as a vanguard of groundbreaking releases. As Major Lazer, he continues to spearhead the current dancehall revival movement with the upcoming release, Free The Universe, dropping on February 19th, 2013.
 

In addition to the venue concerts, X Games: MUSIC will also present four special shows at the Belly Up Aspen.
Belly Up Aspen

Bloc Party, Wednesday, January 23 at 8 p.m.

Tyler the Creator, Friday, January 25 at 7 p.m.
X Fest Stage

Calvin Harris, Saturday, January 26 at 4:30 p.m. 

Major Lazer, Sunday, January 27 at 4:15 p.m.
X Games: STYLE


Runway Shows – X Games Aspen 2013 will bring what's next in style with two presentations that demonstrate the connection between the action sports lifestyle and fashion. Some brands will be familiar, while others represent a growing trend now mashing up fashion, lifestyle and sports.
 January 23 at 7 p.m. prior to film showing at The Wheeler Opera House
 January 26 at 8 p.m. prior to film showing at The Wheeler Opera House.