BURLINGTON, VT - For the first time, Jake Burton, Founder and CEO of Burton Snowboards, has built a very limited run of signature snowboards called 'The Stone Hut'. Available in select snowboard shops worldwide starting today, each Stone Hut snowboard was handcrafted in Vermont at Craig's (named after Craig Kelly), the most advanced snowboard prototype facility in the world.

"Even though a piece of me has been in so many of our boards over the past 35 years, this is the first signature board I've built," said Jake. "When the boards team approached me about doing a sig board, I jumped on it and talked them into doing a really limited production run so we could make them in Vermont at Craig's. Up until now, we've only made prototypes or boards for team riders there. So the Stone Hut is special for many reasons, but the one I keep coming back to is I think Craig would be stoked that it was built in his facility - I know I am."



During this past summer, Jake spent a lot of time at Craig's, fine-tuning each detail of the Stone Hut. His goal was to create a snowboard that was ideal for 'a powder day in the park' – essentially a board that was very versatile so riders could easily head down an icy groomer, then dip into powder in the trees. As far as construction goes, the concept behind the Stone Hut board is simple. It's a twin shaped freestyle board underfoot with a powder nose and a freestyle tail. The Bend is Flat Top, so it holds an edge when riders need it, but also floats in powder. Available in two lengths (150 and 155), the Stone Hut is downsized so that riders can select a board length that is 5 cms shorter than a traditional board.

For Jake, the Stone Hut board graphic is also 'a dream come true' because it features someone he's always looked up to - Jimi Hendrix. With artwork from the Jimi Hendrix album, Valleys of Neptune, the board graphics are one-of-a-kind. For a finishing touch, Jake personally signed each board at Craig's.



The Stone Hut also comes with a few items Jake thought would go well with the board, all packaged in a laptop case that features artwork from Valleys of Neptune. The kit includes EST CantBEDs (size medium), a binding accessory that many Burton team riders and Jake use all the time. If riders need a different size, they can call Jake's office directly – the number is listed with the kit. Also included is a Sharpie for marking binding stances, an EST Tool for fine-tuning bindings, a credit card scraper that fits in a wallet, a code to download some of Jake's favorite Hendrix songs and stickers from the Burton archives.

With only 100 available worldwide, the Stone Hut promises to be a collector's item for sure. But more than anything else, Jake wants riders to get the boards on snow and send him feedback about the new shape.

"I want people to have fun riding this board, and I want to hear what they think of the unique shape," said Jake. "I also hope everyone gets a good laugh from the stickers that come with the board - I couldn't resist throwing in some that got us in a little trouble over the years."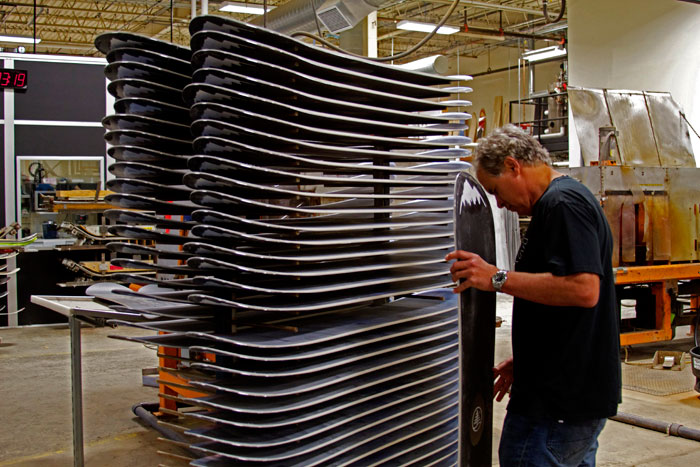 About Burton

In 1977, Jake Burton Carpenter founded Burton Snowboards out of his Vermont barn and has dedicated his life to snowboarding ever since. Burton has played a pivotal role in growing snowboarding from a backyard hobby to a world-class sport by creating groundbreaking products, supporting a team of top snowboarders and pushing resorts to allow snowboarding. Today, Burton designs and manufactures industry-leading products for snowboarding and the snowboard lifestyle, including snowboards, boots, bindings, outerwear and layering as well as year-round apparel, packs/bags and accessories. Privately held and owned by Jake and his wife, Burton President Donna Carpenter, Burton's headquarters are in Burlington, Vermont with offices in Austria, Japan, Australia and California. For more information, visit www.burton.com.
Shops That Carry The Stone Hut:

U.S.

Active Sports Lifestyles – California
Surfside Sports – California
Valsurf Board Shop – California
Wave Rave of Mammoth – California
B.C. Surf & Sport – Colorado
Gravitee – Colorado
Radio Boardshop – Colorado
Shred Shop – Illinois
Backwoods Snowboards – Maine
Eastern Boarder – Massachusetts
Wind, Waves & Wheels – Michigan
Paragon Sporting Goods – New York
Martini Skate and Snow – Ohio
U.S. Outdoor Store – Oregon
Buckman's Ski Shop – Pennsylvania
Vertical Urge – North Carolina
Milosport – Orem, Utah
Milosport – California
Salty Peaks Snowboard Shop – Utah
Darkside Snowboards – Vermont
Equipe Sport/Mountain Riders – Vermont
evo – Washington
Snowboard Connection – Washington
Moda 3 – Wisconsin

CANADA

Easy Rider – Alberta
The Source – Alberta
Unlimited – Alberta
Pacific Boarder – British Columbia
Island Snow – British Columbia
Showcase Whistler – British Columbia
Fathom – Ontario
Meltdown – Ontario
So Hip it Hurts – Ontario
Alternative – Quebec
Atlas – Quebec
Burton Tremblant – Quebec
Empire – Quebec

EUROPE

Blue Tomato – Austria
Twits – Belgium
Addicted Lyon – France
Francois Cogne Surf Shop – France
Fifty-Eight Skate Snow Surf – Germany
Planet Sports – Germany
Detour Boarding Store- Italy
Surf In – Luxembourg
The Old Man – Netherlands
Kosmos Burton Skate Snowshop- Poland
Dak Tak 2000 – Spain
Villadomat – Andorra
Junkyard – Sweden
Julen Sport – Switzerland
Subvert Boardstore– United Kingdom

JAPAN

Spray- Asahikawa
Dreamy- Himeji
Post- Koriyama
3939- Nagoya
Masa- Nagoya
Chu's – Nigata
Greenfield- Okazaki
b.c. map- Sapporo
Extreme- Sendai
Heaven Store.b – Tokorozawa
13 a-bony – Yokkaichi
Newest- Yokohama
Neverland- Zyoetsu