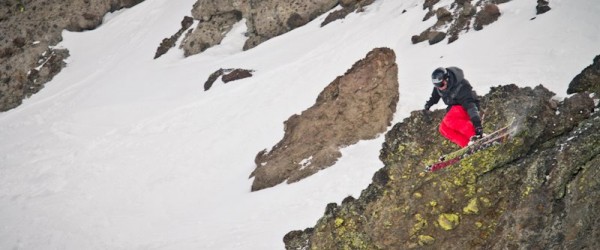 Tune into the LIVE webcast right here on Tetongravity.com at 11 a.m. MST on Friday.
Kirkwood, CA- April 5,2012 – Qualifier day of the 2012 Subaru Freeskiing World Tour at Kirkwood went off today on "Lookout Vista", with 51 athletes going for a spot in the World Freeskiing Championships.
This morning started out with bluebird skies and cold temperatures, keeping the snow conditions firm and fast on "Lookout Vista".
The field of nine women and 42 men headed into the Qualifier with hopes to qualify into tomorrow's main event-Day 1 of the World Freeskiing Championships. Judges had the difficult job of choosing three female and sixteen male freeskiers to advance to the 5-Star competition with the pre-qualified skiers.
"Lookout Vista is a perfect qualifier venue with lots of features," noted Head Judge Eric Schmitz." Everyone skied really well, making the cut for the finals really tough."
Qualifying first for the ladies was Robin McElroy out of Squaw Valley with a winning score of 30.40. McElroy skied with confidence, earning points for her fluid skiing in the variable snow conditions. In second was Snowbird's Hannah Follender with 29.00. Rounding out the top three and earning the final spot in tomorrow's competition was Alex Riedman from Crested Butte with a 27.13.
Topping the talented men's field was Blackcomb's Laurent Gauthier with a high score of 35.60.
"Gauthier skied the looker's left-hand side of the venue very fast and fluidly, building his line score with multiple airs, clearly setting himself in front of the pack," said Announcer Max Kuszaj.
Second place went to Rob Gosiewski from Vail, scoring 35.17. Max Weintraub out of Squaw Valley scored 34.80 to place third in today's Qualifier event.
The Kirkwood Qualifier marked the final 4 Star event of the 2012 season. Gauthier's win today earned him enough points to be named the 4 Star Tour Champion of the 2012 season with 3250 points. The ladies 4 Star Overall Tour Champion is Alex Riedman from Crested Butte with 3540 points.
All of the action from Kirkwood will be streaming live on www.freeskiingworldtour.com for Day One and Day Two, starting at 10 am PST tomorrow. With sunny conditions forecasted all weekend, the final stop of the tour will be an impressive conclusion to the 2012 Freeskiing World Tour.