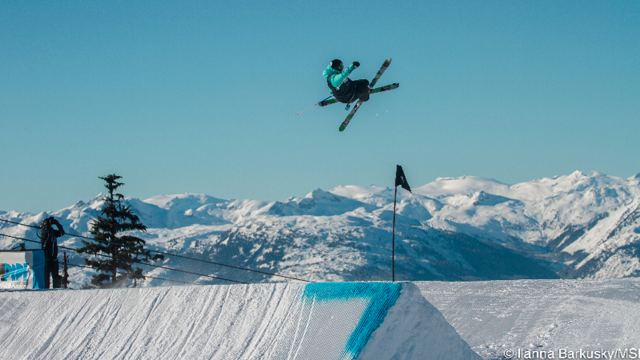 The second stop of the 2013 The North Face Park and Pipe Open Series slopestyle competition concluded today under sunny skies and spring-like conditions at Whistler Blackcomb, British Columbia, Canada.

Noah Morrison of Vernon, B.C. and The North Face team athlete Yuki Tsubota of Whistler Blackcomb, B.C. took top honors in the competition at Whistler's perfectly manicured Nintendo Park. Competition will continue Thursday, Jan. 17 with the halfpipe competition in the Blackcomb Global Super Pipe. Fans from around the world can follow the action live via webcast available on http://www.thenorthface.com/en_US/exploration/skiing-and-snowboarding/.

"We witnessed the future of slopestyle skiing today in Whistler," said The North Face Park and Pipe Open Head Judge Mike Atkinson. "It is evident park skiing is continuing to progress. Our winners today (Morrison and Tsubota) are relative newcomers but were able to lay down runs that would challenge the best in the world."

Noah Morrison started his winning run with a 270-on forward-out on the down rail, to a smooth left-side double cork 1080 mute grab, to forward-on misty 450 off the hockey stick rail, and capped off his run with a switch right-side double cork 900 Japan followed by a left-side double cork 1260 tail grab on the jumps. The performance earned him the top score of 91.4 and a last chance invitation to join Winter X Games 17 in Aspen.

Following Morrison on the podium, James Campbell earned an 89.6 and 15-year-old U.S. Freeskiing Rookie Team member Willie Borm stole the third place seat with an 87.0.

Leading the women's park results Yuki Tsubota launched into her run with a forward-on, forward-off of the down rail, a flawless left-side cork 720 mute, to a straight on tail grab off the hockey stick rail, and then finished her run with a flawless right side 360 mute grab and a left-side 900 tail grab on the jumps. The judges awarded her with a winning score of 90.4.

Rounding out the women's podium Jamie Crane-Mauzy scored an 81.0. Mauzy's performance was also enough to earn her a last chance invitation to join the upcoming Winter X Games 17 in Aspen as Tsubota is already on the X Games roster. U.S. Freeskiing Rookies Team member Alexi Micinski grasped third place with a score of 79.2.

"The contest today couldn't have gone better. The weather was perfect, the level of skiing was mind-blowing and open events are one of the biggest gems in our sport," remarked NewSchoolers.com Editor Jeff Schmuck. "Much respect to The North Face for putting this series together for the athletes, who all took advantage of the opportunity and skied incredibly well."

The North Face Park and Pipe Open 2013 park competition at Whistler Blackcomb will be broadcast Feb. 7, 2013 (time TBD) on the CBS Sports Network.