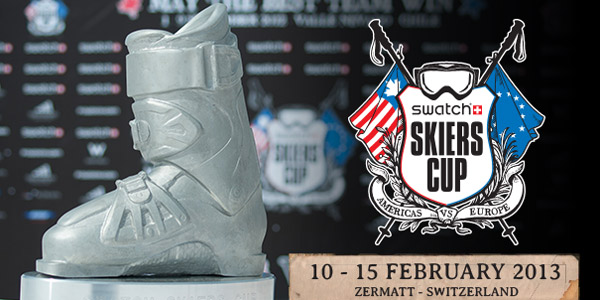 Lausanne, Switzerland - For two consecutive years the riders of Team Europe and Team Americas fought for glory in the SWATCH SKIERS CUP held in the snowy arena of Valle Nevado, Chile. After losing the inaugural 2011 edition, Team Americas battled back in September 2012 to even the score at 1 - 1, adding more intensity to the rivalry of this cutting-edge event. This winter, the tie will be broken when the SWATCH SKIERS CUP comes to the Northern hemisphere for the first time, in Switzerland, with the teams set to meet in Zermatt, Switzerland on February 10-15.

The unique event combines two disciplines — Big Mountain and freestyle-focused Backcountry Slopestyle — and a head-to-head matchplay formula to create one of the most entertaining spectacles on snow.

For this, the 2013 edition, Team Americas will be captained by none other than Squaw Valley, USA local and SWATCH Proteam Cody Townsend. Matching strategic wits and ski talent against Townsend will be Team Europe captain and event co-founder Kaj Zackrisson from Sweden. Time is running out for the two captains to fill the remaining seven spots on their teams. Look for the full teams to be announced on December 15.

Stay up to date with event announcements and news at www.swatchskierscup.com.