Marty Basch
North Conway in New Hampshire's venerable White Mountains is a year-round New England playground, a reputation the town enjoyed long before being humbly anointed by National Geographic Traveler as one of the world's top 25 ski towns.
Loaded with regional staples like white-steepled churches, creaky covered bridges and archaic cemeteries, the small town is located about 130 miles north of Boston and nestled in the shadows of the Northeast's highest peak. North Conway is loaded with skiing history, heritage and culture. Thank the heyday of ski trains from New York and Beantown and the legendary skimeister Hannes Schneider (who brought modern ski instruction to the in-town Cranmore Mountain in the 1930s) for that. Olympian skier Leanne Smith calls North Conway home, as does 1972 legend Tyler Palmer.
When winter rolls around and it's dumping, skiers and riders make the drive to iconic Wildcat Mountain in Pinkham Notch across from Mount Washington for some New Hampshire pow. Photo by Wildcat Mountain/Max Gosselin.
In summer and fall, hiking, biking, paddling, climbing and other gravity games replace the skiing and snowboarding visitors enjoy at the seven alpine and six cross-country areas that call the Mount Washington Valley home. Towering above the valley with an elevation of 6,288 feet, Mount Washington is known for its wicked and lethal weather. In 1934, the Mount Washington Observatory recorded a peak summit gust of 231 mph.
With some 1,200 miles of hiking trails in the White Mountain National Forest to choose from, many hikers make a beeline for the rocky landscape on Mount Washington. Photo by Marty Basch.
North Conway is surrounded by the 800,000-acre White Mountain National Forest, which teems with trails, camping and more. The forest is an inexpensive base camp for the tenting crowd with several campgrounds along the winding Kancamagus Highway, a scenic byway ripe for roadies. Those preferring indoor plumbing and a kitchen stay in the Conway White Mountains Hostel or in a host of valley inns, B&Bs and strip motels.
Start your day in walkable North Conway Village—anchored by the yellow Victorian train station in Schouler Park and its mountain backdrop. Snag a double shot of espresso on the patio at Frontside Grind on Main Street. Across the street, the Met also offers al fresco with a European flair. Pack a chicken Caesar wrap from Chef's Market in the village for lunch. After you're done playing in the mountains, head for the Moat—that's Moat Mountain Smokehouse and Brewing Company. Chase down a veggie-stocked California Dreamin' pizza with a brew like the brown ale Bone Shaker . The bar scene at Delaney's Hole in the Wall hums with loyal followers while the drive to the nearby Red Parka Pub in Glen is to imbibe in White Mountains ski bar infamy.
North Conway Village contains a plethora of mom-and-pop shops and an array of eateries. Photo by Marty Basch.
With some 1,200 miles of forest trails, hiking is big in these parts. Washington's a coveted Presidential Range peak. Approaching the busy summit (which boasts a state park, observatory, train and an auto road) from the east via the Appalachian Mountain Club's Pinkham Notch Visitor Center takes prepared hikers through spring backcountry skier heaven—Tuckerman Ravine—along the 8.4-mile round-trip Tuckerman Ravine Trail. Definitely check the forecast first. Death happens. A closer and equally appealing hike is a ridge-walk or loop hike along the low-lying Moat Mountains. The trail to South Moat Mountain (5.4 miles round-trip) is less taxing than the route to the North (which affords a difficult 10-mile round-trip). The mellow jaunt to family-friendly Diana's Baths is more like a walk but the falls are cooling in summer's heat.
The falls are near Cathedral and Whitehorse Ledges. The side-by-side cliffs create a sought-after rock stage for climbers throughout the Northeast looking to scale the towering hard, Conway granite faces. Cathedral's known for its traditional multi-pitched routes like Thin Air and Upper Refuse, while Whitehorse is home to low angle friction slabs like Sliding Board and Standard Route. With the area's bevy of guides and climbing schools, the ledges are also an excellent venue for novices to get schooled in the basics.
Ready to roll? Notches—that's New Hampsha speak for mountain passes—are challenging roadie destinations. Pinkham, Crawford and Evan's are the go-to gaps for serious cyclists all with over 1,000 feet in elevation gain. Bear Notch, the Kanc and Hurricane Mountain Road are on the list too. For a totally easy outing, drive a few miles to Fryeburg, Maine and the 4-mile Mountain Division rail-with-trail, which could one day link to Portland.
With miles of singletrack, North Conway attracts mountain bikers of all levels. Photo by Rob Adair/Mount Washington Valley Chamber of Commerce.
Mountain biking is surging in the area, largely due to the growth of locals maturing from bootleggers to savvy peddlers who've learned to work with area landowners. Credit the White Mountains chapter of the New England Mountain Bike Association for the uplifting close to town Sticks and Stones circuit (and pump track), which features sinuous singletrack, rollers and more. A few miles away, the recently signed 12-mile Moat Mountain trail network in the national forest serves up an incredible array of narrow ways including the funky meandering Electric Loop. Earn bragging rights on the Red Tail Trail not far from the village with its fast drops and technical challenges. Rentals, maps and books are found along Main Street with its abundance of bike shops and eateries.
Both cross-country and downhill mountain biking opportunities abound around North Conway with Attitash Mountain Resort in neighboring Bartlett providing the lift service. Photo by Attitash Mountain Resort.
North Conway's well-located for paddlers, an easy drive to mighty northern rivers like the Pemigewasset, Ammonoosuc and Androscoggin, which are all part of a rich heritage of forest-driven economies and recreational pursuits. But the hot spot is the Saco River with its flotilla of canoes, kayaks and inner tubes acquired from rental spots in town. The winding river is a fine way to see mountains, cliffs, fields and wildlife (the boisterous cooler carrying crowds notwithstanding). There's some technical whitewater, lots of flatwater and low sandy sections in summer.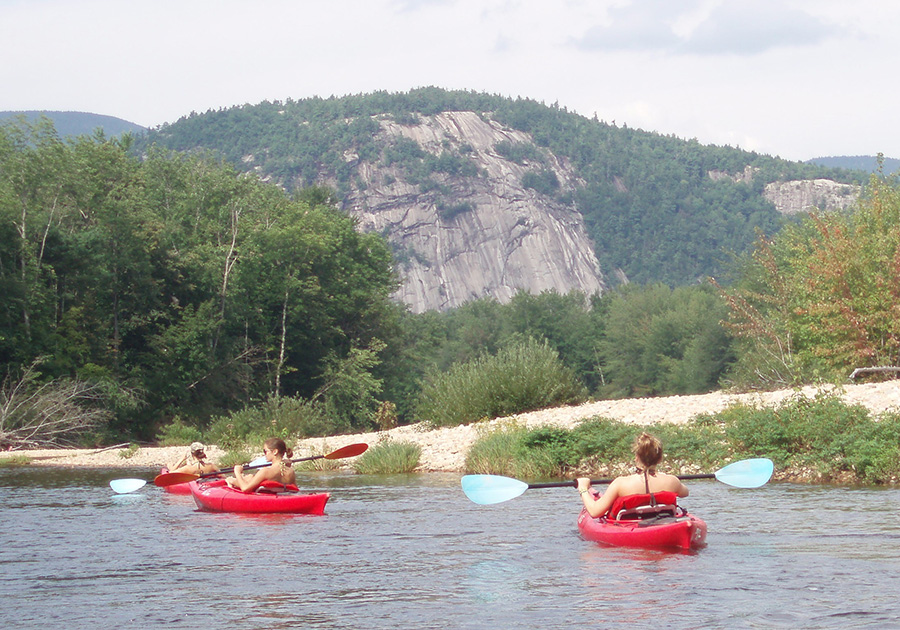 The Saco River is a popular summer time paddle from North Conway, attracting those in canoes, kayaks and tubes. Photo by Marty Basch.
With ski areas now mountain Disneys, choose your pay-to-play addiction from mountain biking the carriage roads and single track at Great Glen Trails to lift-served downhill mountain biking at Attitash. Cranmore, Wildcat, and Bretton Woods also offer a host of adrenaline-fueled adventures. Whether at these resorts or elsewhere, there's no shortage of things to do. Around North Conway, boredom is not an option.