Oct.27, 2006 a crew from the office filled up the Commander w/ what looked like an endless tank of gas and headed off to the Northwest. Not only does the Northwest shred but they have a lot to teach us about the art of getting mashed.
First stop Oct.28-Portland-Berbatis's Pan. In anticipation of Halloween, participation was full on as Tinker Bell instructs us on detail with costumes.


** TINKER SHOWS HER BELL **
A packed club was greeted with a stacked show including TGR's Anomaly, local group Greyskul, Battle Axe group Sweatshop Union and of course Swollen Members. Fans were also treated to the appearance of athletes Dyaln Hood and Dash Longe. They signed posters for the crowd and wrote inspiring winter season stoke as fruity as Dash's cocktails (Mai Thais).

** THANKS VOLKL...WE'VE LOST OUR MINDS ON TOUR **
The Portland cougars were out in full force detailing garb and adding accents to age the boys...apparently this made them feel more comfortable as their childhood issues were instantly forgotten with such things as a moustache.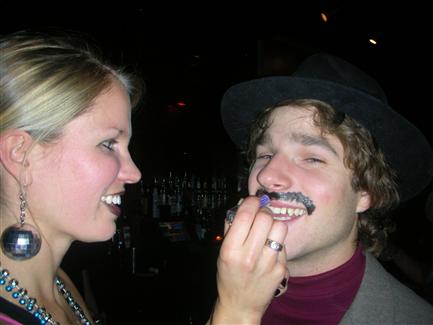 ** MOUSTACHE RIDES $0.25 **
After the show had concluded and the masses were thoroughly stoked for the coming season the after party raged till closing time where TGR employees eagerly accosted individuals wanting to spread more stoke.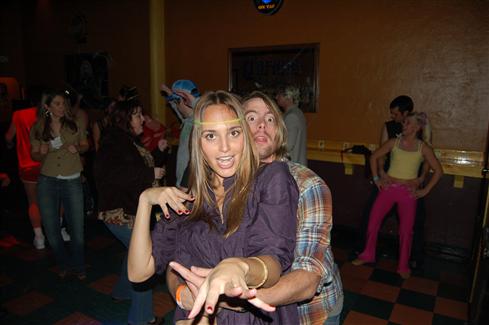 ** THE BOND W/ JACKSON HOLE COULDN'T BE STRONGER **
Oct.29-Neumo's-Seattle. We continued North after making new friends (Tinker Bell) and sustaining massive head trauma from having 10 too many cocktails. Heading to Seattle we battled typical NW weather, blue skys and rain, meanwhile negotiating NASCAR-like driving conditions on the PDX/SEA corridor.
By doors a sold out crowd was able to grab the elusive signature of 16 year old athlete Kye Peterson. He and Dash worked the crowd up until the show. Fans saw a rowdy premiere of Anomaly and a tight perfomance by Swollen Members. Being Vancouver, B.C. based they were supported with local enthusiasm.

** SWOLLEN MEMBERS' PREV SHOWING LOVE FOR THE SEATTLE CROWD **
The bus was being hailed by that new hops filled beverage logo and things were all good with our tour roadie...Mot on tour.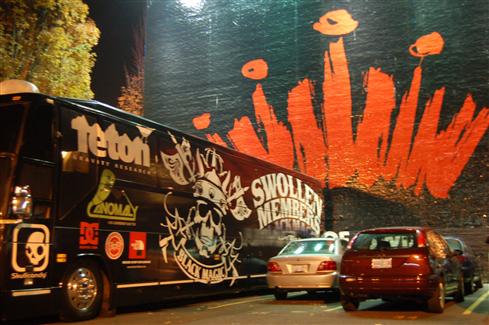 ** JEALOUS BUD? **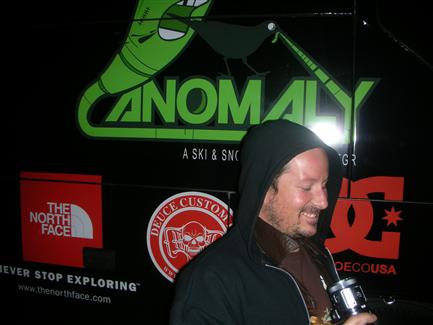 ** THOMAS GATEHOUSE 'LEGEND' **
Next morning offered a welcomed break from two roudy nights of premieres. NW always provides for TGR and we will continue to provide for the NW.
John, you are pimp!!! Thank for the digs.


** JOB WELL DONE...WHO'S PENTHOUSE IS THIS? **