A few weeks ago we presented T-Bar Film's Out On A Limb with Columbia. It's the story of Vasu Sojitra, a skier who lost his right leg to a blood infection at only nine months old, and who since has grown into one hell of a skier–even skinning and bootpacking backcountry couloirs and slaying pow on the way down. After watching the above mini-doc, you'd have to be missing some critical parts of your frontal lobe not to be impressed.
Last Friday we asked Vasu to participate in an Ask Me Anything in the TGR forums. Today we have rounded up the best questions & answers from Vasu's AMA session.
Welcome to this highly ego rich demographic spectrum of the Internet worlds. Since we have a Hoji (Eric Hjorliefson), can i refer to you as Soji?.
My name is a bit tricky sometimes, but it is phonetic ( Va-sue So-gee-tra). And yeah, do it up! Soji's a great nick name. Thanks!
Nothing better than some elusive VT pow! A screenshot from the film captures some deep hardwoods shredding.
Just wanted to know, do you often wonder how you would ski with two legs? One leg must require so much more balance, that's why I ask. I've heard a famous wheel chair athlete say he loved his wheel chair as it made him who he was, and he wouldn't want it any other way. For me, I cant even grasp that thought, but do you feel similar?
Great question man! So I do sometimes wonder what it would be like, because I mainly ski with able-bodied friends, but I get over that thought pretty quickly. I know what I was given,a and I know what I have to do to have fun. I do my best to not let those thoughts bog me down. I look at the bright side of my challenge and do the best I can to enjoy life. As for the adaptive equipment question, I think of my crutches as a part of me. I always call them my "legs" and they help me make me how I am, but I know it's not just my crutches that defines me, it's who I am as a whole.
---
Check out exclusive interview with Vasu & T-Bar Films on the behind-the-scenes making of Out On a Limb here.
---
A message I'm trying to send out is that all those little quirks define who you are, so do your best to not be something or someone you're not. Once everyone figures that out, I feel that there won't be this big bubble of prejudice.
How do you do a kick turn with one leg while skinning?
So I place my outrigger/crutches as a solid support and then just pivot my body with the ski where I want it to go. Pretty easy actually, but I have had some sketchy moments...
Vasu working himself up a skin track in the Chic Chocs.
How have your muscles and ligaments changed to accommodate having just your left leg? I know my legs changed quite a bit after having a spinal cord injury and losing strength and function in my calves and hamstrings.
Great question. I know that my leg has definitely gained more muscle mass as I keep skiing, but I really don't know what to compare it to, because I've grown up with one leg my whole life. I do my best to keep my leg centered under my body so I'm balanced. My leg is pretty tired after a long day, though, for sure.
Loved "Out On A Limb". You are one inspiring dude. You rock the pow on your sweet DPS rig. Do you have a different setup for carving the frontside? What's in your quiver?
Yeah that ski rocks the BC! I love the DPS Wailer 112. I also have a Wailer 99 that I use inbounds and in the BC. I'm about to set up a Hybrid Wailer 112 (a little softer than full Carbon) and a Lotus 120. So my quiver is stacking up nicely!
Prosthetics have advanced a lot in recent years. Have you ever tried to ski with a prosthetic leg? What would be the barriers a prosthetic would need to overcome for you to ski on a prosthetic?
Yeah, I've thought about it and do some research now and then, but I used to have a prosthetic leg, and it was just a pain in the ass (literally). My amputation is called an above knee hip disarticulation (don't worry I still have two butt cheeks) so because of that, I have to sit in a bucket like cup to fit the prosthetic leg. You can imagine that's pretty uncomfortable.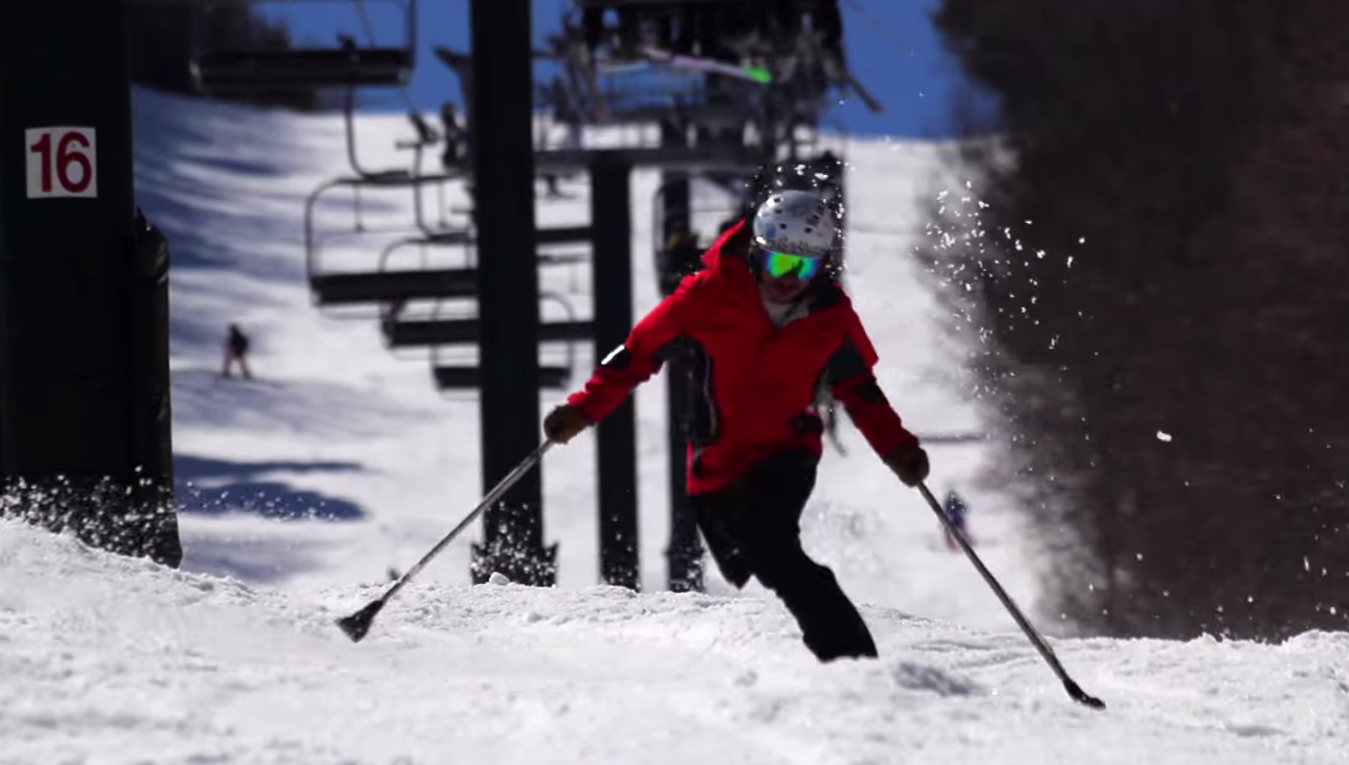 Vasu shredding an East Coast bump run at Sugarbush, Vermont.
As for the barriers, if I did use a prosthetic, I think that I wouldn't have control over any of my turns and it would be pretty dangerous. When I was younger and had my prosthetic leg, I really couldn't control it that much. I basically had to limp with it on or even use crutches alongside it, so I'm still not too interested in getting one. I'm fully capable with just the crutches as you can tell.
Where are you most excited to ski now that you have moved out West? Is it true you have gotten this good at skiing from just eating waffles, Ben & Jerry's, & Vermont craft beer? Ideal ski day would be where? And with who?
Well, living in Bozeman, I'm super excited to ski Bridger Bowl and the backcountry around here looks amazing! Can't wait to go to Cooke City and check all the BC in the Beartooths.
And yeah it's true, mostly from waffles and Vermont maple syrup. Stuff's like crack!
Still can't say no to a night up at Starks Nest during a big storm, first track down, and first chair on the single chair at Mad River Glen. Those are some of the best turns I've had in my life and all of course with my close friends Alex Holt, Spencer (Gerry Gnarcia) Fitz-Gerald, Reed Hanson, and Branham Snyder. Those are the goons I'll always love to ski with.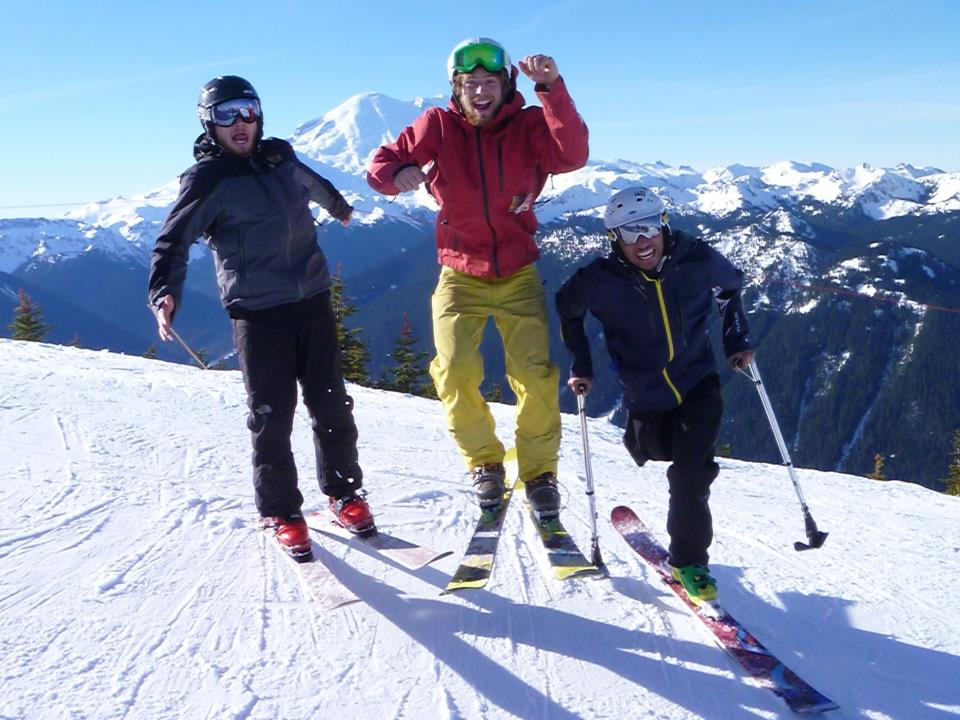 Riding buddies Alex Holt, Gerry Gnarcia, & Vasu hanging in the mountains.
This is amazing stuff! I heard you also dabble with skateboarding/long boarding when the mountains dry up in the summer. Did you find skiing or long boarding to be harder to get into? I imagine the asphalt is much less forgiving.
Good question. Yeah I dabble in skating and longboarding, but I think skiing is easier to get better at since snow is so forgiving. Don't get me wrong, I do like cruising the street on my longboard, but after scaring me shitless and hitting 40 mph on a board, I think I'd rather stick to going big on a ski.
Seems I am seeing your movie all over the internet now. What is one thing that has surprised you about your new found fame?
Love this question. I'm still in shock from all that has happened from Banff to the Powder Awards. I'm still the same me and all this isn't going to change who I am as a person and what my life goals are. I still want to help people in need especially in countries that need it, like India, where most of my family is from. All this just helps spread the word and helps with funding.
Something that has surprised me is how the public has reacted to something I love to do and am used to. My friends are on the same page it seems. They're not blown away by what I do anymore and I'm not either. It's a way of life for me and with it being that it does seems interested to be part of a community where I can be compared to a healthy person with two legs. Hope that answered your question.
Cover photo by Tate Colbert.