In only two days, the world premiere of Jeremy Jones' Higher presented by Subaru–the final in a trilogy about a life lived apart from expectations, high in the mountains–will take place at the base of Squaw Valley. While TGR's thrown tours in the past, this time around it's special, being the culmination of years worth of work, vision, and faith on the part of so many of us here at TGR as we deliver the final film in the Jeremy Jones trilogy alongside Almost Ablaze, our (mostly) ski film that stands on its own legs. Combined, we hope our two films will get you more excited for winter than you've been in a long time, and with over 200 worldwide premieres between them, we hope our films get to inspire more people than ever before this fall.
Without getting too sentimental, we just wanted to let you know that we're pretty damn excited to kick the fall tour season off in Tahoe this Saturday, so we thought we'd share the five venues we're most excited about on the entire Higher tour calendar. Which one will you get down with?
#1: Squaw Valley - September 6th World Premiere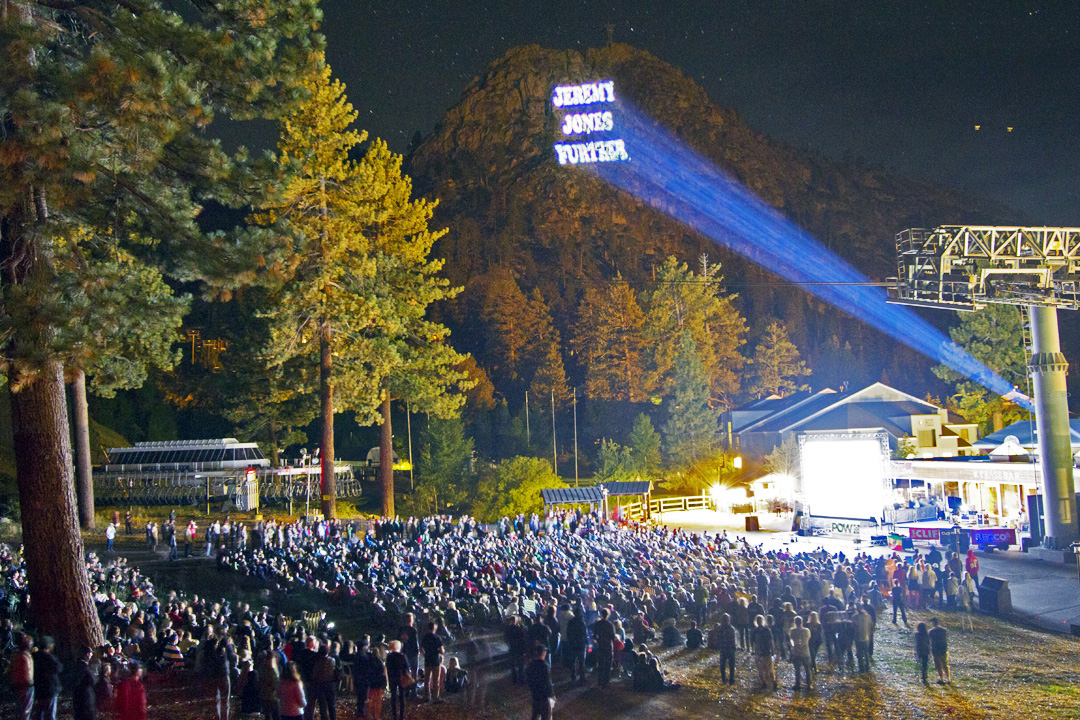 Crowds gather at the base of Squaw Valley, Jeremy Jones' home mountain, during the world premiere of Further. Seth/TGR photo.
We're only two (2!) days away from the world premiere of the finale of the Jeremy Jones trilogy, Higher, which closes the trilogy out at Jeremy's home mountain–California's one and only Squaw Valley, the crown jewel of North Lake Tahoe. While the Fingers might not be shreddable yet, and KT-22 won't spin for another couple months, Squaw will be holding it down for the Tahoe with an outdoor venue at the base of the hill within spitting distance of one of the most legendary chairlifts for freeriders anywhere in the world. New for this year's premiere are food trucks, who'll be serving up a bevy of tasty goods to consume in between swallowing microbrews in the beer garden. San Diego's DJ Man-Cat will be holding down the after party at Squaw's Plaza Bar til late night, so bring your twerkin' boots.
Get your tickets here: Higher World Premiere, Squaw Valley, Saturday, September 6th
#2: The Santa Monica Pier - October 2nd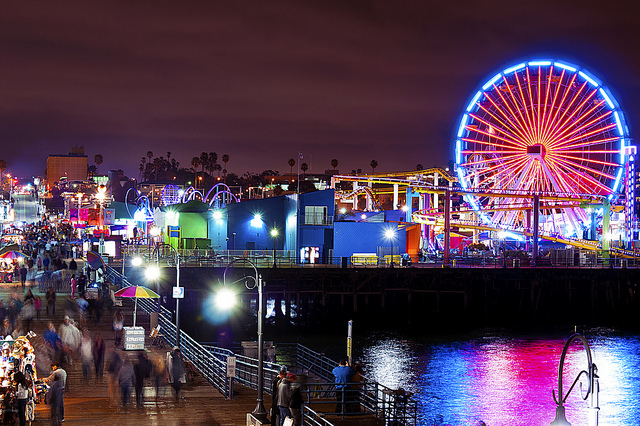 The infamous Santa Monica Pier, where Higher will premiere on October 2nd. Photo by Steve Bev via Flickr's Creative Commons.
While oceanside in LA might seem like a bizarre venue to highlight for the tour of a film dedicated to snowboarding in the most remote places on Earth, the boardsports connection is strong with this venue. The Santa Monica Pier–California's best impersonation of New Jersey–first opened in 1909 with a surfing contest judged by the OG surf pro (like, really OG) George Freeth. While Freeth is long gone, celebrities are for sure a part of the equation at this venue–even Luke Wilson showed up last year, so you never know what celebs might be hiding behind a beard in the crowd. "Read it back to me so far, Pierto!" If you can pick out that movie, well, then...
Get your tickets here (details still pending): Higher at the Santa Monica Pier, Thursday, October 2nd
#3: The Aladdin Theater, Portland - September 19th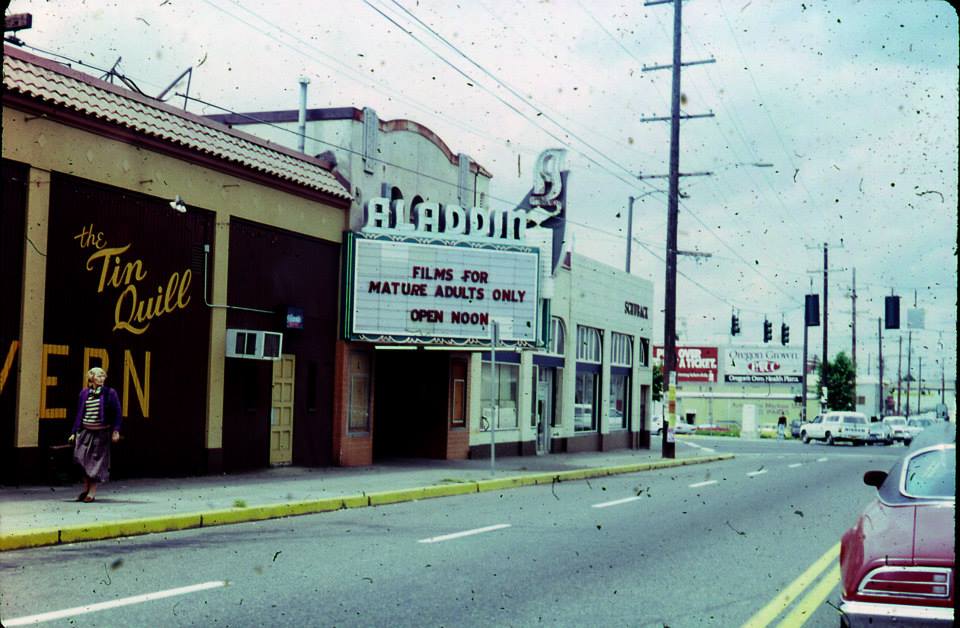 Portland's historic Aladdin Theater during the seedier days of the 1980's. Aladdin Theater photo.
Portland's Aladdin Theater got its start playing vaudeville shows way back in the '30s, but took what its website describes as a "major detour" in the '70s towards a reincarnation as an adult theater (see above), gaining national infamy as the number-one exhibitor of the classic feature-length porno, Deep Throat. Don't you love history?
Since those grainy days, the Aladdin's 600 seats have instead hosted screaming music fans jamming to the sets of Steve Earle and The Decembrists, and comedy fans pissing themselves laughing at the jokes of Louis C.K., who we're sure would have loved the '70s here. It's got a history as eccentric as Portland itself, and there could hardly be a more compelling venue in the City of Roses (or it is City of Bridges?).
Get your tickets here: Higher at the Aladdin Theater, Friday, September 19th
#4: Simons IMAX Theater - October 15th
The Simons IMAX Theater sits harborside in Boston at the New England Aquarium. Whale watch pre-game, anyone? Photo via Wikipedia.
After Squaw Valley, the Boston show at the Simons IMAX Theater at the New England Aquarium is Higher's second hometown show–the Jones brothers grew up in the Commonwealth, and the opening of the film prominently features Jeremy's first experience riding a snowboard as a tender young lad playing hooky from school to ride a Burton Backyard on Cape Cod's Jailhouse Hill. Besides the hometown love and history, the Simons IMAX Theater brings a cinematic experience like few other venues on the tour (Salt Lake's IMAX theater stop being the exception).
Get tickets here: Higher at the Simons IMAX Theater, Wednesday, October 15th
#5: Best Buy Theater - October 16th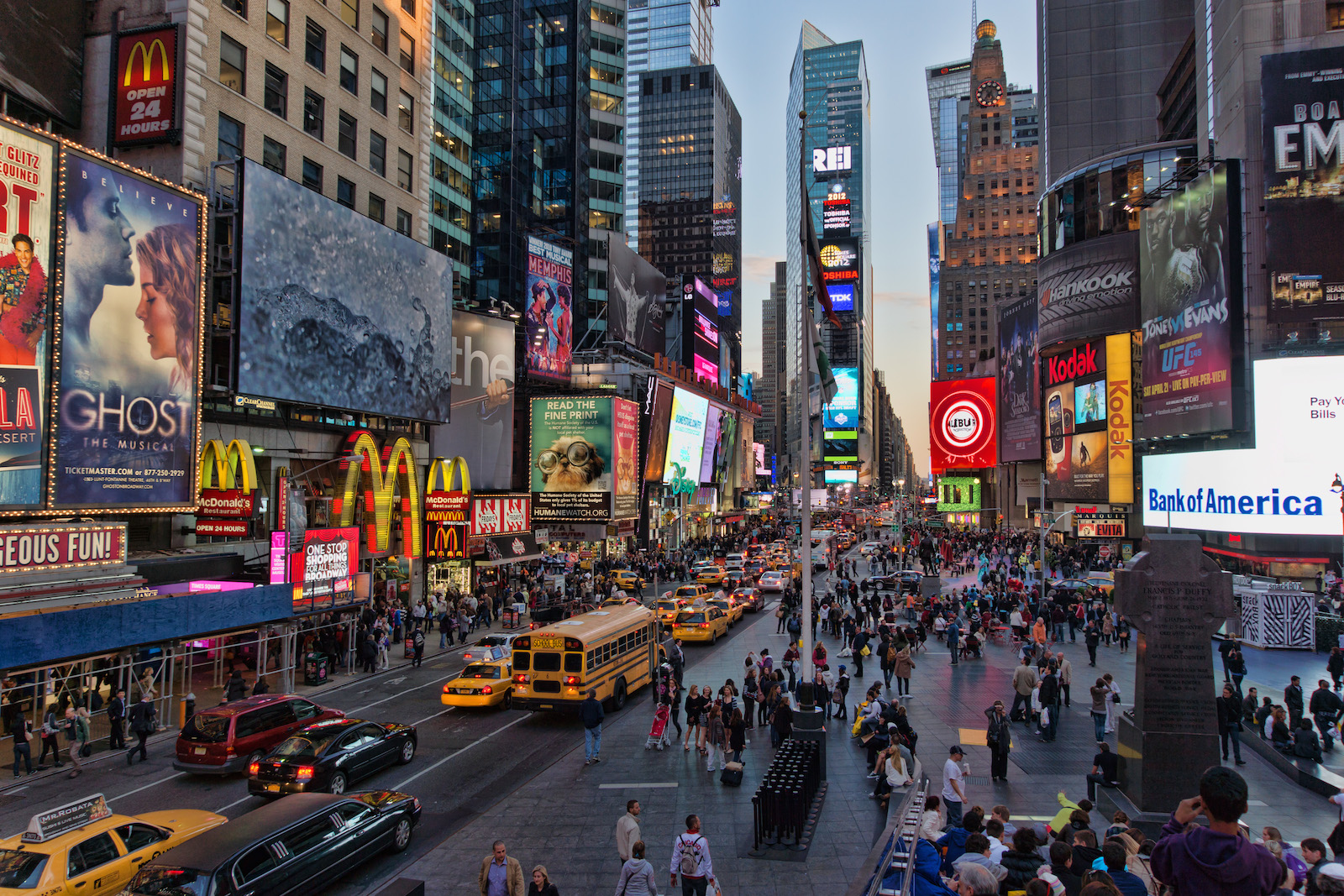 Times Square might be the polar opposite of Jeremy's chosen environs, but Best Buy Theater is sure to host a blowout premiere next month. Jean-Christophe Benoist photo via Wikipedia.
As Jeremy has always said, "I can do about 72 hours in a city before I gotta escape to the mountains," but few metropolises are worth testing the limit than New York City, whose skyscrapers, brownstones, subways, and office hallways hide a sizable population of maniacs fully dedicated to snowboarding.
Bringing the highest peaks of Nepal to the heart of Times Square, Higher's October 16th premiere follows the Boston IMAX show at the big-name Best Buy Theater. Might we suggest a pre-game venue? While Times Square might be lacking for inspiring places to get loose, Rudy's, one of the few dive bars in Midtown, sits right off the corner of 44th & 9th, bringing you free hot dogs along with cheap beer and furniture wrapped in duct tape. You gotta get down to get higher, right?
Get tickets here: Higher at the Best Buy Theater, Thursday, October 16th