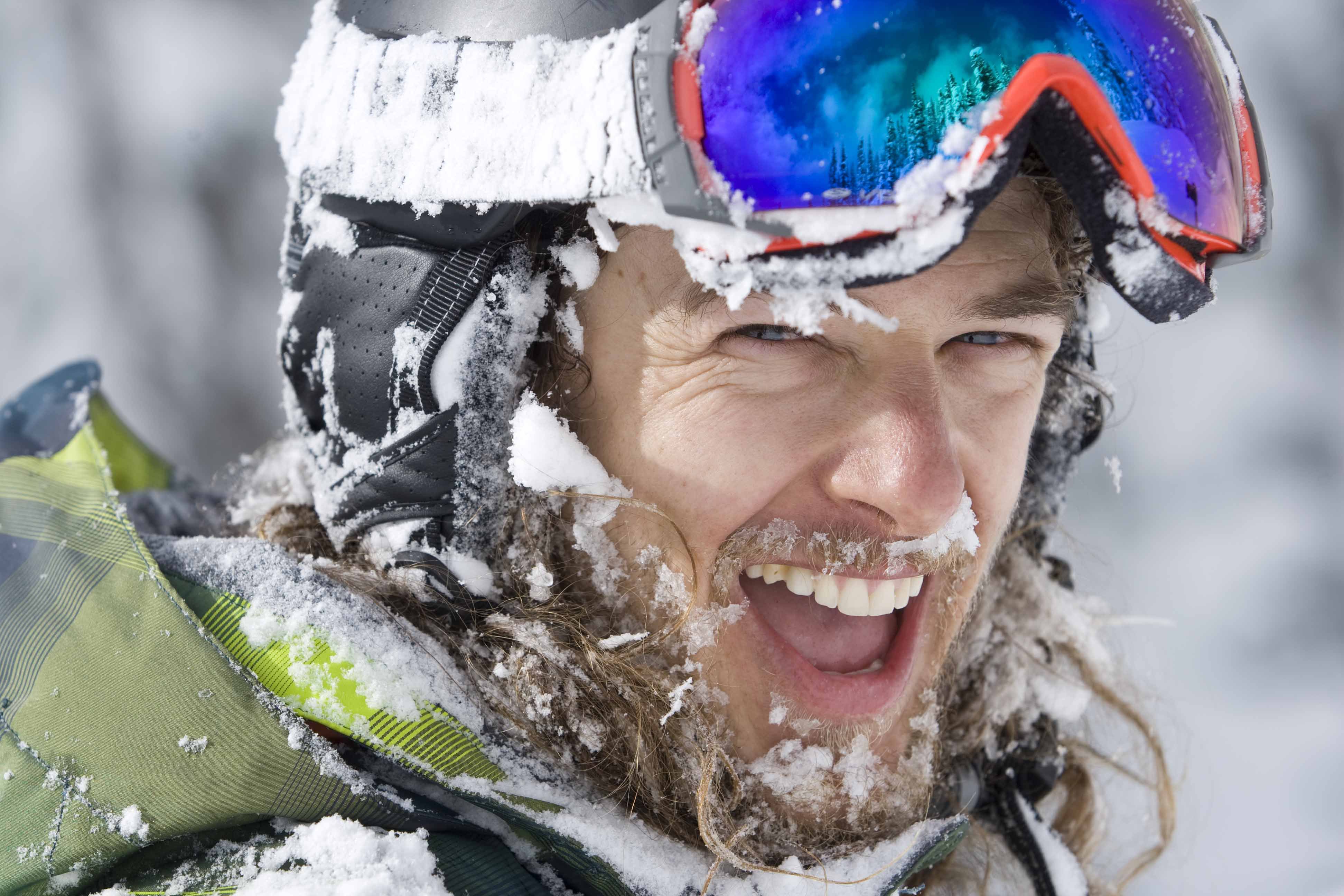 Last Friday had our first ask me anything (AMA) thread in our infamous TGR forums. The first athlete was Teton Gravity skier Sage Cattabriga-Alosa. The AMA did not disappoint as the maggots of the forums let him have it, asking him questions about everything from underwear futures to his preferred method of digesting THC. Three hours and some tired fingers later Sage signed off leaving behind a thread that is sure to make it into the Hall of Fame. We have compiled some of our favorite questions and answers for your reading pleasure. If you like what you see be sure to check out the original thread.
If you could be the main character of any movie ever made, which would it be? Hans Solo
What's your killin' it to crashing ratio? I crash often; mostly little hang-ups, or a stunt gone wrong. A lot of controlled falls where it's easier to go down sooner than later. When it's soft, it's all good. In AK this year I had hang-ups, or tumbles, or close calls on almost every line. Conditions were a lot different compared to last year where I skied four weeks without crashing at Fantasy Camp.
Do people try and follow you around the mountain if they recognize you? Are you recognized a lot skiing in bounds? Yes, if I let the shag out I get noticed pretty easy, but if I roll in the balaclava with the hair tucked in I'm fairly low profile. I don't mind it really, it's usually just other skiers who love to ski, I can relate, and love collecting the vibe.
Sage spinning over the Alps last winter. Photo via Sage's Instagram.
How many times over the past few years have you heard the pro call out from the movie GNAR? The GNAR call-out??... All the time! Best one was a guy, saying it to me at Snowbird, then he drops in, crashes, loses a ski, and tumbles toward a bunch of rocks. He stops, looks up and says... "Just kidding!"
What's worse than greedy locals? Unappreciative tourists.
Fastest big mountain skier? Morrison, Ralves, and Mac, they are fast, Ligare too... I've seen those guys fly!!!
Do you have a vision of where you want your career to go? Well I see many potential options, for now I see the next six plus years continuing in the direction that I have been on course with, focused more and more on big mountain and less on freestyle. After that I see a fusion of my passions and skills fusing together for the future. I love art, building, production, lighting, design, filming, photography, some how these interests and skills will coalesce into my future. Not sure about competitions, although I do love the powder-oriented ones.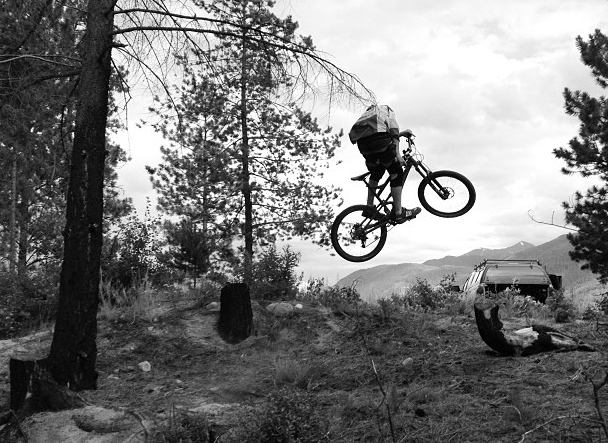 Sage, no slouch on the mountain bike either. Via Instagram.
Is it true what they say about the length of your ski and how it relates to certain body parts? If so things have gotten smaller over the last 30 years.
What was your most puckered moment as a pro? Happens all the time, sometimes filming, or usually just navigating around somewhere getting to a line for fun or film. The movie has a funny build up to a tiny little line where I am super puckered... POV cams capture everything!
10 duck-sized horses or one horse-sized duck? I'd rather have 10 duck-sized horses, but I'd rather see one horse-sized duck
What's this year's hardcore Bro word going to be? That's easy–"Super gripped!"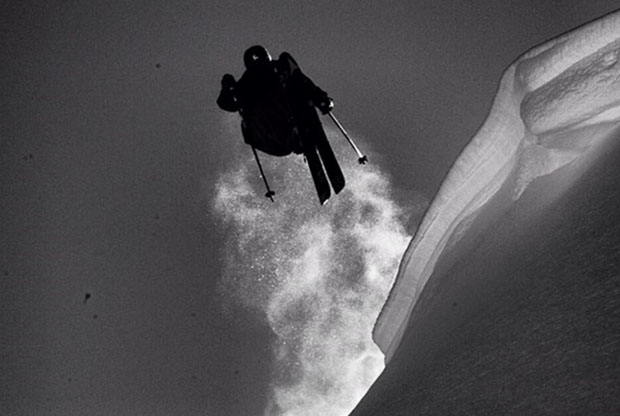 TGR's in-house master of big-mountain style, Sage knows how to make a clean boost. Via Instagram.
What do you do when you have to fart in the bikram studio? Never done bikram but my stratagy is to let it seep out slow...
What's your off season training like Sage. Are you in the gym or an outdoors kind of guy? I pretty much just do stuff–mostly biking, some hiking, some other random stuff like broga, and trampolining. I think the gym is a great place for rehab, and some strength work, but I prefer to do things that are fun.
---
Want to shred like Sage in the winter? Learn why Sage rips a mountain bike in the summer to stay and shape and keep his instincts sharp.
---
Can an arbitrary Equivariant G-Bundle be factored into a finite collection of Eilenberg-MacLane spectra in the context of midnight mushroom tours after Peruvian dishwashing? Yes. The midnight analysis proves that under the Eilenberg spectra sight is possible.
Do you like to cook for your dog? If putting a splash of chicken broth in kibble counts as cooking, yes.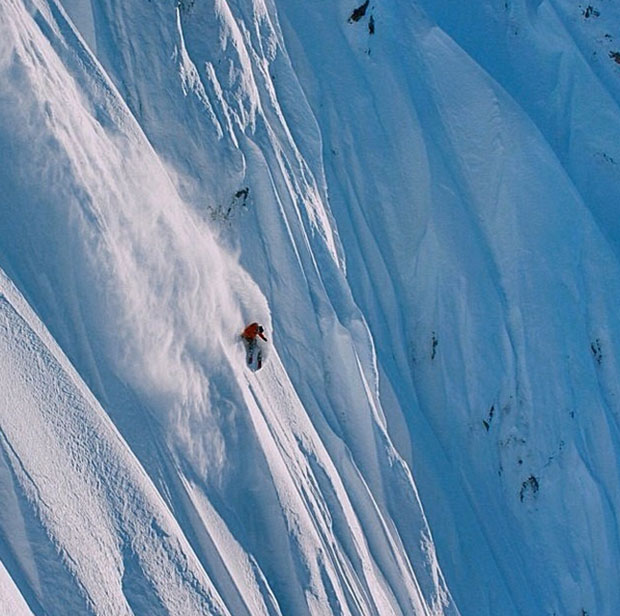 On lines like these, the operative term describing your emotional state in 2015 will be "super gripped." Photo via Sage's Instagram.
Do you kiss on the first date? Ask my wife.
How's married life? Fucking great. I have a amazing wife, going to Hawaii in a few weeks for our honey moon... "Yea, never done it!"
If the helical picklewads transform their investments portfolios from cosmic derivatives to underwear futures, will Wall Street grow a conscience? Underwear futures tend to fluctuate more, whereas cosmic derivatives seem to be more stable.
Are you getting help with the answers?!.... cuz you are breezing through this test! This is a lot of typing! but that J sure helped...
Who do you think is the best skier that the 'mainstream' public doesn't know? There are a lot of up and comers in the park/pipe/ urban scene, but I am less in touch with that aspect of skiing. For guys that I have been hanging out with, Nick McNut is an amazing skier, a great guy, and I was really impressed with his skiing, vibe and style. One of my favorite additions to the TGR crew, look for some great skiing in the new flick.
Be sure to check out Sage in TGR's latest ski film, Almost Ablaze!