TGR kicked off a string of rowdy East coast premieres in Burlington, VT with Style - the show was huge and everyone was stoked to walk out with a 2 for 1 ticket to Jay Peak. Sage Cattabriga-Alosa was getting the crowd fired up signing autographs before the show. And he gave away a pair of Rossi S7's at the Flynn. The crowd was stoked to see a 25' tall Sage dropping into epic AK lines and East Coast native Dylan Hood adding his style to big backcountry kickers. Volkl also threw a pair of Gotamas to the raffle and much gear was tossed out including a VIO POV helmet camera, Oakley goggles and more.
Be sure to check out the Nov. shows in NYC, Boston and Portsmouth.
A Special thanks to TGR East Coast tour managers, David Tepper and Leslie Pippin, along with Derek Brown of Battle for Burlington, The North Face Store @ KL Sport.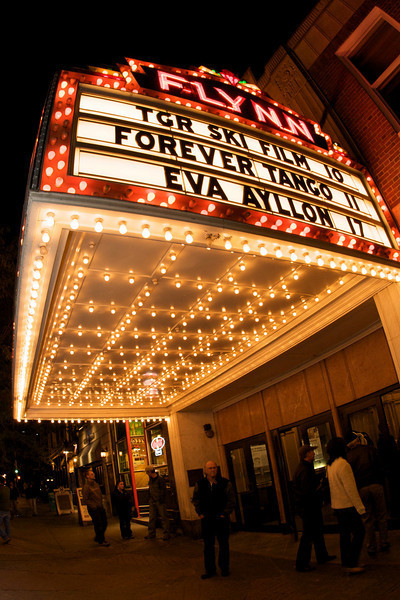 **TGR!!! Marquee at The Flynn. Photo Ryan Dunn**
**An amped fan meets Sage Cattabriga-Alosa before the show. Photo Ryan Dunn**
**The crowd is stoked before the show! Lobby of the Flynn Theater. Photo Ryan Dunn**
**Sage Cattabriga-Alosa signs posters! Photo Ryan Dunn**
**Sage Cattabriga-Alosa making people happy. Photo Ryan Dunn**
**These kids were really stoked to meet Sage and stoked on TGR! Photo Ryan Dunn**
**Everyone in Burlington was excited about the Re:Session Premiere! Photo Ryan Dunn**
**Sage On Stage - Sage Cattabriga-Alosa fires up the crowd with some serious giveaways. Photo Ryan Dunn**
**Burlington! Ready for Re:Session. Photo Ryan Dunn**
**Sage Cattabriga-Alosa gives away a sweet pair of Rossi S7s! Photo Ryan Dunn**