Check out the #Crowdtrip homepage for all the stories Theo, Marty, Alex, and Caleb's crowd-sourced travels.
Words by Theo Birkner, photos by Caleb Del Begio & others
It started out like almost any other travel day: an early breakfast and some running around to collect strewn-about items, but without the stressful get-out-the-door-right-now-feeling of a powder day.
Then Marty realized his left boot was missing its heel tech fitting, and things got more interesting. After speaking to REI, the Black Diamond factory and two different ski shops, as well as crushing fresh-roasted coffee and washing the car while waiting for said places to open (it was Sunday morning in Utah), we sourced some replacement boots for him and hit the road at noon, which is fairly late for a full day's drive.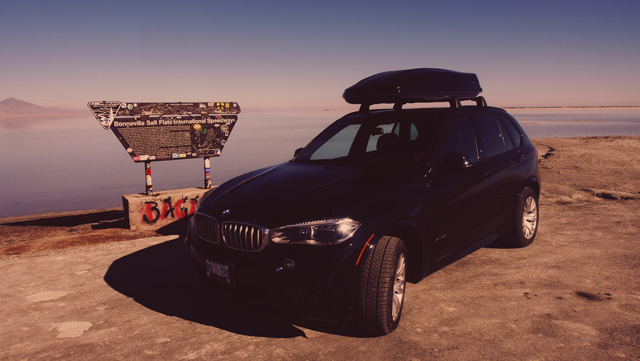 Several hours later we stumbled upon the Bonneville Salt Flats. It was one of those Eureka moments, where we obviously knew they existed, but hadn't really considered that we'd be passing right by the Salt Flats Raceway. We checked it out, obviouslsy, but not before lunching at the Salt Flats Café, the kind of lone-standing, family-run joint at which you'll get shot down well before you even get to the door if you so much as think about a dine and dash.
Much like we'd strayed from the beaten path, exploring around Moab and the Arches National Park on our way into Utah a few days prior, we went for a burn down and back the raceway access road. It's an amazing piece of land, and eerily quiet in the wintertime compared to what I'm sure August-October speed season is like. The perfect time and place to explore the upper end of a vehicle's power band.
But we had other things to see, and ski, so after a bit of fun we kept on.
They say the hardest thing about skiing the Terminal Cancer couloir outside of Elko, Nevada, is getting to Elko in the first place. Central Nevada is just about the middle of nowhere, but since we were passing through, we took a 50-mile detour on a wing and a prayer.
What we ended up with – a late-afternoon-into-sunset mission of the 1800 vertical foot couloir, could only be described as perfection. While the creek crossing and bushwhack approach were less than ideal, the chute itself was the easiest climb and best ski I've ever seen in a similar run. A perfect staircase going up was an equally flat, cold and chalky run down.
As a source of much joy for all involved, it was a brilliant introduction to the state of Nevada, and a nice backcountry addition to the resort-based Crowdtrip.
Back to the car well after sunset, we got some beautiful shots of the starry night sky, had a celebratory Polygamy Porter (we had just one – unlike the bottle suggests) and a much-needed dinner meal, and hit the road for the remaining 360 miles.
At 2:30 am we rolled into Mammoth Lakes, still on a high from our four-ski shop, three-state, one-racecourse, one-couloir, 10-hour, 600-mile day.
Check out the #Crowdtrip homepage for all the stories Theo, Marty, Alex, and Caleb's crowd-sourced travels.