After returning home from his annual pilgrimage to AK, Sage Cattabriga-Alosa gave us a glimpse inside Fantasy Camp. Located deep within the Neacola Mountains, Fantasy Camp served as TGR's staging ground this spring. Whether nailing first descents or documenting them, the TGR crew kept busy filming for Way of Life. As we gear up for the film's release, we'll be filling you in on what went down in Alaska.
Words and Images by Sage Cattabriga-Alosa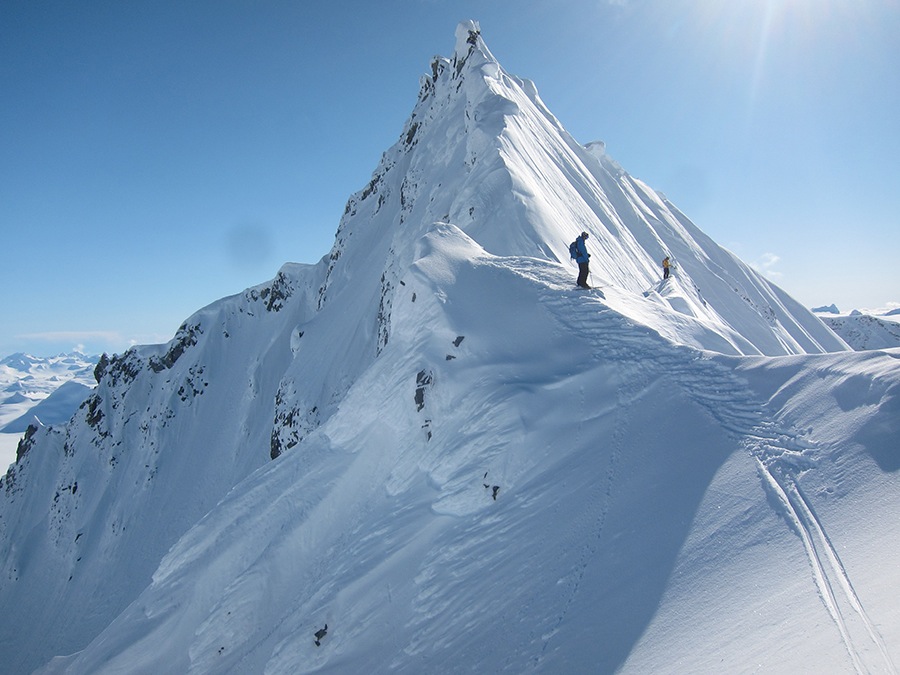 Todd Ligar and Ian Mac look down on a nice little spine wall we dubbed NHL. The wall earned this name because lurking just under a thin dust of snow was a solid sheet of ice that stretched from wall to wall. It made for some exciting attempts at hanging on—and some hockey stops.
Ariel views like this allow for quickly spotting multiple zones. I often go back through my photos, looking for areas where lines and zones might have been hiding on the first look.
The Land of Ice—seeing glacial caps and massive glacial fields is quite a sight. It's cool to see mountains being formed right before your eyes.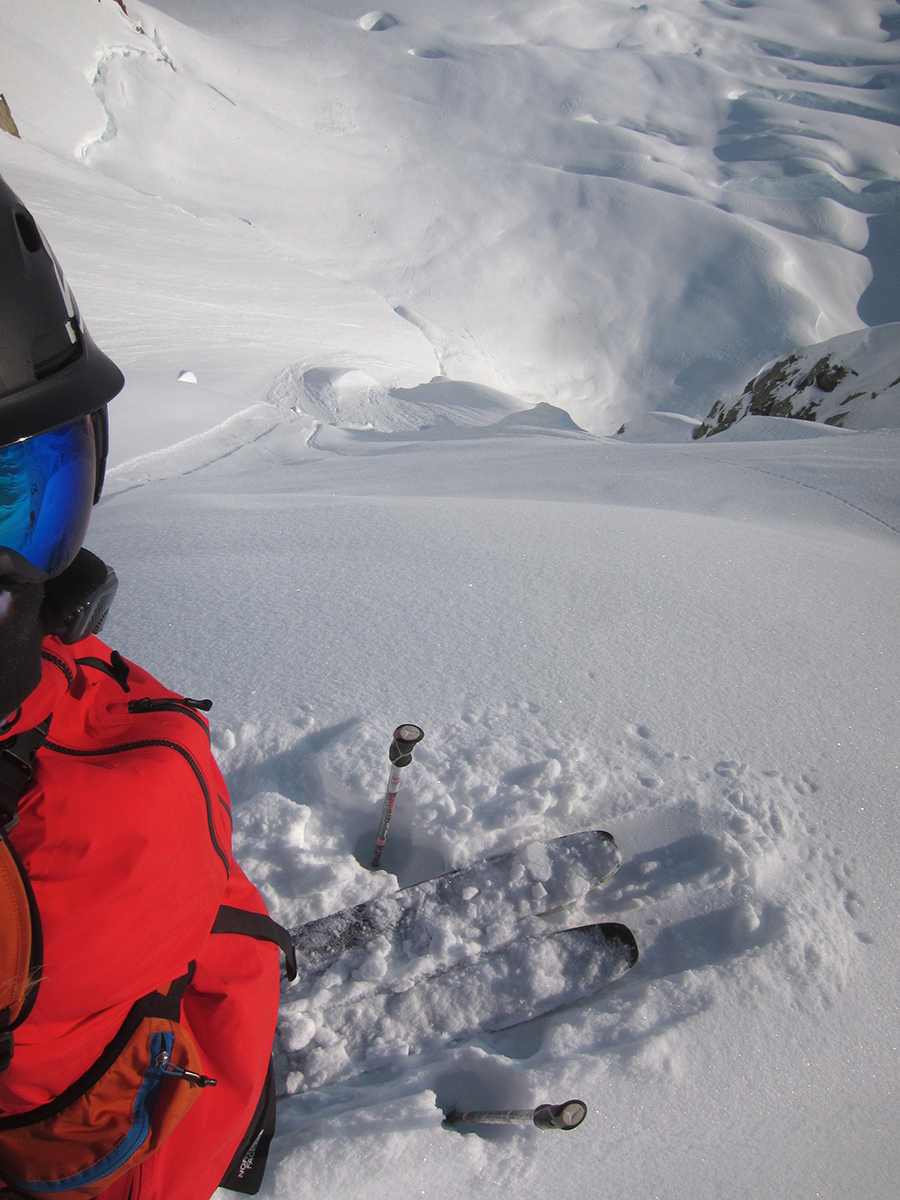 The ol' Look down.
Ian Mac speeds out of a massive line in an icy world. The challenge on lines like this is dealing with an exit plan. Large bergshrunds littered the bottom of this wall and the snow was firm underneath the top layer. Needless to say, control—and a plan—was critical to getting out safely.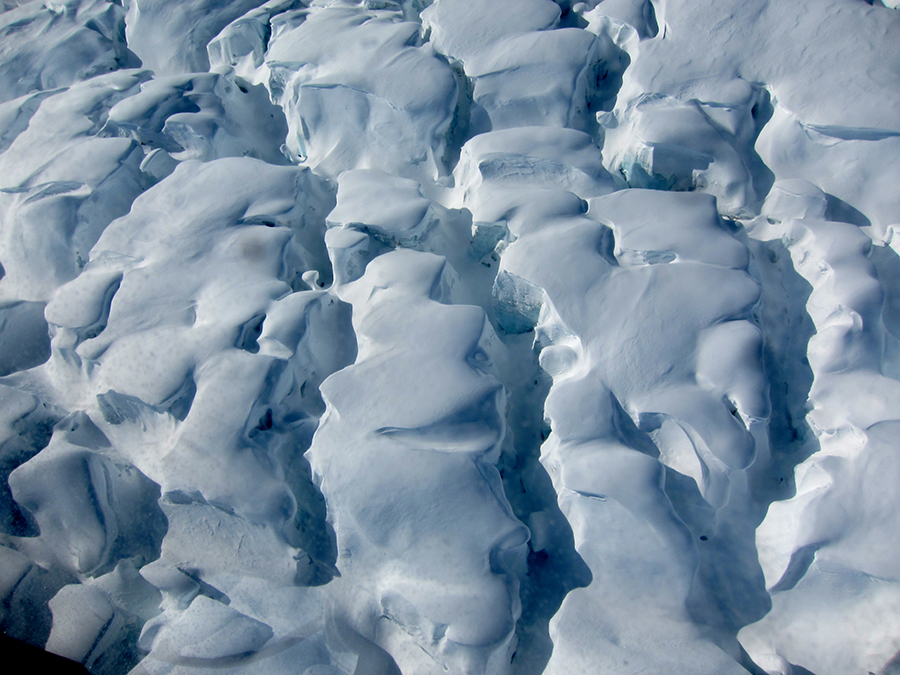 House-size chunks of ice and snow make up this peeling glacier.
This looks like a calm perch, but the area below is loaded with spince walls that branch out in almost all directions. Here, Ian enjoys a moment of calm before the storm.
Tim Durtschi launches into a 360 off this natural spine flank. This was his first film line of the trip, and he came out of the gate hot!
Mountain views for days.
The glow of the sun reflects off the ocean in the distance.
Wind can be your enemy out in the alpine, turning glory pow into sastrugi moguls. Luckily, we found protected zones that held good snow through the end of our trip.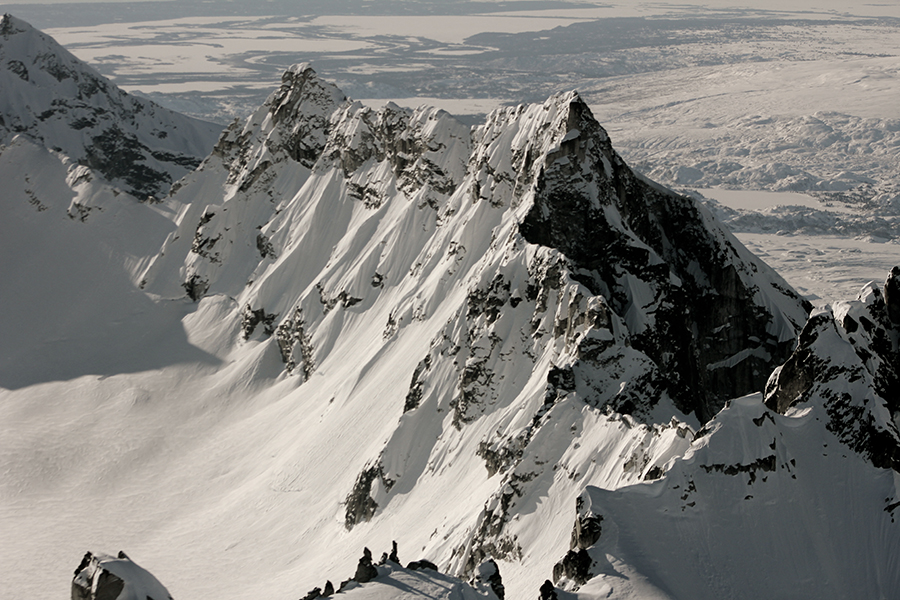 Tempting fruit.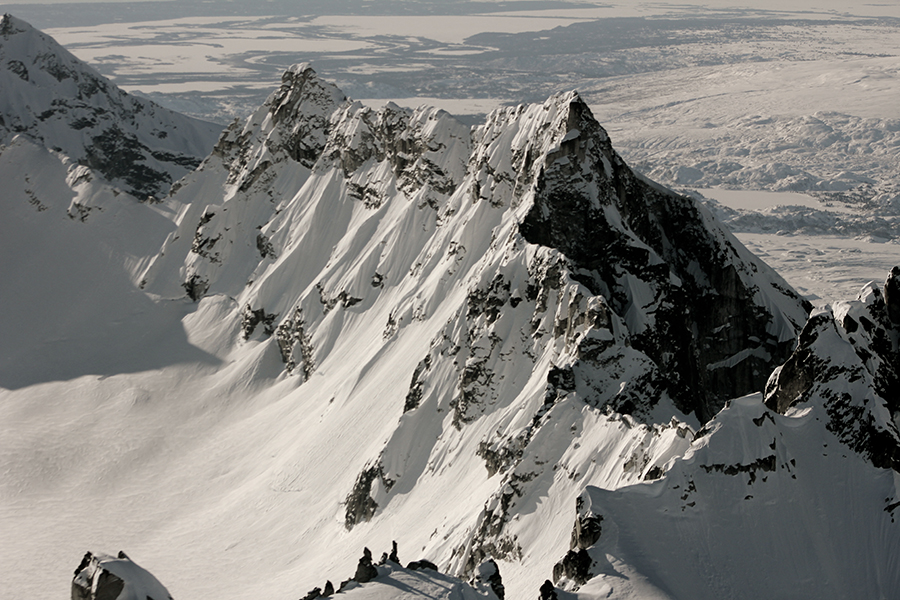 A razorback.
Doug Brewer, a bush pilot, was the key to our success at Fantasy Camp. He flew us, our gear, our camp supplies, and fuel out in many different flights. In this photo, he is headed home after taking us on a recon flight in his Bush Hawk.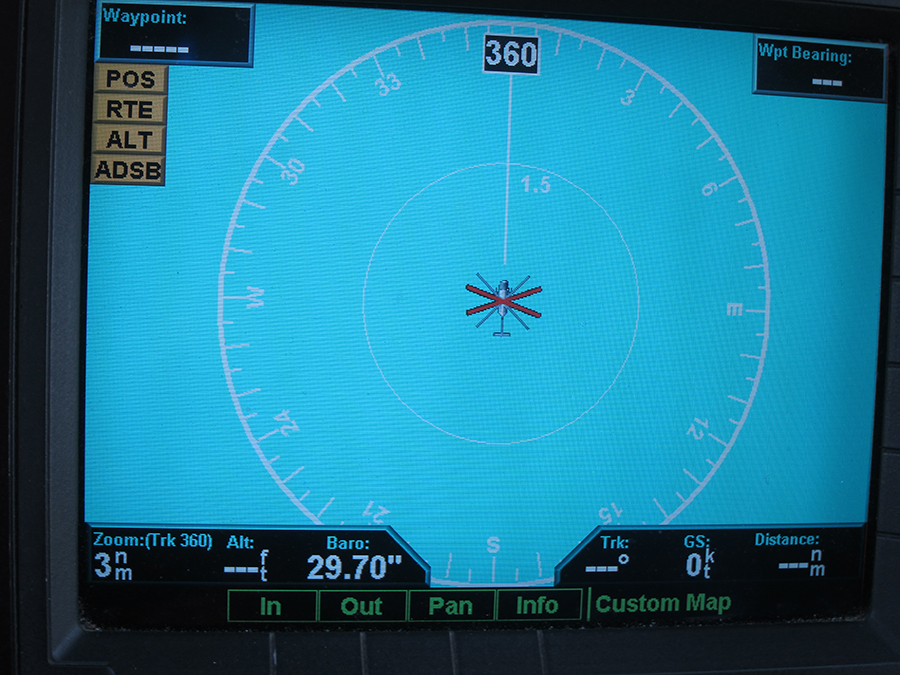 GPS helps, but helicopters are fly-by-sight aircrafts.
This is how we measure our time out in the helicopter. It keeps track of the amount of hours that we are pulling power, and how long we can fly.
Sammy Carlson flies out of the bottom of a fun line.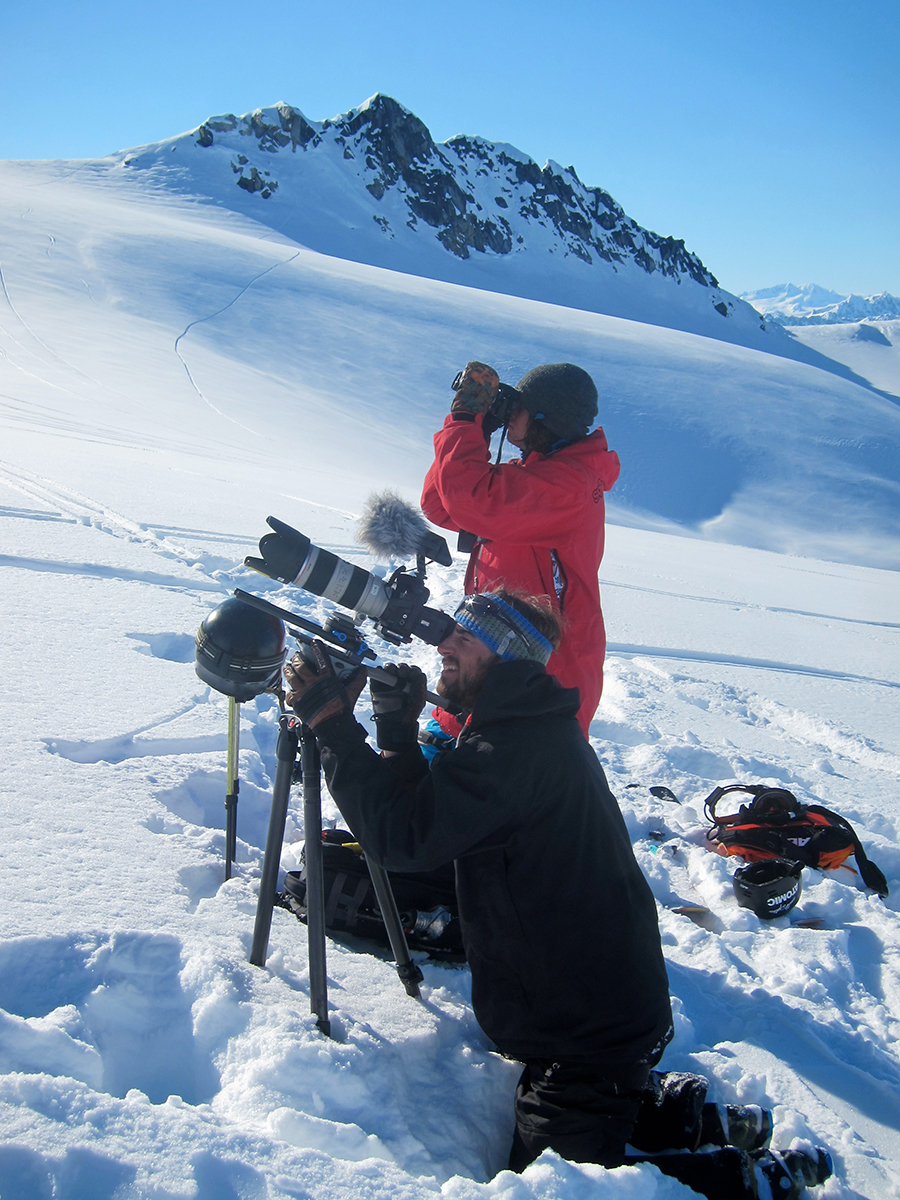 The production team hard at work. Dutch Simpson shoots third angle, picking up the action, and reaction as we roll up to the group at the end of each run. And Tim D, who mostly shoots his Sony Action Cam helps out.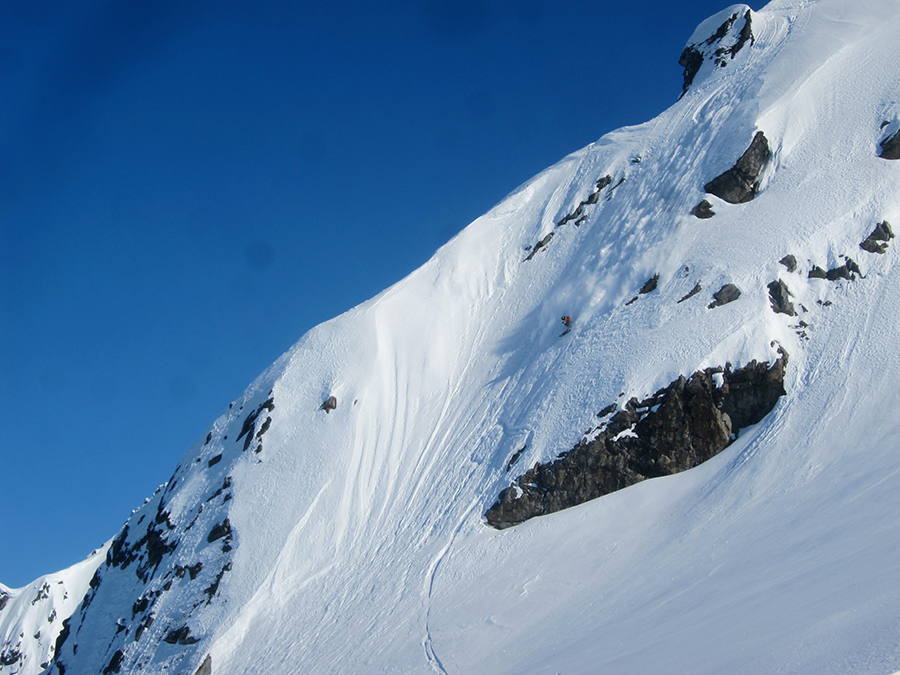 Dana Flahr lays some smooth tracks while killing time before our next set up.
A zone that got away... always tons of options out there. And it feels good to have goals for the future. It looks like you could have a bit of fun with this one.
Ice . . .
Ice . . .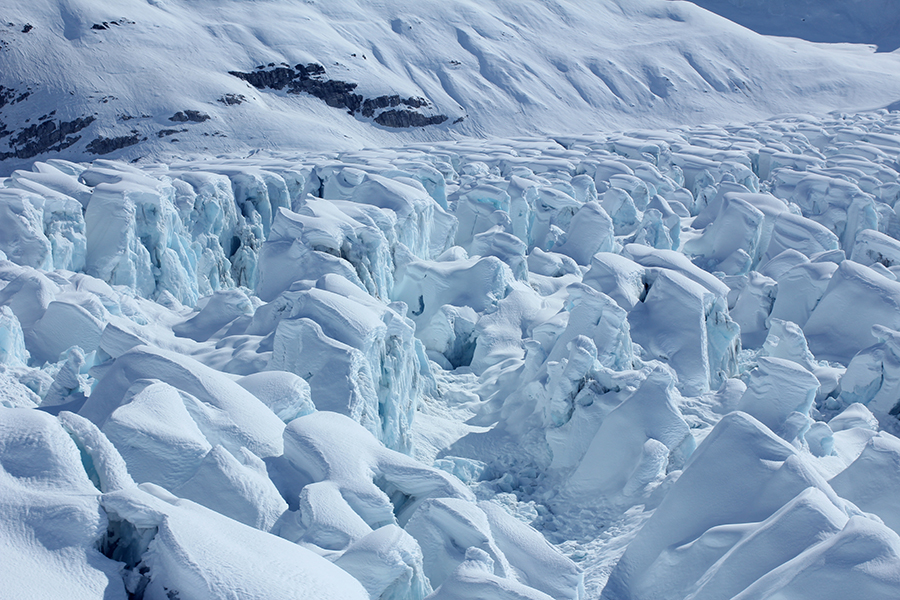 Baby.