As of today, the Denver Convention Center is free of booths, beer cups, and stickers. And this evening, reps will be packing up trucks full of next year's gear, drawing SIA's On-Snow demo to a close. While the sun begins to set on the strange beast that is SIA, we wanted to take a moment--or a few gigabytes of bandwidth--to showcase some of the fresh products from the show.
Next year's snowboard gear embodies both a focus on continual refinement and a few leaps forward in innovation--and all with a healthy nod to snowboarding's roots. Get ready to start scrolling . . . just be forewarned, you may want to scroll slowly--this beast of a post takes a little time to load.
Regis Rolland and the team at APO debuted a rear-entry splitboard binding, as well as its own attachment hardware. This set-up is light and keeps feet close to the deck.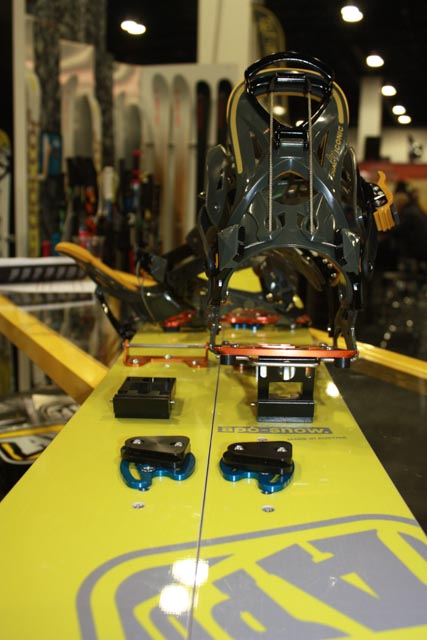 Another view of the APO set-up. Note the especially small mounting pucks.
Jeremy Jones was on hand at SIA. When not unveiling next year's collection of Jones boards, he was hanging out at the Sony booth showcasing the brand's new Action Cam.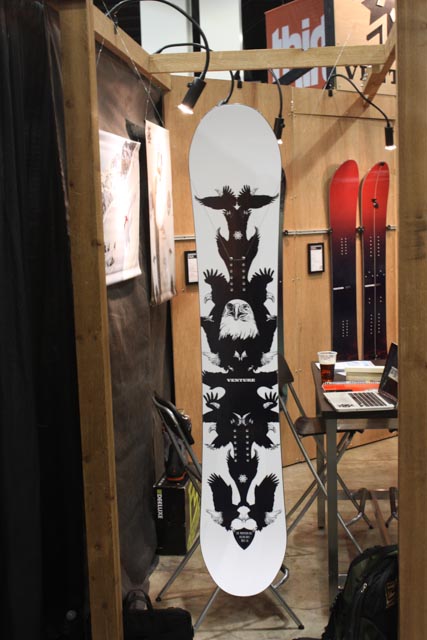 Venture unveiled its forthcoming Shape Shack decks--including this twin. Stay tuned for an announcement on this board. Let's just say it's the brainchild of a certain legend with the initials KJ. Venture is only making twenty-five of them, so you better hurry.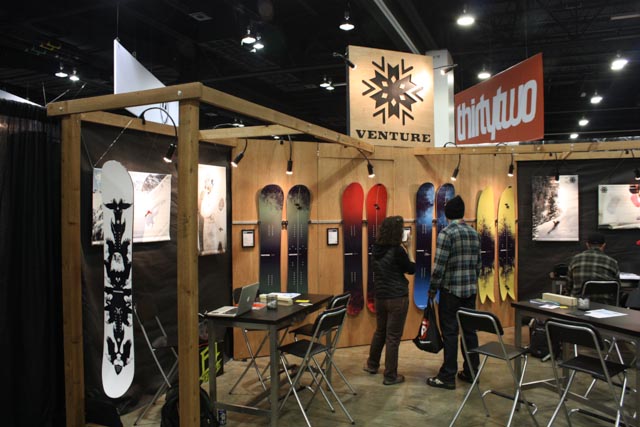 Venture is taking a step beyond its traditional, iconic snowflake-themed graphics. And so far, we dig what we're seeing.
Venture's aptly-named Euphoria, a design cooked up by legendary rider Johan Olofsson.
i.N.i. continues to deliver super clean designs with a reduced impact on the environment. Dealers were definitely raving about the brand's latest collection.
With a fresh perspective and a commitment to domestic production, Smokin always keeps things real.
More Smokin decks . . .
Dinosaurs Will Die . . . We're especially stoked on the Sixties--the brand's first deck above a 159.
Much of Burton's outerwear gives a nod to the past while being informed by the future.
You can only rock this kit if you win multiple gold medals and own your own scooter company.
Somebody raided the quilt store en route to the Olympics.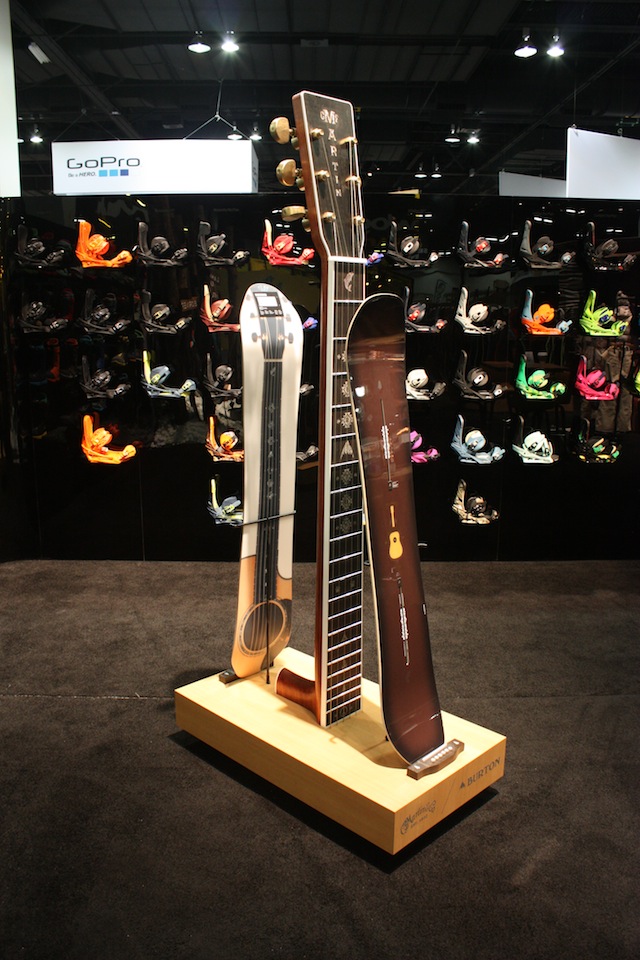 Burton and Danny Davis partnered up with Martin Guitars for next year's Easy Livin'.
Burton's Family Tree collection. Every deck in this quiver looks like a blast.
Burton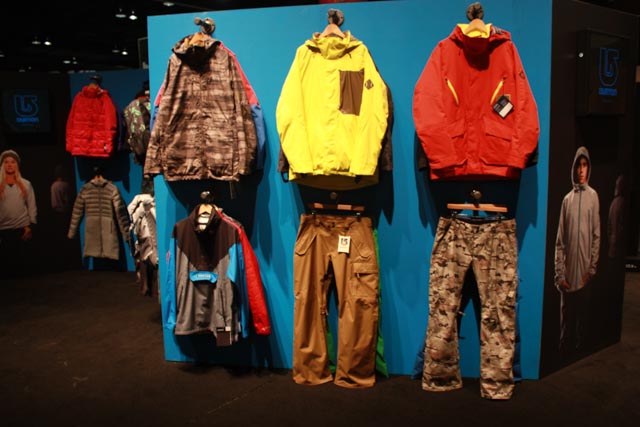 And more Burton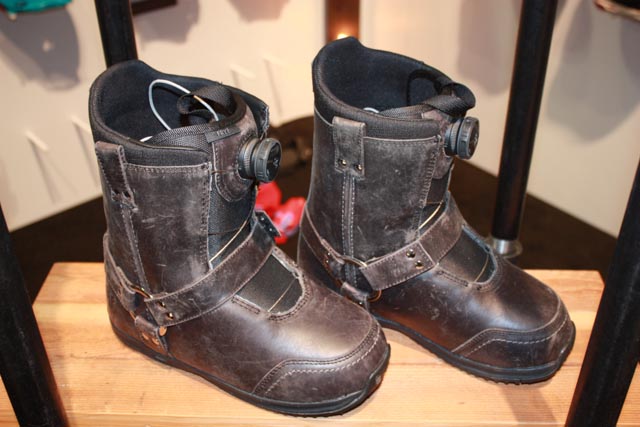 Burton's collaboration with Frye boots. Feel free to love these things or to talk serious smack.
Burton is amping up with Boa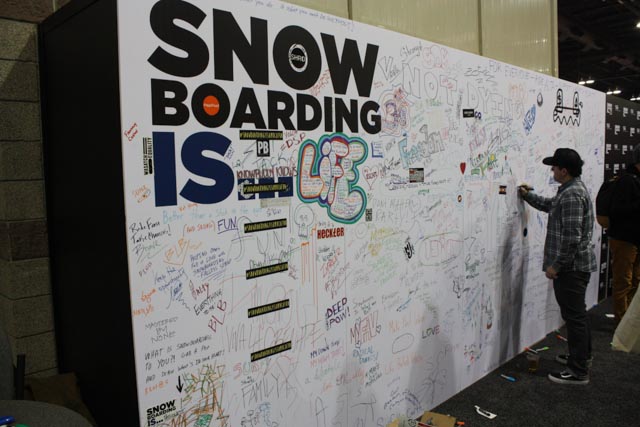 Snowboarding is __________________
Black Diamond's Jetforce Pack is based around a fan-driven airbag.
Niche continues to make boards that look as good as they ride.
Travis Rice . . . Bad ass, legend, and male model. And through it all, Quiksilver keeps him warm and looking especially suave.
Three Stripes . . .
Inspired by the draft and designed to keep you warm . . .
Salomon . . . the Sickstick continues to live up to its name.
Thanks to Salomon, you can ride this all day.
We're especially curious about how Salomon's new three-piece splitboard skins and rides.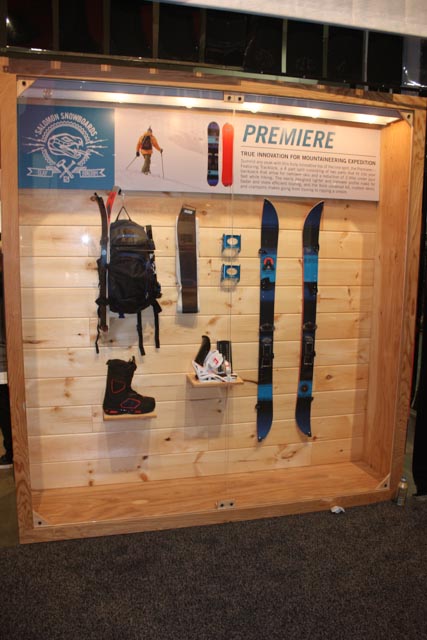 Another look at the Premiere.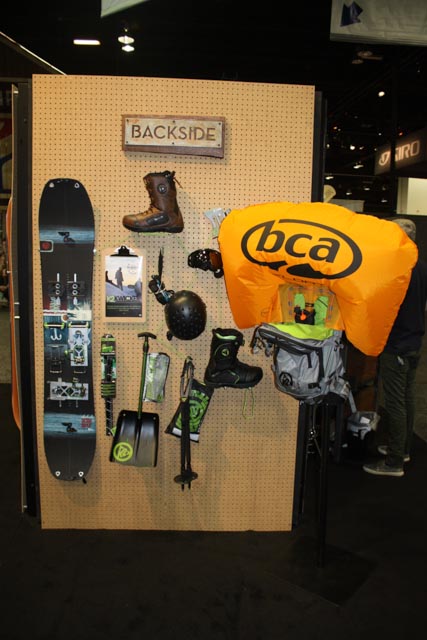 K2's eager to assist you with its Backside. The collection again features K2's Clicker-inspired Kwicker splitboard bindings.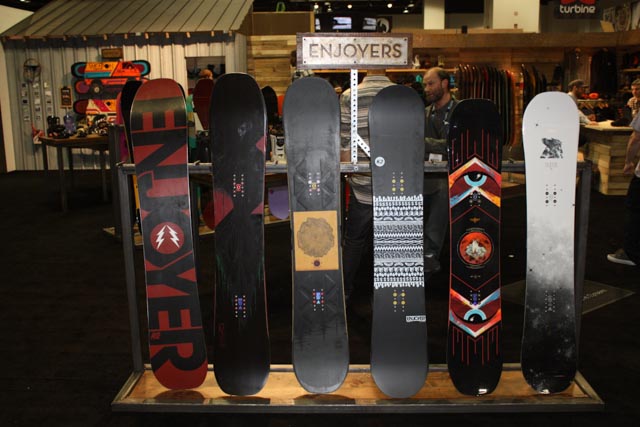 More K2 decks . . .
The North Face looking clean and mean.
More TNF goodness . . .
And still more . . .
Fresh produce from Zeal
The brand continues to cook up super clean collections.
For the Union Forged FC binding, Union partnered with Lamborghini to leverage the company's forged carbon technology.
Union X Preston Strout's Crab Grab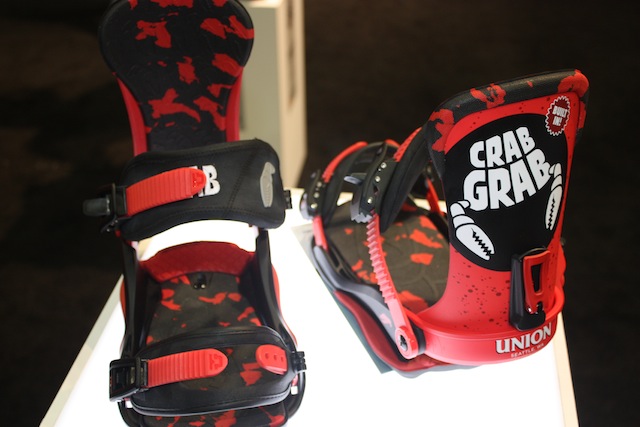 Union x Crab Grab
But do you know how to sharpen that ax? Thank you, Capita.
Smith I/07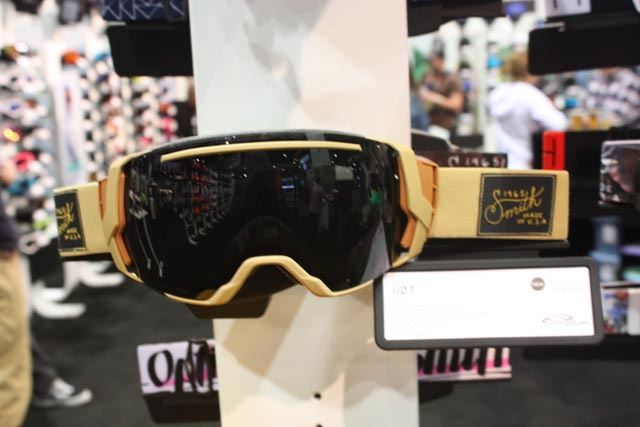 Dr. Bob Smith sure started a good thing . . .
And more Smith . . .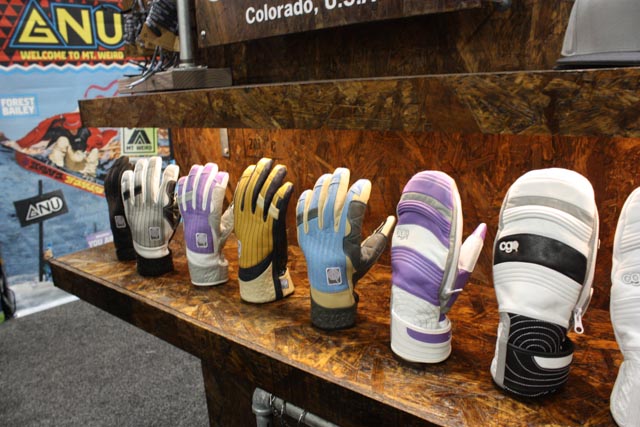 CandyGrind
Anon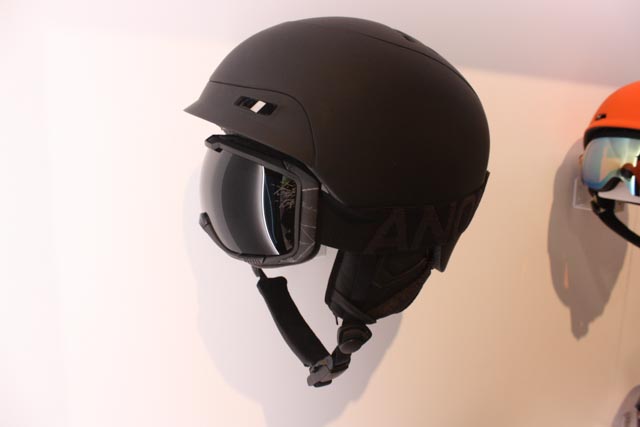 And more Anon . . .
Arbor's fresh crop . . .
Never Summer . . .
To get to SIA, Never Summer had to trek all the way across town . . .
Mammut
It's TREW
Oakley's outerwear was super crisp, but dealers were especially stoked on the brand's new Prizm lens, which is designed to enhance definition in flat light/low light conditions.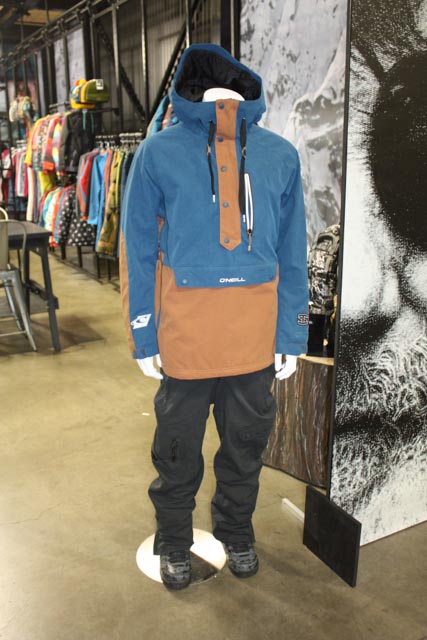 O'Neill . . .
O'Neill . . .

Karakoram's Prime Binding system definitely brings some fresh ideas to the table. You can keep the binding on during transitions, the climbing bars can readily be adjusted on the fly (without a huge pain in the ass), and you can also lock the binding in place when touring--which is great for traverses and minor descents. And in case you tumble, the system is releasable when subject to significant tension in tour mode.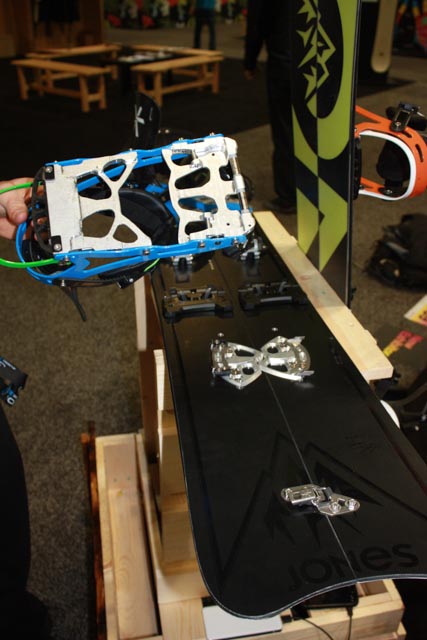 A look at the Karakoram baseplate and mounting system.
The green bale on the Karakoram baseplate enables you to lock the binding in place--and thus enables transitioning from skin to ride mode without stepping out of the binding.
Forest Bailey's kit from 686.
686 x Gregory
This backyard surfer from Jones looks like so much fun. There's beauty in simplicity . . . and it doesn't get muc simpler than a plank of wood and some metal hooks to keep your feet in place. This shot also captures a strange juxtaposition between cutting-edge technology and a good, old-fashioned plank of wood.
Jeremy approved.
Jones' packs for next year
Slash by Gigi.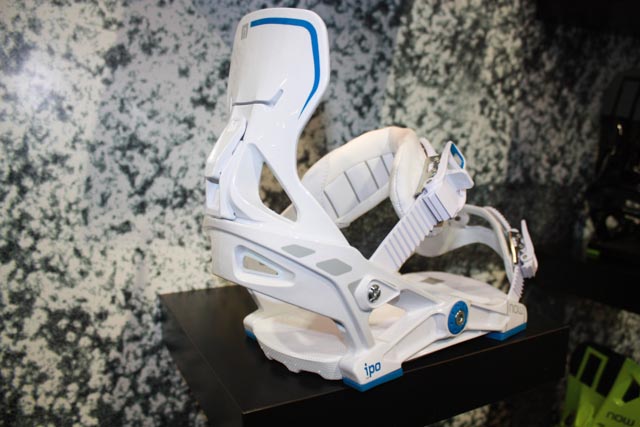 Now's IPO.
As the sign says, this is Now's O-Drive.
Just say "Yes."
The 420 from Yes.
Through the Greats series, Yes pays homage to the legends of snowboarding--including Damian Sanders.
The Greats . . . paying homage to Chris Roach here.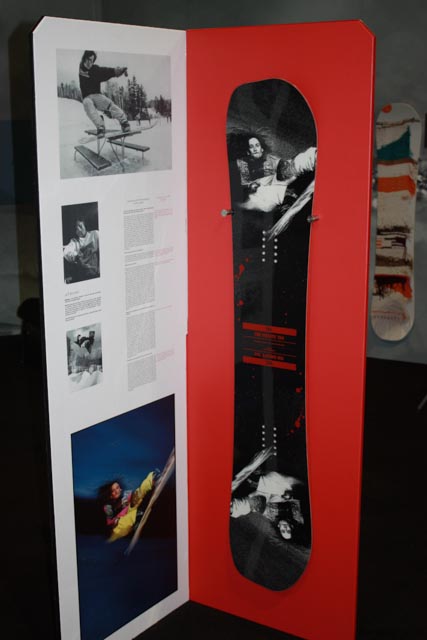 Jeff Brushie . . . pure stye.
VonZipper x Boarding for Breast Cancer
VonZipper x Stance
Bataleon collaborated with legendary surf shaper Bill Stewart to create this throwback deck, which is modeled on a snowboard Stewart crafted in the eighties.
Bonfire x Fourstar
ThirtyTwo x Spring Break
ThirtyTwo's collaboration with Spring Break includes everything from a jacket to a boot to sweatpants.
We're always stoked to see what Homeschool is cooking up. Straight out of the Northwest, the brand makes shred-specific outerwear that can easily endure 100 day season.
Homeschool
And more Homeschool . . . The brand has clearly done its homework.
Some of Flow's freeride decks
One of Wolle Nyvelt's Aesmo powsurfers
Owner Operator is a small brand with a big heart--and a rich appreciation for snowboarding's history. The brand's American-made outerwear is quickly gaining momentum and turning heads.
More Owner Operator
And some fresh accessories from the brand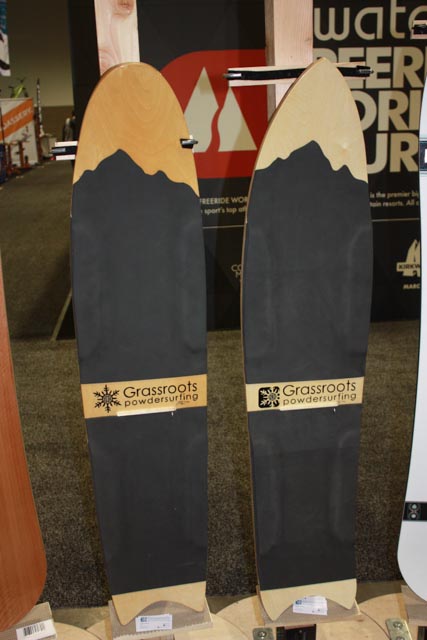 Grassroots powsurfers
Deeluxe's Spark XV--Xavier de Le Rue's pro model boot.
Deeluxe's Empire
Deeluxe's Spark Summit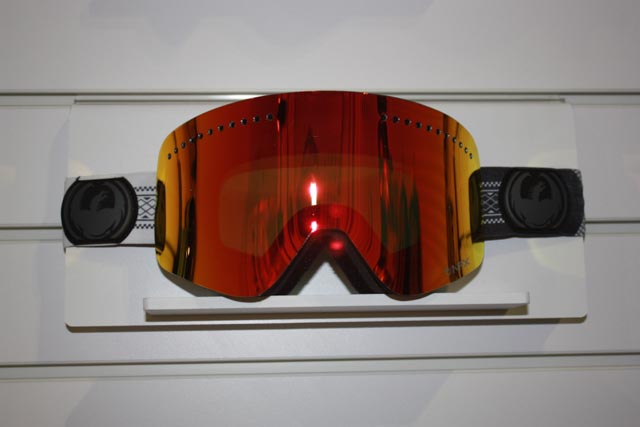 Dragon continues to infuse cylindrical lenses with a fresh look.
Spark's been keeping busy advancing the Tesla system, which it debuted this shred season.
Spark's Blaze (L) and Burner (R)
Spark's Magneto.
Jamie Lynn is celebrating his 20th anniversary with Lib Tech, Vans, and Dragon. His 20th anniversary collection continues to deliver the substance and style that is syonymous with his riding. There are definitely no gloves in this collection.
Fresh decks from Lib Tech.
More Lib Tech decks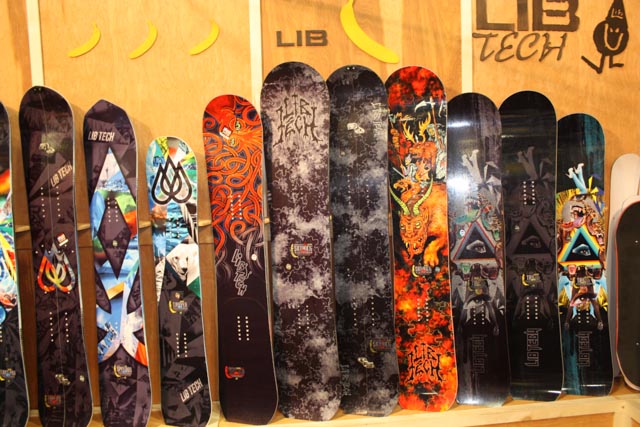 Lib definitely is delivering another stacked collection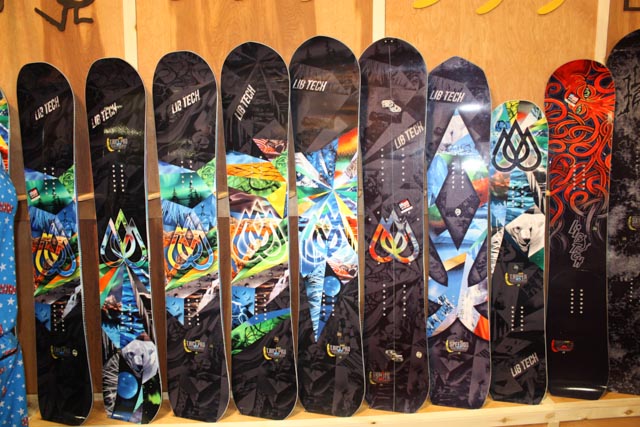 A quiver of Travis' decks
Congratulations. You've successfully navigated what may be the longest post in TGR's history. Now turn off your computer and go snowboarding.