A brick shithouse of a skier at 6'2"and 185 pounds, McIntosh leverages that frame and strength to ski huge lines with a balls-out game that is all about speed, power, and commitment. "To me, that's what skiing is," Ian said. "You take a face and you ski it, top to bottom. You don't stop, and whatever you can catch air on in between, take it." Ian's been the guy in front of the camera for some of the fastest and aggressive lines TGR's ever filmed, and yet even that doesn't satiate his hunger for speed - BASE jumping is his new summer pastime.
The newest member of Sony's Action Cam team is also a relative vet on the TGR team, having first filmed with TGR in 2006 and won the Powder Video Awards' Breakthrough Performer and Line of the Year awards along the way. He now leads the younger talent to really improve their wilderness rescue and avalanche safety skills while using the experience of breaking his femur on a TGR film shoot in Alaska to demonstrate how to stay brutally tough in an awful situation from which we are happy to say Ian is recovering very well.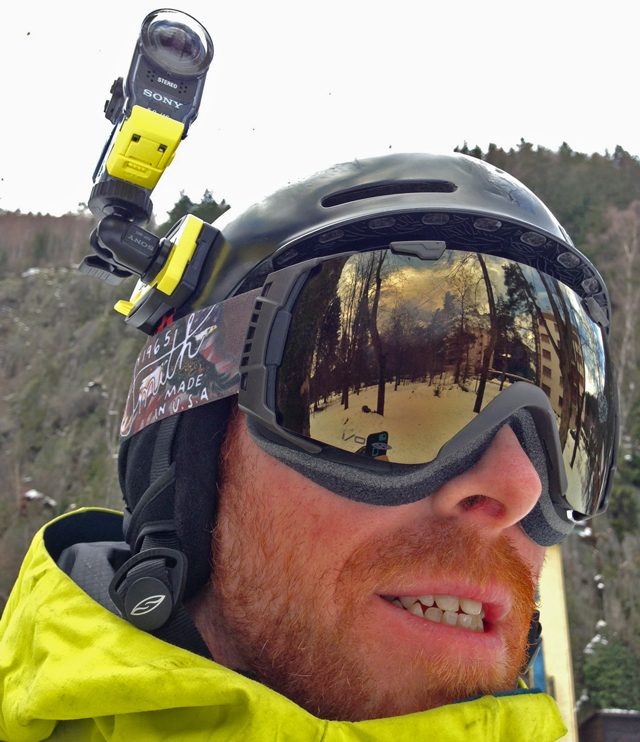 Getting on board with Sony will undoubtedly bring us plenty of Mac's terrifyingly fast POV skiing, BASE jumping, and mountain biking, especially with the Action Cam's ease of use. "What I like most about the Action Cam is how easy it is to use - it makes capturing my runs so simple. I also like how good the audio is on this camera. Watching and editing the footage is so much nicer than the other cams I've used over the years."
The new Action Cam will be available in March for around $299.99 and will offer the following features:
•Advanced image stabilization adjusts to vibration
•Exmor R® CMOS sensor for better low light shooting
•Ultra wide 170° pro quality Carl Zeiss® Vario-Tessar® lens
•High quality 13.5-megapixel still images in photo mode
•Intelligent Auto (60 different scene combinations possible) along with other features
Be sure to follow Ian's Facebook, Twitter, and Instagram for more Action Cam video from the edge of speed and join the #ActionCam conversation online.