In this edition of Spotlight, we put the lens on Trestle Bike Park located in Winter Park, Colorado. Trestle claims to be the fastest growing bike park in the states and is generating a steady buzz with its diverse trail system, comprised of over 40 miles of downhill. On a recent trip to Winter Park, we caught a lift with Erik Becker, Trestle's go-to guy and course builder, for the full rundown on what makes Trestle so damn sick.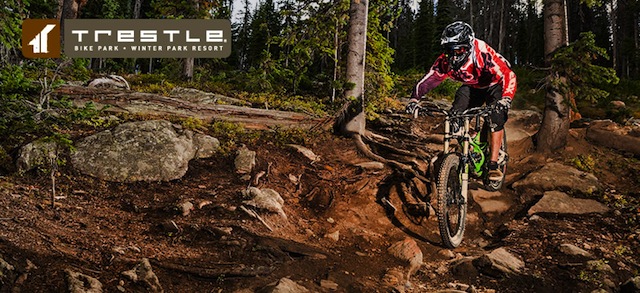 How long has Trestle Bike Park been around?
The name Trestle came to be a little bit later then when it originally started, as it used to just be Winter Park Bike Park. Then we came up with the Trestle branding about ten years ago and have been going with it ever since.
What is your role in Winter Park at Trestle?
I'm trail crew foreman. Design and build bike park features and all the trails. I construct and design all of the bike park here in Winter Park.
How long have you been working in this park?
I've been working with Trestle Bike Park for seven years and I've been in Winter Park for like ten years.
How many guys are on the crew with you?
Eight guys, forty hours a week. We start working on the trails about a month before the park opens.
How long have you been riding?
I grew up riding a dirt bike, and started riding bikes when I was in fourth grade or so. So I've been riding bikes since I was a child.
Do you ride every day at Trestle?
I ride quite a bit. Last year I had 57 days here at Trestle, and yes, I try and get out and ride everyday that I can.
Walk us through a day in the life of working on Trestle Bike Crew- What is like to be Erik Becker?
It's really dusty right now for Erik Becker, but yeah, it's all good. So we show up early in the morning and get out on the trails by like 7:30 and start working before the humans show up. That gives us a good couple of hours to get working on stuff. We're always just trying to create a better experience for everybody. From the blue, to the green, to the black, from better, smoother corners, smoother trails, and flow-- we just want to make it fun for everybody. It's a very well-rounded bike park.
What is new to Trestle this season in terms of trails and features?
New this season is the Hot Wheels Trail. It will open this year and it's a double black trail. It is definitely by far the newest and the hardest trail we'll have on Winter Park Resort. We're also going to redo Boulevard which is an old trail. There's just bad trail alignment to that one and we're just changing it up and getting it up to par. We'll also be working on Cheyenne to get it up the standards of the rest of our trails.
Who does Trestles cater too, what level of riders?
You know, we actually cater to everyone. My great-grandmother actually came up at one point in time as we have Green World from off the top, which is just super green and super smooth. And we cater all the way to the top level racers. There's DH trails, there's flow trails. We've got a lot of variety for whatever you are looking get into.
What makes Trestle unique from other bike parks, specifically, Whistler?
Whistler is huge, they are the godfather. So it's hard to compare anything to the godfather and what not, but Trestle Bike Park has come along way. There is just a lot of heart and passion from the guys that work and build this bike park. And we all love what we do and if you love what you do, you never work a day your life.
Editor's note: We watched someone almost flip over their handlebars in full gear.
Is Trestle the biggest bike park in the states?
We have the second most amount of visits compared to Whistler, so from that standpoint, we have the second biggest amount of guests compared to anywhere else. In terms of biggest, yes, we have a great trail system, but it's hard to say, there are other great bike parks out there in the states. But Trestle is definitely up there in the top notch and looking to push the envelop of the sport.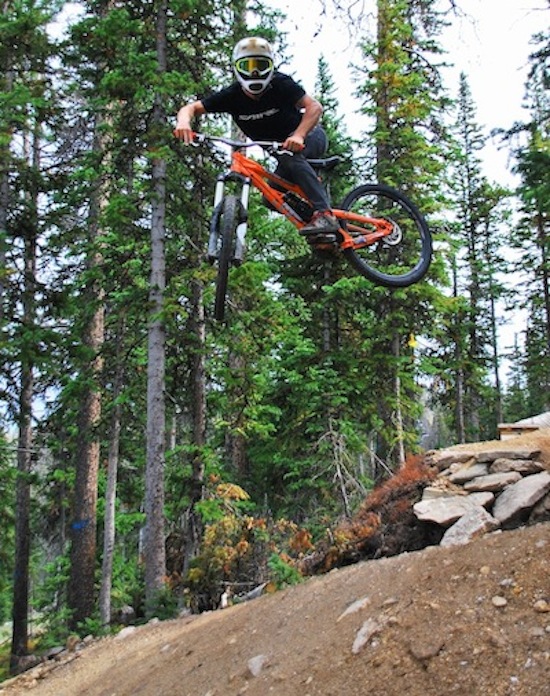 What would be a perfect day in Trestle?
To have it rain all night, ride all Monday, and no body else is here. I'd do what we call the "Cruliavard"- It's upper Rainmaker to Cruel, to the Boulevard to the DH to Space 8--which is kind of the trail crew run. It's a combination of all trails. We don't tend to stay on one trail, we like to ride a piece and ride another piece so we get a good variety in trail on our one run down.
That sounds like the beauty of this park, it offers a lot.
Yeah, you can hop on and off and you don't have to stay on one trail. You can go from the jump trail to the flow trail to the DH track, and go back and forth. So it's really well rounded.
Would you recommend that everyone rents a downhill bike?
The rental programs here are great. And on Friday nights, we offer Freestyle Fridays which is a great deal. You can get out on $2000 to $3000 bikes for the night for a reasonable price, and it's great to experience good gear in the bike park. Trestle Bike Park ends up selling a lot of their rental gear so they are definitely flooding the market with affordable bikes to get people into the sport. Which is also another awesome thing we do here. They have high-end pro gear in the pro shop, all the way down the rental gear which is great quality as well.
What events are you most looking forward to at Trestle this season?
The Colorado Freeride Festival is always great. It's a gold level FMB stop. It always brings some of the best slopestyle riders in the world here and the course is looking great and it's always an awesome time. It's great to see the industry here and the high caliber of riding. I'm most looking forward to the slopestyle comp. I'm a leaner-- more of a slopestyle rider, more of a dirt jumper kid, so I really like slopestyle.
Do you play a part in building the course for that comp?
No, we don't build the course, but we play a part in maintaining the course.
When will that course be built?
It's actually pretty much built, there just need some tweaks to it. The builders will be back in about two weeks before the event to finish things off. They were here for a bit, now they're tooling around the states before coming back.
How long do most features take to build?
About a month and half too long. Ha, we actually mill all of our wood from around here, so it takes a bit of time.
What are the biggest challenges you face maintaining the bike park?
The biggest challenge… The older trails are are tough to deal with. The trail alignments are hard and they are just rough. So working to make those better is always a challenge, but just part of what we do.
As far as a creative standpoint, can you build whatever?
For the most part yes. It depends of course on what trail we're working on as we aren't trying to build gaps, we're trying to keep it safe for all levels. Minus Hot Wheels, there are a few gaps in there, but I mean for the most part, we're really into keeping riders safe, letting their abilities get better, let them grow as riders and having them come back for the next week. So yes, it's not the gnarilest DH track in the world, but you can have fun depending on whatever level your riding is.
Editor's note: We lapped the park with Erik and crew for the rest of the day and can't wait to go back. Berms, jumps, flow trails-- Trestle has it all and it's freaking fun.
Upcoming Events:
General info:
Trestle Bike Park is open daily through September 22
Summer 2013 Hours of Operation:
•Open daily June 15 – September 2
Zephyr Express chairlift operates daily from 9:30am – 5pm through Labor Day, September 2
•Additional lifts operate Friday – Sunday and holidays
◦Eskimo Lift operates 9:30am – 5pm
◦Gemini Lift operates 9:30am – 5pm
•Trestle® Extended Play Hours: June 19 – August 30
◦Local's Wednesdays: Zephyr Express open until 7pm
◦Freeride Fridays:* Zephyr Express open until 7pm
All photos of Erik Becker