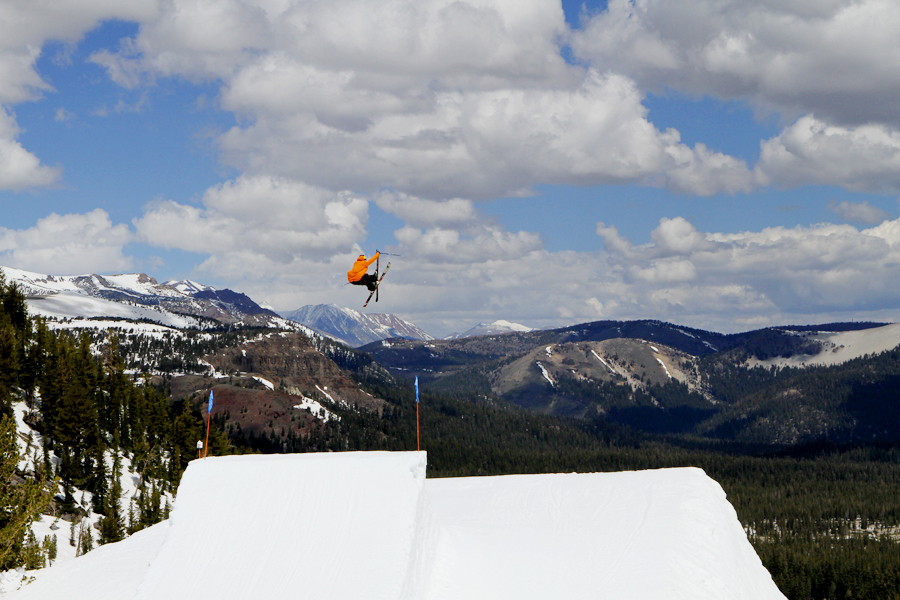 There aren't too many places where a laid out backflip off of a two-foot tall kicker will draw bigger cheers than a flawless double in the halfpipe, but at the US Freeskiing Spring Team Camp at Mammoth Mountain, California, that's exactly what happens. Members from both the ski and snowboard teams come and go freely all afternoon while lapping a private halfpipe, rail set-up, and jump complete with airbags. But this group of Olympic-bound athletes isn't subject to regimented training formulas like most traditional athletes.
Torin Yater-Wallace and Wing Tai Barrymore lap the halfpipe lackadaisically while Tom Wallisch is rumored to be snowboarding for the afternoon. A group of girls sunbathe in between lift laps.
Days usually start between eight and ten in the morning depending on the weather. Each night Mammoth's expert staff cuts the pipe and shapes the jumps, and each morning coaches salt these features. Around noon athletes start showing up to a nearly perfect private set up.
From there it's a low-key scene filled with a combination of quiet athletes waiting to drop and a beach party gathering at the bottom of the pipe. An airbag sits at the end of the custom made pipe. A few inverts are thrown and soon double cork 1260s get tossed. Each trick is accompanied by the airbag's signature "plop" noise. Emotions go from giggles to utter frustration and back while skiers try new tricks. "It's scary to learn a new trick," says US Freeskiing Coach Ben Verge. "Especially in the halfpipe, there's not a lot of room for error. A big part of that isn't just to keep the athlete healthy, but to keep it fun, and not get people to do stuff that they don't want to do."
Later in the day the slopestyle athletes make their way over to their private jump. Most of them have spent the morning sessioning Mammoth's public Unbound parks, which are world class in their own right. When the jumping does go down, it's rapid-fire. The world's best casually join trains and throw doubles six, seven, even eight in a row.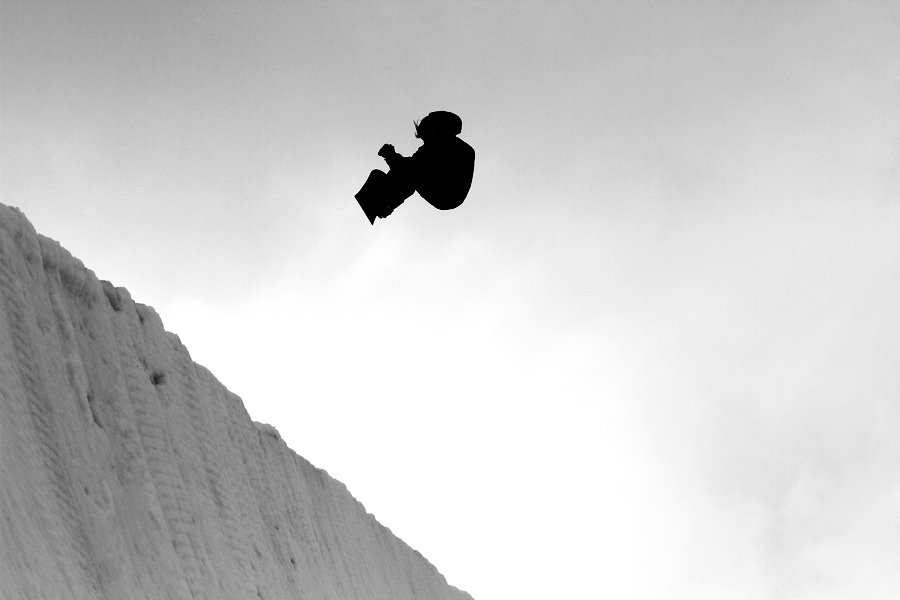 (Gratuitious Danny Kass Shot)
It all makes sense. Anyone skiing here has survived the competition season in good enough shape to still be skiing. The focus and concentration behind competition season can sear the nerves. Freestyle skiing is still where it started, and nothing new happens without first having a little fun.