By Ryan Stuart
It's raining in Squamish and no one cares. The brew pub is empty and so is the pool, two hangouts that used to fill during summer wash outs. So where are all the drowned rock monkeys and wind starved kiteboarders? Probably mountain biking. The soggy days of disappointment are a thing of the past in Canada's undisputed capital of outdoor adventure.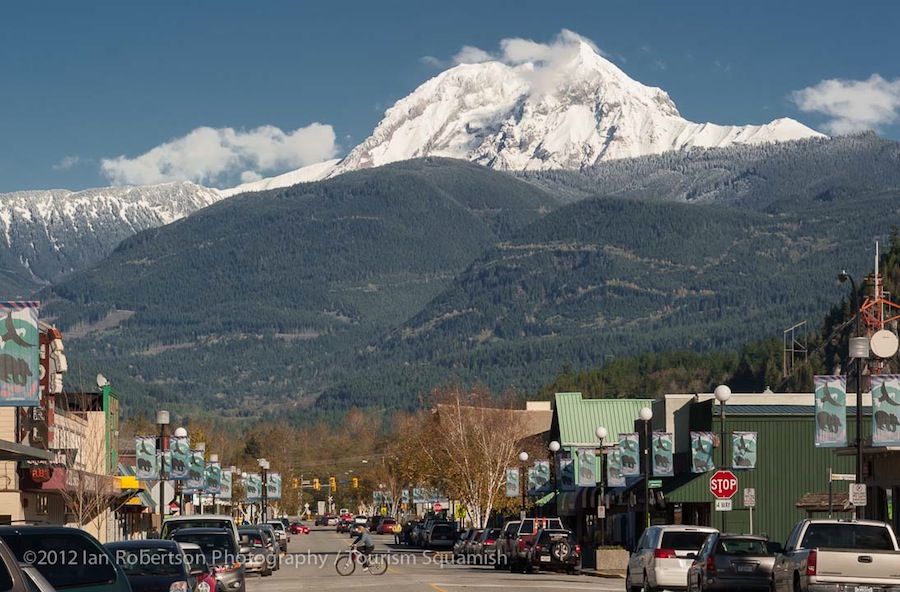 Like many, my first forays into the Sea to Sky corridor between Vancouver and Whistler were for one of two reasons: rip up the slopes at Whistler-Blackcomb or shimmy up the cracks and slab of Squamish (sometimes both). The frequent drenchings were only good in winter, when they usually translated to snow up high. Come spring, rain meant no climbing.
But then locals started getting busy in the woods. Inspired by what they were seeing in Whistler and Vancouver's North Shore, they built all kinds of trails, from freeride huck fests to cruisy singletrack. The little known network grew and the town's draw evolved. Alongside the short drive to Whistler and the world class granite climbing, there are a dozen whitewater paddling runs within an hour shuttle, on sunny days the thermal winds turn Squamish's oceanfront into one of the best kiteboarding destinations in the country, hiking and mountaineering routes climb into the alpine in every direction. Through it all the mountain biking network grew and improved, but remained under the radar.
The trail development continued, diversifying and improving the offering, but remained under the radar. Then the town got on board and started investing in trails, including Half Nelson, a ride so perfect Bike Magazine said it may be the best trail ever. Suddenly Squamish became a mountain bike destination and climbers converted.
"I'm riding more these days than climbing," said local climbing pioneer Hamish Fraser. "The trails are just so good."
When I planned this trip—a boys mountaineering trip into the Tantalus Range near Squamish—the probability of precipitation hovered between 100 and 110 percent, so we left prepared. Besides our climbing kits, we included everything we would need to keep busy while we wait for the weather: our all mountain steads.
As the rain continues, we crash at a friend's and the next day he leads us on an epic, if muddy, rip through the valley, beginning, where else, at Half Nelson. A trail side counter proves this is one of the most ridden trails on earth; every single day, almost year-round 120 riders drop its two miles of flowy perfection of bermed corners, smooth table tops and carefully built beauty. Crafted by local trail-building legend Big Red Ted Tempany the machine-made trail was paid for with $50,000 raised by the local mountain bike club.
In 2012 Tempany, with more money from the likes of Red Bull and Anthill Films, built an extension above called Full Nelson. We don't feel like making the full haul and opt for the classic half option, itself a solid climb. At the top of the gravel road and double track climb we hide from the rain for a few minutes under a small shelter and then plunge in for the Half Nelson experience, an exhilarating rip down its 900-feet of vertical, zig-zagging down through the forest, flying around corners, popping off jumps. Everyone is all smiles at the bottom.
From here we have almost 300-miles of trails to choose from stretching across the valley and from one end of town to the other. Before Half Nelson the trail of choice was Credit Line, a difficult undulating test of stamina and skill on roots and rocks near Alice Lake. And nearby is another classic, Wonderland, a slowly descending singletrack cross country trail with plenty of log rides and tricky sections to keep it interesting.
We decide to climb again and rip down Pseudo-tsuga, just another well built black diamond descent with banked corners and plenty of rocks. This is more classic Squamish. Most of the older trails serve a side of punishment to the pleasure, with plenty of rocks and roots, testing technical skill, especially when wet.
I lose track of where we go after this. Focused on the trail I follow the tire in front of me on a tour around the valley. It's technical and fun and by the end we're covered in mud and happy to be done.
The next day the sun makes an appearance. The wind starts to blow, the rock dries and we have no excuse not to head into the mountains. But we don't. Instead we saddle up and go for another ride.
Beta
For videos and maps of some of the highlight mountain bike trails and info on just everything else to do in the Squamish region check out tourismsquamish.com
Where to stay
Unless you really need a Sealy, pitch a tent at the sprawling Alice Lake Campground. You won't find solitude in one of British Columbia's busiest campgrounds—make a reservation—but you are close to town, right on the trail network and its namesake is the best swimming around.
If you need a hotel check out the affordable and convenient Best Western Mountain Retreat Hotel and Suites, just off Highway 99, with its own pool and hot tub.
Where to eat and drink
Start at Fergie's Cafe for a pre-ride fuelling of deliciousness. Sitting on the Cheakamus River, just out of town, it's an idyllic spot to wake up. For dinner and a drink swing by the Howe Sound Brew Pub where you're likely to rub shoulders with world class climbers, kiters, paddlers and more, all while sampling locally crafted brews.
Where to play
Mountain bikingFull and Half Nelson are the main draw these days, for good reason. Follow the signs to Quest University, park here and pedal up the Garibaldi Park Service Road, watching for signs to the trails a mile or so after it turns to dirt. Find trail maps at any of the local bike shops—our fav is Republic Bicycles. You can also download the maps onto your phone at http://www.trailmapps.com or check the map out online at http://www.squamishmountainbike.com. After a few laps on the Nelsons head to Alice Lake and link a few old school classics.
Kiteboarding
Follow the windsurfer logos to the Squamish spit, HQ for the growing kiteboarding scene. Almost every sunny day kicks up a consistent wind that howls up Howe Sound, perfectly aligned for kite flying fun. More info on the local sailing scene and links to wind and tide forecasts can be found at http://www.squamishwindsports.com
Climb
The obvious draw for vertically inclined athletes, the Stawamus Chief towers over Squamish. To the north the Smoke Bluffs provide shorter challenges. And spread through the rainforest from West Vancouver to Whistler are plenty of other distractions. Find more info and up to date route beta at http://www.squamishclimbing.com
Paddle
The big mountains and big snowfalls of the nearby Coast Mountain equal consistent and reliable whitewater paddling from April until August and again in the fall when the coastal monsoon begins. The cold water paddling ranges from big scenery, mellow runs to gnarly creeking. The short section of the Mamquam, just east of town, provides the easiest access and the best playboating. http://www.squamishpaddlingclub.com
Photos courtesy of Ryan Stuart