Words and Images by Joey Mara
The Cascades are loaded with underrated gems—and Stevens Pass is definitely one of them. Not only is the resort peppered with steep terrain, it also enjoys massive storms that make the mountain a freerider's dream. Only eighty miles from downtown Seattle, Stevens Pass has been slinging lift tickets for seventy-five years. In that time, it's been responsible for more than a few people calling in sick to sample the latest storm. With ten lifts serving 1,125 acres spread between the mountain's front and backside, the resort accommodates skiers and riders of all ability levels. Nonetheless, the mountain is best known for its expert terrain.
No one disputes that the snow in the Pacific Northwest is deep, yet its quality is often up for debate. A few locals will come clean, however, and reveal that labels like "cascade concrete" are misnomers designed to keep tourists away. The snow at Stevens is premium—and thanks to receiving over 450 inches of snow annually, there's plenty of pow to go around. In fact, it's not uncommon for the mountain to see upwards of 650 inches in a season.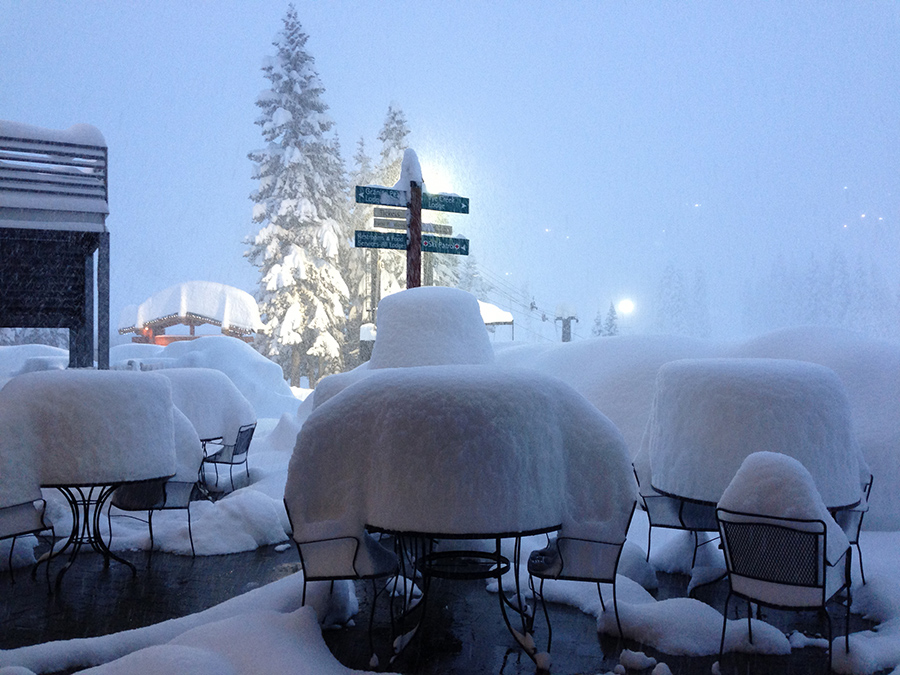 After a storm, however, the snow at Stevens is typically measured in feet thanks to a unique weather phenomenon known as the Puget Sound Convergence Zone. West of Seattle, the Olympic Mountains split incoming storm tracks, forcing their wind and moisture to divide to the north and south and collide again when they converge at the Cascades. This concentrates precipitation in the vicinity of Stevens Pass. Consequently, storms may hammer the mountain while other resorts in the state receive only a fraction of this snowfall. Needless to say, the storms at Stevens make dreams come true—just come prepared with a snorkel. In December of 2012, for example, a storm dropped 39 inches at the base of Stevens and sixty inches at its summit in just a twenty-four hour period.
Stevens Pass lacks the glamour (and excessive amenities) of a mega resort—and that's fine with those who call the mountain home. For the courageous, Stevens has plenty of steep lines—perfect for those who like to push limits and occasionally piss their pants. Pillows, chutes, steeps, cliffs, and spines all litter the mountain, while the tree skiing is also world class. It might be worth befriending a local when you come to Stevens, as much of this terrain can be elusive to the uninitiated. To further maximize your time at Stevens, be ready for some serious storm riding. Locals revel in the free refills provided by Steven's heavy snowfall. The mountain's night skiing can also add a new dimension to chasing powder. And if you're fortunate enough to catch a bluebird day, Cowboy and Rooster Ridges provide an ample canvas for laying down creative lines. It should come as no surprise that skiers and riders can explore Stevens season after season and continue to find new zones.
Stevens Past to Present Celebrating 75 Years! from Joey mara on Vimeo.
For those prepared to venture outside the access gates, the backcountry at Stevens Pass is the real deal. Due to the high amount of snow and steep terrain, avalanches occur frequently. Adding to the danger, visibility can change rapidly. That being said, a wealth of ridges, back bowls, and peaks can be accessed via the lifts or by touring from the highway or nordic trails. Much of Steven's backcountry dumps skiers at the highway, enabling them to easily hitch a ride back to the resort.
In addition to its natural terrain, Stevens Pass boasts a solid park. The Top Phlight park crew spends its days prepping dozens of rails and kickers of all sizes. Stevens also has one of the few halfpipes in the state of Washington. Thanks to the diversity of its terrain, the mountain is a breeding ground for well-rounded rippers.
Stevens has remained under the radar thanks, in part, to a lack of accommodations at its base. For those wishing to stay close to the slopes, a variety of rental cabins are available on both sides of the pass. Most visitors, however, stay in or around the town of Leavenworth on the east side of the pass. Located forty-five minutes from Stevens, Leavenworth sports a Bavarian theme and offers plenty of entertainment for those looking to kick back and slip off their boots. During the winter months, the town is lit up with Christmas lights and the streets are packed with Seattleites hoping to escape the city, shop, and enjoy some food and drinks at German pubs. For those looking for no-frills lodging, the small towns of Skykomish and Gold Bar on the Seattle side of the pass offer affordable options.
Stevens will never be a Whistler or an Aspen—and it does not want to be such a resort. And while the scene is mellow, the mountain is not. Needless to say, Stevens has no shortage of challenging terrain—and good company with whom to explore it. The people are friendly and the snow is deep. If you measure your seasons in faceshots and high fives, Stevens might be your soulmate.